Zimbabwe: Top Zanu-PF officials defy Mugabe and wife
<![CDATA[[caption id="attachment_15453" align="alignleft" width="480"]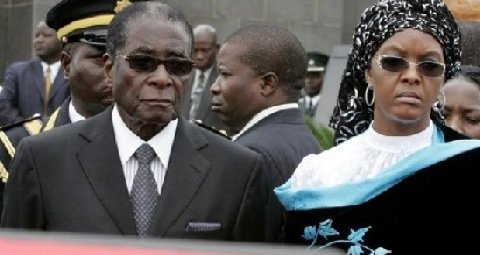 President Robert Mugabe and his wife Grace. File Photo©Reuters[/caption] Zimbabwe veteran ruler, President Robert Mugabe, due back home this week from an overseas holiday, faces one of his toughest political hurdles, as a group of ousted top members have ganged up against him in rare defiance. Mugabe's Zanu PF expelled and fired scores of top members last December, accusing them of plotting to topple him among a host of other crimes.
Led by former Presidential Affairs minister and Zanu PF secretary for administration, Didymus Mutasa, disgruntled Zanu PF members have called the party December's congress a damp squib. In a hard-hitting statement, Mutasa accused Mugabe of alienating himself from the people through his behaviour. Mutasa said a clique of evil plotters had successfully waylaid the president and
his wife, Grace
, using them as "weapons to unleash venomous and uncouth statements against anyone they perceived to be standing for the original Zanu PF values, ideals and ethos". Portraying themselves as "upright cadres of the revolution" the group said "we resolutely and patiently waited for the cardinal direction of our elected First Secretary and President of Zanu PF (Mugabe), but his customary clear and unequivocal stance did not come until this undemocratic congress". "In disbelief, Zanu PF and the whole nation
listened to their leader berating his own protégés
not only in the party but in government and the august House of parliament," reads the statement. Among those fired was
Vice President Joice Mujuru
, long believed to be Mugabe's heir apparent. Mutasa said instead of concentrating on the country's economic and social woes, Mugabe was leading it on a self-destructive path. There are fears that this may split the ruling party, but Mugabe has for the past 30 years dealt ruthlessly with anyone who threatened his grip on power. Mutasa reiterated his call for the regional political bloc, the Southern African Development Community's intervention in the party's internal fight and further called for the "nullification of the entire process of the so-called congress as constitutionally flawed". Mugabe's wife, Grace, who has caused chaos since her political debut, was not spared. "Outside the party and the country's constitution and any moral tenets, Grace Mugabe went around the country preaching the gospel of hate in the presence of our very impressionable youths and the traumatised impoverished population," the statement said pointedly.
]]>