Why The US Should Partner Cameroon in Fight Against Boko Haram
By David   Makongo*
"Always considered a heaven of peace and security in Africa and a safe destination for tourists and investments in the extraction industry, Cameroon is suddenly under attack by the killer BOKOHARAM. The sect is killing, kidnapping and looting property of innocent, unarmed peaceful domestic and foreign nationals. If these attacks continue unchecked, this sect risk preventing investors from going to Cameroon and this could seriously hurt economic progress and halt the prosperity of Cameroon.
According to a report by CAMINFO.NET, last Sunday August 17, 2014, BOKOHARAM attacked Cameroon again, beheading three people, taking seventeen hostages, looking shops and stealing 200 bags of rice while burning down schools and churches the found on the way back to their hide out. This is a cancer which must be treated now completely or it will fester to an economic and humanitarian disaster of monumental proportions for Cameroon. It is not only the security, peace and freedoms of Cameroonians that have come under attack. Even on the economic sphere, the future does not look good for Cameroon and let me justify.
During your 2009 traditional End of Year Address to the nation regarding the mining sector, Pesident Biya promised "to start the construction of the Nkamouna cobalt, nickel and manganese mine." And again on December 31st 2011, the President renewed his promise that "mineral resources, particularly iron, bauxite and cobalt will soon be exploited," and emphasized that "these measures, among others, reflect the State's determination to act energetically to accelerate our economic recovery."
These words brought a lot of hope and aspiration to millions of Cameroonians desperately looking for jobs. However, today the President's vision to create thousands of jobs for thousands of jobless and qualified Cameroonians unfortunately has met with disastrous circumstances that must not leave indifferent any right thinking and patriotic citizen of the country. And here is why I say so.
First, employees of Geovic Cameroon that operates the Nkamouna cobalt, nickel and manganese mine have gone for more than six months without receiving salaries. In response to employees growing demands for their salaries to be paid, the parent company in USA suggested that workers sell heavy equipment on the project site in Nkamouna. And after selling such equipment couple weeks ago, Geovic works could only afford to claim one month salary out of six months that they have gone without pay.
Secondly, Last April 12, 2014 Madam Christian Mikolebeh an employee of Geovic died for lack of medical assistance as she could not afford health insurance.
Thirdly, Geovic Cameroon has received an eviction notice from its landlord for reentry and repossession as a result of the company's failure to pay accrued rents of 3000,000frs CFA per month for more than six months today.
Fourthly, June 3rd 2014 Geovic Mining Corp., (the parent Company in USA) received a notice from the Toronto Stock Exchange (TSX) that it has determined to delist GEOVIC securities from the TSX for failure to meet the continued listing requirements of the TSX and delisting was effective July 3rd, 2014.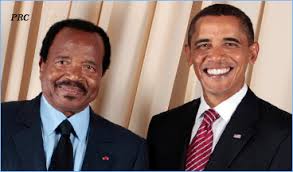 Geovic is a US based company operating in Cameroon like many others. "
"In the August 5th 2014 Edition of Cameroon Tribune, regarding the economic relationship between Cameroon and USA, it was posted that "Reports in 2011, show, an improvement in trade between the two countries as their volume of trade grew by 26 per cent. Today, there is noticeable interest of American companies in Cameroon notably in sectors like mining, agriculture, telecommunications, hotel management, agriculture and aviation. For instance, an American firm, Geovic, is currently investing over 400 billion dollars in mineral development in the East Region of Cameroon. This is said to be the highest investment by an American firm in Sub-Saharan Africa. Other American companies like AES Sonel, Coca Cola, and SG Sustainable Oils Cameroon have made and continue to leave their mark in Cameroon." Nov 26 Reuters reported that Cameroon President Paul Biya has given final approval to New York venture capital firm Herakles Capital to start work on a 20,000 hectares palm oil plantation." More so many Americans reside in Cameroon just like many Cameroonians reside in America and have families back in Cameroon.
So America has vested economic interests in Cameroon that they would like to protect. It is therefore, incumbent on Cameroon and USA to work together in finding common solutions to further economic cooperation and also in jointly confronting the threat posed to their people and property  by the Boko Haram insurgency."
*Dr Makongo is Founder and President of Makongo & African Partners LLC