Covidhero: Zimbabwean Lady Feeds Thousands Of Hungry Children
By Prince Kurupati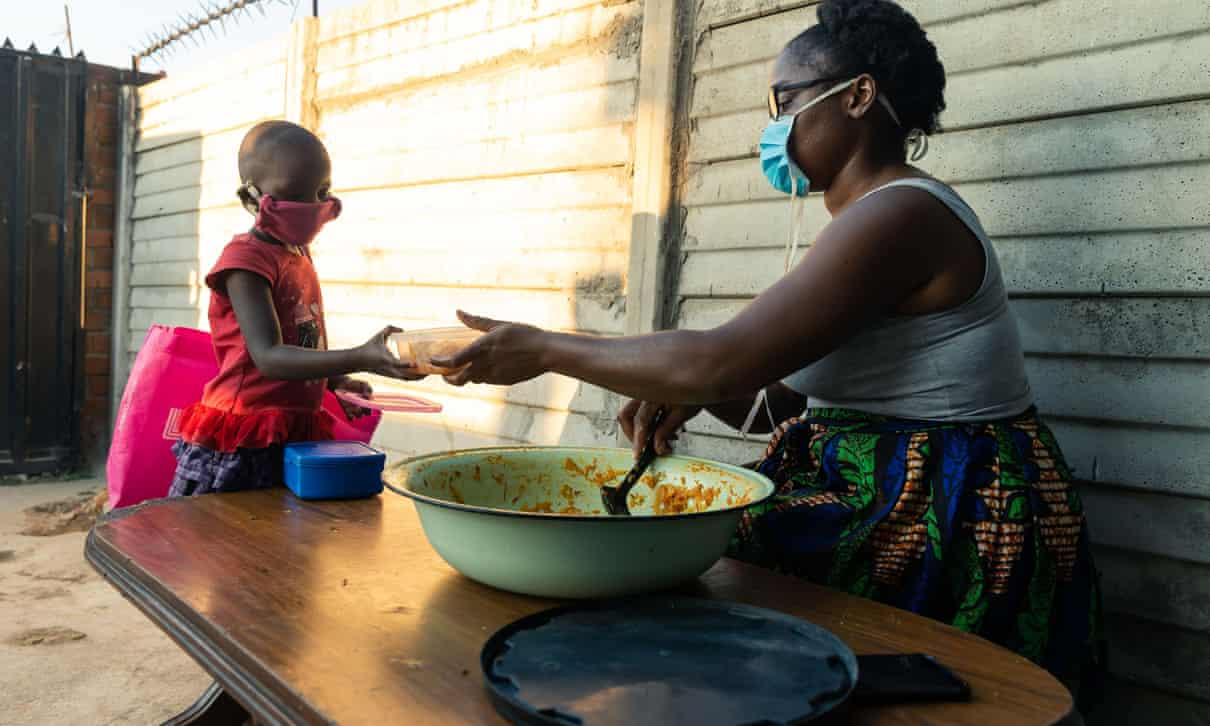 Heroes often emerge during tumultuous times. In Zimbabwe, the COVID-19 pandemic has seen one heroine emerging. Her name Samantha Nyasha Muzoroki. With the little that she has, Samantha has been feeding thousands of families mostly children every day since Zimbabwe put in place a national lockdown in the early months of 2020.
In her own words, Samantha says, "Feeding thousands of families in my hometown, Chitungwiza, on the outskirts of Harare, has become my life since the start of the lockdown in Zimbabwe. Seeing smiles on the faces of women and girls is fulfilling."
Samantha says her relief kitchen initiative really started modestly. With the sole aim of giving children a good start to their day, she decided to serve free porridge to the vulnerable in her community. As soon as she started, more and more children began to visit her home each morning for a scoop of her nutritious porridge. In no time, adults also started trickling in. Assessing the situation that most of these people were in, Samantha quickly decided to serve two meals each day, breakfast and supper. For breakfast, she continued serving porridge (and occasionally bread when porridge runs out) and for supper she serves sadza (Zimbabwe's staple food).
As the national lockdown continues dragging for long, the numbers of people who are dependent on her meals continue increasing. In the early days, hundreds were served but now, Samantha's kitchen now serves close to 3000 each day.
At the very first, Samantha says she "started with a 2kg packet of rice and 500g of beans." As the numbers of those in need of a meal increased by each day and as her savings were dwindling, she had to barter her jeans and sneakers with food supplies." Her compassion however has since encouraged the corporate world and some individuals to chip in and help her with food supplies.
Bread Company Lobels has chipped in on occasions donating bread. Other companies that have made donations include EzuluFoods, Chicken Hut, N. Richards Group, Clean City, Quick Fresh, Health Factor Zimbabwe and Fresh in a Box.
Other individuals have also been inspired by Samantha and they have since launched their own relief kitchens' in their respective communities. In Victoria Falls, some officers in the Ministry of Health and Child Welfare, local municipality officers, members from the business community and other individuals have joined hands to launch the Victoria Falls Children's Feeding Scheme. The Scheme has one aim which is to provide every child with a hot, nutritious meal 5 days a week.
The diplomatic community has also been inspired by the work being done by Samantha. The Chamber of Chinese Enterprises in Zimbabwe made a donation of hand sanitizers and pairs of gloves.
For all those who have chipped in, in helping her with the relief kitchen, Samantha said she is thankful. "I am thankful for the community of Chitungwiza and the world wide community."
In the early days, Samantha did encounter some challenges as she was shut down by the local council authorities for operating an illegal relief kitchen. However, the differences were ironed out and her relief kitchen is now registered as Kuchengetana Trust. In an interview with a local publication VUKR, Samantha said that she will take her initiative beyond the lockdown when lifted, "Definitely, we are now registered as a trust 'Kuchengetana Trust'. There is no way I could ever turn back on what we have built in the last couple of months. I have dreams so pronounced I am eager to deliver. I plan to make self sustenance the order of the day. I get goose bumps when I think about it. Social development projects and facilitation of them are my main objectives."
With regards to self sustenance, Samantha says she "envision a future where a woman is self-sufficient. I have been talking with some of the women about ideas to help start income generating projects." She does acknowledge that this is something which requires a lot of resources especially financial resources but is hopeful the desired resources will come.
Samantha is helped by willing volunteers in her relief kitchen. Some prominent individuals including renowned Urban Grooves musician Rockford Josphats aka Roki have helped her serve meals to the thousands who visit her relief kitchen on each day of the week. Some who visit her kitchen in need of a meal often are moved by her work and they end up staying to volunteer. One such person is Anastencia Hove. After visiting the relief kitchen for a meal, Anastencia Hove says she "was moved by her (Samantha) love. It is rare to find people who think about others. So I said as a token of my appreciation for her support, I should volunteer. This lockdown has not spared us at all, so people are suffering. The number of people I see here shows that many are hungry."
Samantha is an immigration lawyer by profession and a business lady.
*Culled from August Issue of PAV Magazine