African countries should structure post covid plans around the AfCFTA – Former Liberian Minister B. Elias Shoniyin
By Ajong Mbapndah L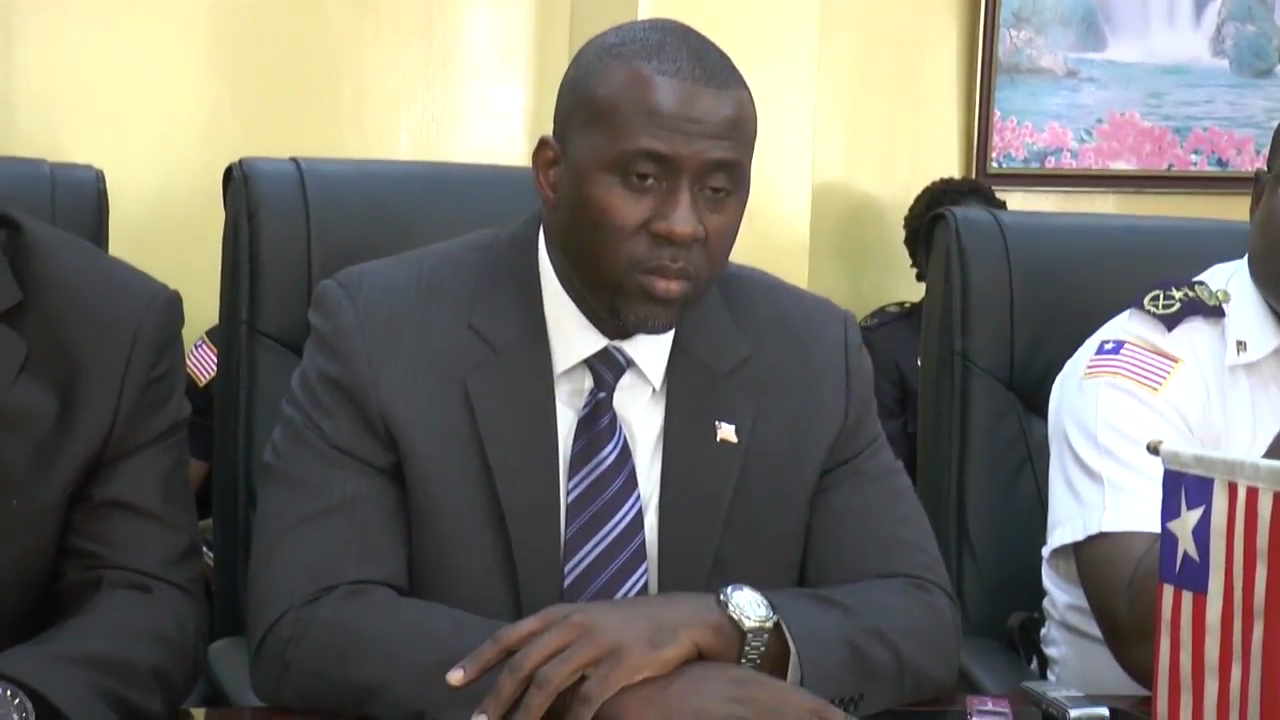 It is important that African countries be encouraged to formulate their post-COVID recovery plans around the opportunity of African Continental Free Trade Agreement-AfCFTA, says B Elias Shoniyin, a professional in international affairs, development and policy.
Shoniyin, a Liberian national who occupied key government positions in the administrations of Sirleaf Johnson, and George Weah, says the AfCFTA will embolden African countries to invest more in areas of comparative advantage, where they have maximum potentials.
Discussing the African response to COVID 19 with Pan African Visions-PAV, Shoniyin lauded the prompt response across the continent despite well-known limitations. In Liberia, while the experience acquired in previous battles with the Ebola virus continues to be useful, he urged the government of President George Weah to seek and bring in more expertise.
On the future, Shoniyin urges African governments to invest more in its people.
"I believe the most valuable asset of Africa is its people. Natural resources underground are not what make a people great; the capacity of the people to harness those resources makes them great. Our foremost challenge in Africa today is the limited capacity of our people. The more we can invest in our people, the more Africa's future will be assured," says Shoniyin.
Thanks for accepting to grant us this interview, we start with COVID 19, how is the situation like in Liberia?
B. Elias Shoniyin: Clearly, COVID 19 is global and every country on the earth has been affected – be it, by the extent of the virus infection rate or the deteriorating economic condition resulting from the pandemic. Liberia, bringing to bear its experience with the Ebola outbreak in 2014 to 2015, quickly built on and redeployed the health measures to protect our communities. As of now, we have officially recorded 1,321 COVID 19 cases, 1196 recovery and 82 death.
What do you make of the way the government of President George Weah has handled the pandemic in Liberia?
B. Elias Shoniyin: Noting the limited capacity of the George Weah Government, they are continuing to make efforts. Clearly, a lot more is required to fully address the pandemic; therefore, the Government is encouraged to seek and bring on board more professional expertise available in Liberia.
The outbreak of COVID 19 comes a few years after the outbreak of Ebola, are there any useful lessons from the Ebola episode that have been useful or could be better put to use in providing a better response to COVID 19 in your country?
B. Elias Shoniyin: There are many similarities between how Ebola and COVID 19 are transmitted. The obvious differences are COVID is a lot more contagious but less deadly than Ebola. As soon as the first known COVID 19 case was reported in Liberia, the dormant structures established during the Ebola outbreak were immediately reactivated. Strict social and public health measures were taken, including mass awareness, isolation of infected persons, and effective contact tracing. Many Liberians were skeptical of the government of Liberia's initial handling of the virus, prompting fears of its prevalence. However, we are happy that society's awareness drawn from the Ebola experience has contributed hugely to constraining social behavior resulting to the low number of COVID cases.
As someone who follows developments across Africa closely, what appraisal do you make of how African countries have fared in the fight against COVID 19, what are some of the positives and negatives that you see in some of the responses?
B. Elias Shoniyin: Generally, the response of many African countries to the pandemic was prompt. We are aware of our limitations in available financial and human resources, and the weaknesses in our health care systems; therefore, the most sensible reaction was what we did; that is, prevention. Measures to prevent the spread of the virus was the first and most emphasized course of action by many countries.
The President of Madagascar has touted a remedy called Covid Organics as an antidote to COVID-19, while the WHO has been skeptical about it, many Africans and African leaders have embraced it, where do you stand on initiatives like those of President Rajoelina which seek to make Africa part of the solution ?
B. Elias Shoniyin: I believe in the promise of Africa. Finding African solutions to problems that affect Africa should be supported by all Africans, but not blindly and on sentimental basis. while lauding the efforts of Madagascar to find an African solution to the covid crisis in Africa, I think it became unnecessarily political. when it comes to matters of medical concerns, it should be dealt with scientifically. there was no evidence or scientific data to confirm the potency/efficacy of the Covid organics, but many Africans went ahead to celebrate its discovery. I thought that was too early. As I said earlier, I laud Madagascar for the bold efforts. They should not be discouraged. Africa will continue trying to improve and evidentially confirm our discoveries.
In follow up to that , there has a passionate debate about the issues of vaccines for COVID 19 with people fearful that Africans will be used as "guinea pigs," what is your take on this, what are some of the pros and cons that governments should consider before making a decision concerning vaccines?
B. Elias Shoniyin: I know Africans are haunted by a history of distrust, imperialism, and exploitation, in our engagement with the West. These are legacies of past relationship with the West that have remained the main cause of the modern-day suspicion by Africans. Despite the legitimacy of the suspicion, I see opportunities. The sad reality is Africa has not yet developed the competitive advantage for high-level scientific capacity and facilities to drive medical research to solve most of the World's problems. Even though we do contribute in a modest way to solving some of these problems, the West remains dominant in scientific research, and thus, most of the medical discoveries are derived from Western countries. I think we should put our scientists and medical researchers to work to confirm the composition and safety of the COVID vaccines, and do not simply reject them, leaving more than a billion persons to face the Corona Virus threat on their own.
Let's talk more about the Ministerial functions that you, occupied, how did you find yourself in government at such a relatively young age and what was the experience like working under President Sirleaf Johnson?
B. Elias Shoniyin: Prior to my public service life, I worked in the nonprofit sector for many years, starting at the young age of eighteen. In 2005 I encountered Ellen Johnson and was profoundly inspired by her advocacy, courage, and professional accomplishments. Later, that same year, I joined her campaign for the presidency of Liberia, developing campaign strategies and training modules for mobilizers. Following her election and subsequent inauguration as the first female President of Liberia – Africa, I was appointed at the Foreign Ministry as Assistant Minister for International Cooperation and Economic Affairs. That portfolio launched my international affairs and diplomatic profession, which has now spanned almost fourteen years. I have felt very lucky and blessed for the opportunity not only to serve with President Sirleaf, but also with other extraordinary personalities with long and distinguished professi0nal tenures, including Ambassador George w. Wallace, who was the Foreign Minister then; Ambassador Carlton Carpeh, Amb. T. Ernest Eastman (Fmr. Foreign Minister), Amb. William V.S. Bull, Olubanke King-Akerele (Fmr. Foreign Minister), Dr. Toga Mcintosh (Fmr. Foreign Minister), Amb. Sylvester Grigsby, and many others.
My time at the Foreign Ministry, working in the shadow of President Ellen Johnson, at a critical time of post-conflict recovery, state-building, and reconstruction of Liberia, profoundly shaped my world view and my development perspective. For President Sirleaf, preparing the generation after her for both government and corporate leadership was a key feature of her Administration. She was always intentional for seeking young talents and preparing them for national service. I learned a lot from her, both ethically and professionally. No doubt, she is a towering figure.
After the departure of President Johnson, you served under President Weah as well before resigning, first what was the difference in vision for Liberia for both leaders, and what prompted you to resign?
B. Elias Shoniyin: I do recall in 2006, President Sirleaf inherited an entirely broken country, after fourteen years of devastating civil wars. She assumed leadership of Liberia with a clear vision of what was required to ignite transformative recovery. She had her eyes fixed on her goal of setting Liberia on an irreversible course to development. In this effort, she was prepared to make arduous decisions, even if it meant, working contrary to her Party's expectations. In her twelve years, two terms leadership, emphasis was placed on Human capacity, building strong and sustainable institutions,
I relish the opportunity to have been called upon by President George Weah to serve with him immediately following his election, affording me the distinguished honor of serving in two successive administrations in post-conflict Liberia. I believe he has had good intentions for Liberia, but his limited professional experience may have held him hostage to delivering on his promise to the people of Liberia. He is trying to take some practical steps towards achieving key objectives, but it has been an uphill battle, with the strong partisan centered government he currently has going. Unfortunately, many of the key operatives of his party (Congress for Democratic Change) lack the requisite education, experience, and technical competence required to adequately get the job done. He has found himself caught between the difficult options of recruiting competences outside of his Party to get the job done, and running a government of tragical incompetence, but fiercely loyal partisans who spent most of their working hours attacking his critics on social media but performing decimally in their government duties.
My resignation as Deputy Foreign Minister of Liberia, in May 2020 was prompted by consistent policy and value incompatibilities. I served my country with dedication and respect for nearly fourteen years and I thought it was time to move on, and I did.
May we know some of the significant challenges that you faced while in government, and in terms of significant accomplishments, what are some that come to mind?
B. Elias Shoniyin: Like many other countries in Africa, public service in Liberia is truly difficult. Not by the responsibilities of the office, but more of navigating the deeply personally driven political space. There were many challenges encountered in the course of my public service, including professional, ethical, and several attempts to blackmail me. Example of some of the most significant professional and technical challenges were the low human capacity mainly at the low and middle levels in government institutions due to the politicization of the system. Dominantly, most of those who entered or sought government appointments were motivated by the personal acquisition of public wealth and for unfair advantage over others. There were almost at all time, personal interest involved when getting tasks done. These self-interested actions slowed momentum, killed morale, and stymied productivity, making it difficult to derive the maximum results from the government's actions. Despite these challenges, the inspiration, courage, and out of the box thinking ,President Sirleaf spurred, emboldened me and many others on her team to put in an average of fourteen hours a day in achieving the objectives of the post-conflict recovery programs. When we assumed office in 2006, the depth of the quagmire before us was scary – there was nothing that did not require fixing – the entire socioeconomic fabric of society was in shambles; from pipe bourn water to infrastructure (roads, ports, energy , education system, health system, massive unemployment, democratic structures, mindset, and a lot more. Looking back, I am proud of what we together achieved as a country. There is still a lot to be done in Liberia's development drive; however, when one looks at from where we come, the new do appreciate where we are.
There are many who believe that besides handing over power after twelve years, there was very little that the government of President Sirleaf Johnson did to better the lot of Liberians, on hindsight, do you believe that there was more or room for that administration that you were part of to do more?
B. Elias Shoniyin: Criticism that President Sirleaf did not do much in her twelve-year tenure to bring about development in Liberia is unfair and latently motivated. President Sirleaf' inherited a country severely battered by fourteen years of fratricide violence. Sirleaf's administration did remarkably well with restoring Liberia to its prewar status. Considering the extent of the challenges she inherited, and where she left the country at the time of her turnover, I hail her for great work. A few examples of her Presidential accomplishment are as follows: She inherited a budget of 83M in 2006 and left almost US$600M; she inherited a reserve of US$6.5M and left US$154.8M; she successfully negotiated and secured cancellation of more than US$4.9B external debt; she inherited an unpaid wage bill of 36 months to civil servants, and cleared it all in five years, raised salaries by more than 2500 percent; she inherited an energy generation capacity of Zero megawatt and we left 126MW excluding electricity in some rural communities from the West African Power Pool (WAPP) and the CLSG; she inherited a rundown airport and left a new Terminal and runway; she inherited dilapidated and/or limited roads, which she rehabilitated and constructed more than 800km of paved excluding the ongoing Karloken- Harper high way and the Gbarnga to Menikorma High way in Liberia; reconstruction and rehabilitation of many bridges including the Johnson Street and Waterside-Vai Town bridges; 2,103 public schools rehabilitated or constructed, furnished and staffed; five community colleges established in Grand Bassa, Bomi, Bong, Grand Gedeh, Lofa and Nimba Counties; construction of the Jackson F.Doe Hospital in Tapeta, Nimba County, and construction and rehabilitation of several hundreds clinic and hospitals including JFK Medical Center in Monrovia, and Phebe Hospital in Gbarnga, Bong County; and many more.
Prior to the outbreak of COVID-19, the African Continental Free Trade Agreement was the harbinger of great hope for the continent, did you share in that optimism and can you situate the importance of the AfCFTA in the post COVID recovery plans for Africa?
B. Elias Shoniyin: I am sure counted in the number of those optimistic of the promise of AfCFTA. AfCFTA will unlock the untapped potential of intra-Africa trade and compel African countries to increase cross-border connectivity to facilitate the movement of goods and services. AfCFTA will not only increase trade among states on the Continent; it will also attract significant FDI inflow, particularly market-seeking investors who would want to participate in the expanded market of more than 1.4 billion consumers. Once we begin to harness the opportunities of AfCFTA, the benefits of trading among African states will have a multiplier effects on promoting increased agriculture production and a lot of intermediate manufacturing by small underdeveloped states, to support largest industries on the Continent. I believe that trading among us will spur unprecedented prosperity in Africa. It is important that African countries be encouraged to formulate their post-COVID recovery plans around the opportunity of AfCFTA. AfCFTA will also embolden African countries to invest more in areas of comparative advantage, where they have maximum potentials.
We end with a word from you on the future of Liberia and Africa, what are your hopes and what are your fears?
B. Elias Shoniyin: Liberia is now enduring a difficult period. All the economic and social indicators are in the reverse, after an earlier twelve years of steady reforms and transformation. Prior to the Coronavirus pandemic, the economy was already sliding; now it seems to be in acceleration downward. The future is no doubt uncertain!
I believe in the promise of Africa, but I am aware that there is a lot of work to be done, particularly in re-orientating the mindset on how we see public service and developing the spirit of entrepreneurship. We will need to invest hugely in human capacity and infrastructure and build strong and sustainable institutions that are beyond the narrow aspirations of a few individuals. There are some countries on the Continent that are progressing very well along these lines and we are all proud of them.
I disagree every time I hear people inferring that Africa is rich – suggesting that the minerals or gems, and natural resources underground are supposed to make us rich without any efforts. I believe, the most valuable asset of Africa is its people. Natural resources underground are not what make a people great; the capacity of the people to harness those resources makes them great. Our foremost challenge in Africa today is the limited capacity of our people. The more we can invest in our people, the more Africa's future will be assured.
Thank you very much for the opportunity to share my perspectives on my country and our Continent, Africa.
*Culled from October Issue of PAV Magazine