Ukraine Grain Ship Docks In Kenya
By Samuel Ouma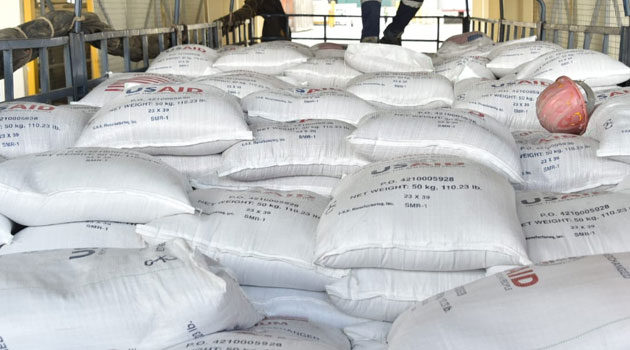 A fifth Ship carrying 30,000 tons of Ukrainian wheat docked in the East African nation of Kenya on Monday, March 20, 2023.
The vessel was received at Mombasa Port, coastal part of the country, by Kenya's Deputy President Rigathi Gachagua, together with Dr Christopher Fomunyoh, member of the International Coordination Group for the Prevention of Hunger (ICGPH), and Ambassadors from the donor countries to the programme.
"Ukraine has always been one of the main suppliers of wheat worldwide. Before the war, Africa imported more than $1.4 billion in wheat from Ukraine. Today's shipment to Kenya cements our ongoing commitment to tackling forced famine across Africa's most vulnerable nations.
While we continue to defend our nation against external aggression, we have not forgotten our humanitarian obligation towards our allies in time of need.", said Andriy Yermak, Head of the Ukrainian Presidential Office and Chairman of the International Coordination Group for the Prevention of Hunger.
On his part, Dr Christopher Fomunyoh, Senior Associate for Africa Programmes at the National Democratic Institute, USA and an ambassador of the "Grain from Ukraine" humanitarian programme, said, "Several countries across Africa, including Kenya, Nigeria, Ethiopia and Somalia, are facing the worst food crisis seen in 40 years. Global factors, such as ongoing climate change in Africa, the escalating conflict in Ukraine, inflation around the world and a surge in global food prices, have caused devastating hunger ripples worldwide. Through the "Grain from Ukraine" humanitarian programme, we will ensure that Ukrainian grain is provided to people in need, so as to tackle forced famine across      Africa and the world."
The wheat is meant to feed millions of Kenyans suffering from the effects of a ravaging drought caused by rain failure. An Integrated Food Security Phase Classification report shows that more than 5.4 million people in Kenya will likely experience acute food insecurity in March and June 2023. Also, about 970,200 children will likely suffer from acute malnutrition in 2023.
The shipment was funded by the UN World Food Program (WFP) with financial assistance from the governments of the United Kingdom, Norway, Belgium, Netherlands, Switzerland, Italy, Slovenia and the Czech Republic.
Ukraine President Volodymyr Zelenskyy initiated the #GrainFromUkrain (GfU) campaign in November 2022 to help nations afflicted by the ongoing global food crisis. So far, the program has transported approximately 140,000 tons of Ukrainian wheat to Africa's impoverished countries.