Cameroon: Insights into LECUDO-USA's Grand Medical Mission With President Atem Terrence
By Boris Esono Nwenfor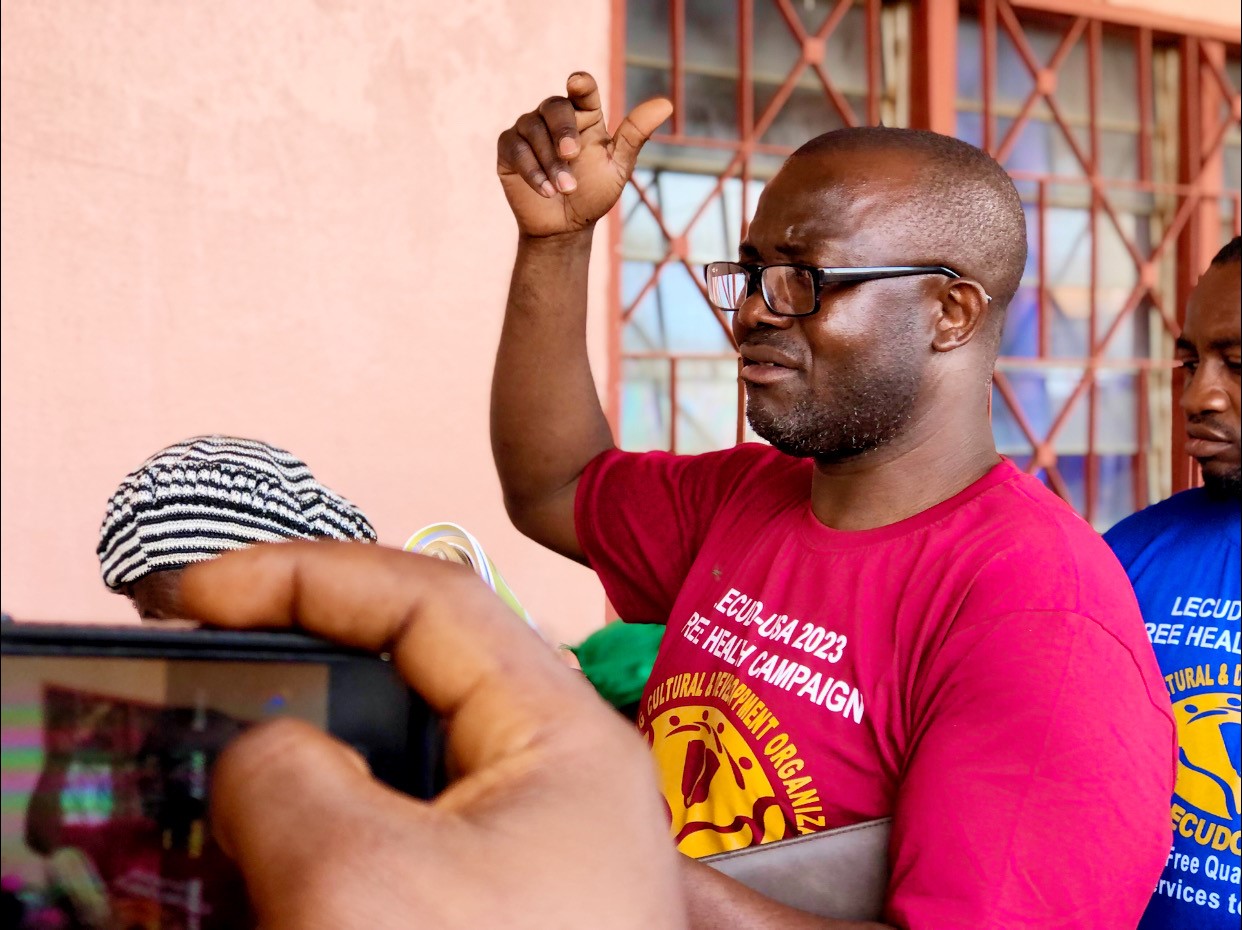 DSCHANG, March 22, 2023 – Created in 1994, the USA Chapter of Lebang Cultural and Development Organisation-LECUDO USA is dedicated to promoting the social, cultural, educational, and developmental well-being of the Lebang people in the Diaspora. LECUDO can however trace its creation back to 1982 with a mission to empower and meet the development needs of the Lebang people and Fondom in Cameroon. Beyond its geographical spread across Cameroon, the organization counts branches in the UK, Canada, Belgium, Russia, Germany, the Netherlands, South Africa, Nigeria and more.
In an interview on the sidelines of the recent Medical Mission to Cameroon, Terrence Atem, President of LECUDO-USA praised the heroic resilience of Lebang people in trying times. That they showed up in numbers to benefit from the program was most gratifying, he said.
Done in partnership with Healing Beyond the Horizon, Life-Bridge International, Fiangep Polyclinic Dschang, and Mary Health of Africa Hospital, Fontem,  Terrence hopes that the success of the  Medical mission by LECUDO-USA could serve as a template for more action and team work  to meet the challenging development needs of Lebang people and Fondom
Could we start with an introduction to LECUDO USA that you lead?
Terrence Atem: LECUDO stands for Lebang Cultural and Development Organization in the United States. This is an organization of the bangwa people or the people of Fontem in particular and more specifically Lebang, who reside in the United States. The mission is to facilitate the development and preserve the cultural heritage of the Fondom and its people.
What is the membership like?
Terrence Atem: We have a vast membership. We are more than five thousand in the United States, even though not all five thousand members are registered every year. For us, membership is annual with a minimum payment of development dues of $100. Some years the membership fluctuates but constantly we at least have members to sustain the projects.
May we know the reason d'etre for the present medical mission?
Terrence Atem: This is the second medical mission that we have carried out since I became the Chief Executive Officer in 2020.  Once I became the CEO, I set the vision for the organization. I had four pillars to be able to help our people which were health, education, cultural preservation, and community development, which includes roads and all of that.
Health to us was a very important aspect of it because as they say, good health is wealth. So, this medical mission, which is the second, the first was held last year in Dschang.  This year we decided to extend and do one of the medical missions in Fontem. This was the first one and it was for three days and the goal basically was  to assist all of our people who have not had access to good quality healthcare for the past six or seven years since the crisis in the North West and South West Regions started. For Dschang, it was not a difficult choice as it hosts the bulk of IDPs from our area because of proximity.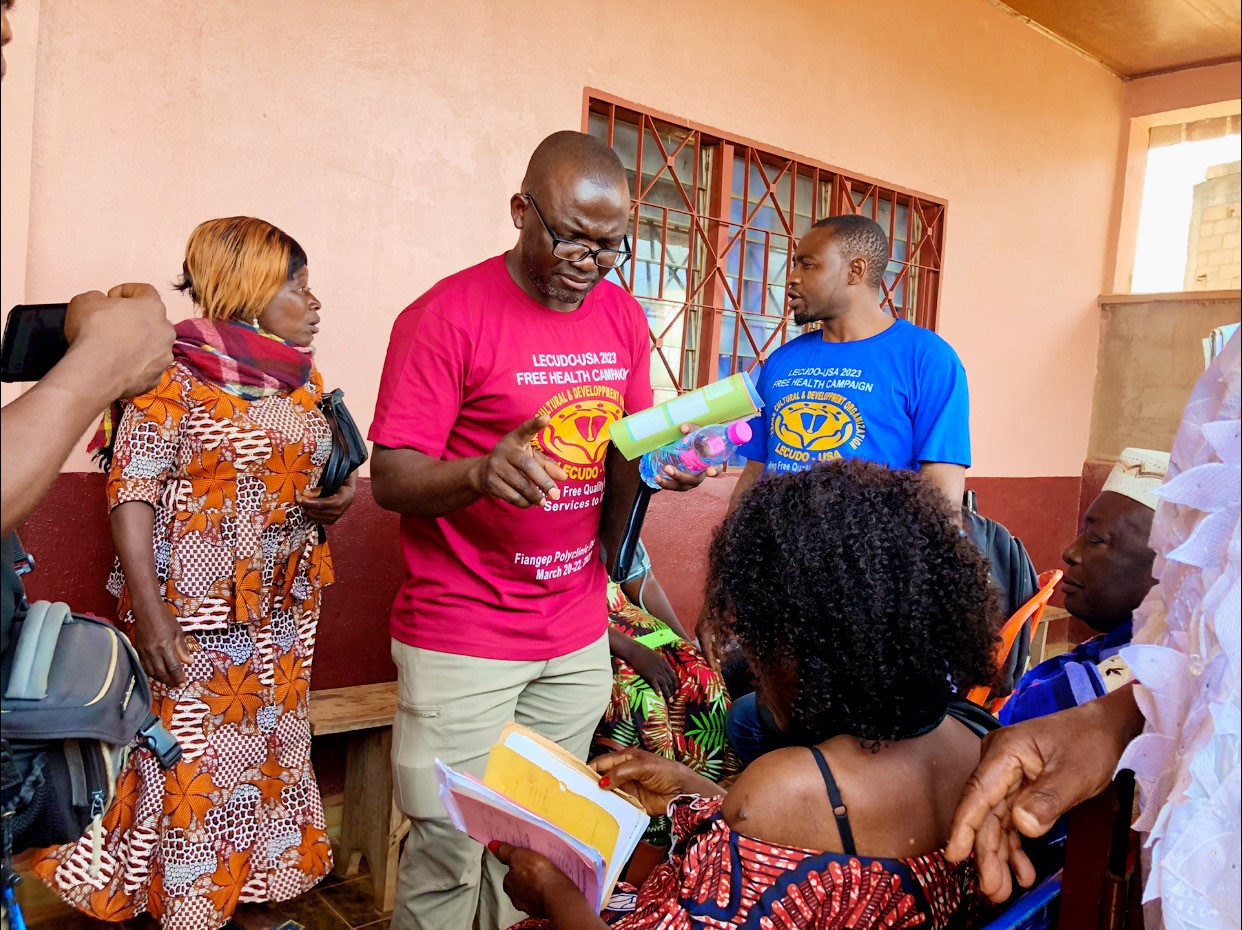 What message is LECUDO sending out with the mission and how would you define its success?
Terrence Atem: The message for us is pure and simple, it is one of solidarity and one of healthcare assistance to our people. In this initiative, we also see the power of collaboration because we did not do this alone. We were able to leverage the partnerships that we have built with other organizations like Healing Beyond the Horizon, Life-Bridge International, Fiangep Polyclinic that offered us an entire hospital to work with, the Focolare Movement which owns Mary Health of Africa hospital, that offered us their facilities to work with as well.. We have a health insurance-type program in Mary Health that allows our people to go there and seek help for free.  We pay the bills including free medications.
How was the medical mission funded?
Terrence Atem: All these programs are funded as I said through membership dues, but we have been able to figure out a formula. Thanks to the team that we have, the executive and the board of trustees does oversight and a lot of the committees help us  to facilitate our decision-making, identify projects, do feasibility studies, and then that comes to the executive to determine which of the projects they want to fund and carry out. This is funded through membership dues and then mostly we raise money from a lot of our other members who are a little bit more privileged and have organizations, and also with third-party funders.
There are displaced people not just in Fontem and Dschang, but in other towns of the West and some South West Regions, how representative is the mission when it is focused on  Fontem and Dschang?
Terrence Atem: Right, it's a good question but again the first thing is that our organization was formed to focus on the Fondom, and Fontem and when I mean Fontem I actually mean Fontem and not people outside Fontem. But we had to make changes because of the situation with IDPs. Our people who were supposed to be living in Fontem are forced because of the circumstances to be living in villages, towns, and cities that are not their land. We considered moving some of our services to neighboring places like Dschang.
As you ask, why not take it to Yaoundé, Douala as I said it is the proximity of Dschang to our village. Most of our IDPs and a lot of them who are poorer and could not afford to move further away from the village, are settled in Dschang. Fiangep Polyclinic which hosted our program in Dschang is also accessible to all our people from around the country. We have people come from Ebolowa, Yaounde, Douala, Limbe, and Kumba all over. So, it's open access and the third reason why we only carried out this in Dschang is that you need a willing partner who has a hospital to be able to offer you.
Our outreach is not just like what other organizations do, come and find a hall, rent a hall and then set up tables and do what they think. Ours is full comprehensive healthcare with all processes of a hospital fully engaged and deployed and we could only get a hospital like Fiangep and Mary Health in Fontem to give us access to their hospitals to do this.
Are there any mechanisms or collaborative platforms in place for post-campaign evaluations or monitoring?
Terrence Atem: In addition to the regular three days campaign three days at Mary Health, Fontem and the three days we are doing now in Dschang, there may be post campaign monitoring for the most acute cases. . The beauty of our program is that, after three days, we can triage patients and use a criterion that we've set to then move patients who have the most chronic conditions into a 90-day program which we call the 90 days chronic disease management and monitoring program.
Through this program, patients who for example were diagnosed with diabetes, chronic diabetes, high blood pressure, hypertension and some psychological problems or mental health problems can then phase into this program. We follow them up for 90 days and during the 90 days we assist them with referrals, we also provide all their medications free during the 90 days and then we do a lot of disease management teaching, medication management teaching, diet exercise and other important measures necessary to make health comprehensive.
Again, during the 90 days, they receive all their medications for free. In those 90 days, we also hire nurses and a doctor to manage the program. The 90 days program specifically is funded by Healing Beyond the Horizon, with professor Ekokobe Fontem as the CEO, who is a Neurosurgeon from the United States, and they have their Board Chair, Dr Palmeri, who is also an Oncologist in the United States.
Your area is one of those decimated by the crisis, what other measures are in consideration at the level of your organization to jumpstart life again?
Terrence Atem: We are not in the process of jumpstarting life, that's never our responsibility. We are just in the process of helping our people and if that results in people going back home which in the first place is their home, they do not need to seek permission from anybody to do that. But if through our activities we're able to do that, that's fine but we are not in the business of jumpstarting life in Lebialem. There are programs as I said that we've put in place. First is health working in partnership with Mary Health. The hospital is owned by the Focolare Movement, a group of Italian missionaries who arrived in our area around the early 60s and have developed a solid bond with the people.
One of the programs we put there as a pilot program is a health insurance program, some sort of health insurance program through which we pay a consultation fee for the patients. What we sought to achieve with the program is to increase access to healthcare and also reduce costs.
Through this program, they can go get care for free, we pay for medications up to 1000 francs and the medication subsidy is sponsored by Life-Bridge International, which is also supporting the health campaigns. We also support the patients with their admission up to a certain amount and then all childbirth and maternity costs of 12,000 FCFA per mother, we cover the 12,000 for every mother who is having a baby in Mary Health. We also cover some of our patients who have epilepsy and have to rely on monthly medications, so we cover that 50%. It is a lot, and since we launched the program in July last year, we have covered more than 1520 patients. It has had an impact encouraging some people to go back.
The last aspect I'll say that we need to make the puzzle fit is to get a medical doctor involved and we are in the process of achieving that. We have a medical Doctor who left there because of the crisis, we are negotiating with him for him to be able to go and start taking care of our people and we are very optimistic that will happen.
In terms of turnout, have you been impressed?
Terrence Atem: I would say I'm satisfied but to a little extent I wasn't very satisfied. As you know, it's day one, and people were there, I don't know what the estimates are, we haven't looked at the numbers, but we could see that we had three large canopies, and they were almost all full. We were able to treat a lot of people, this year I think we have more than 85 volunteers and about 16 medical doctors, which is a big thing. Medical doctors from the United States, and Cameroon, some of the top physicians. We took good care of the population today; I think we are very satisfied with how far it went.  We had the lapses which always happen on the first day but now through our debriefing meeting, we have fixed a lot of things and we hope day two and the rest of the campaign will be better.
What message to the population receiving this medical assistance?
Terrence Atem: When we look at those who came in today, we could tell that our people need a lot of help. First, chronic diseases, diabetes, and hypertension, the good thing that our data revealed to us today is the prevalence of HIV. We did so many tests, but I can tell you that when you look at the results, we are excited with how much has gone into that fight and what we saw today reflects those efforts.
I should also mention that the Ambassador at large, Ambassador Dr John Nkengasong, who used to be the director of CDC Africa and was appointed by President Joe Biden to lead the US AIDS program known as PEPFAR is from Lebialem. He has worked so hard on this HIV program, with many of our Lebang Doctors and Professors and we're happy to see the results bearing fruits. I think he's going to be happy once we release the data to him. We also see that many of our parents, the elderly, are not happy where they are, so, we had a lot of mental health issues and it is revealing to us that these people want to go back home, where they grew up, where they know better, where the lifestyle is better, they can relate to their gods and ancestors. Those are some of the early observations and findings that we could at this point share.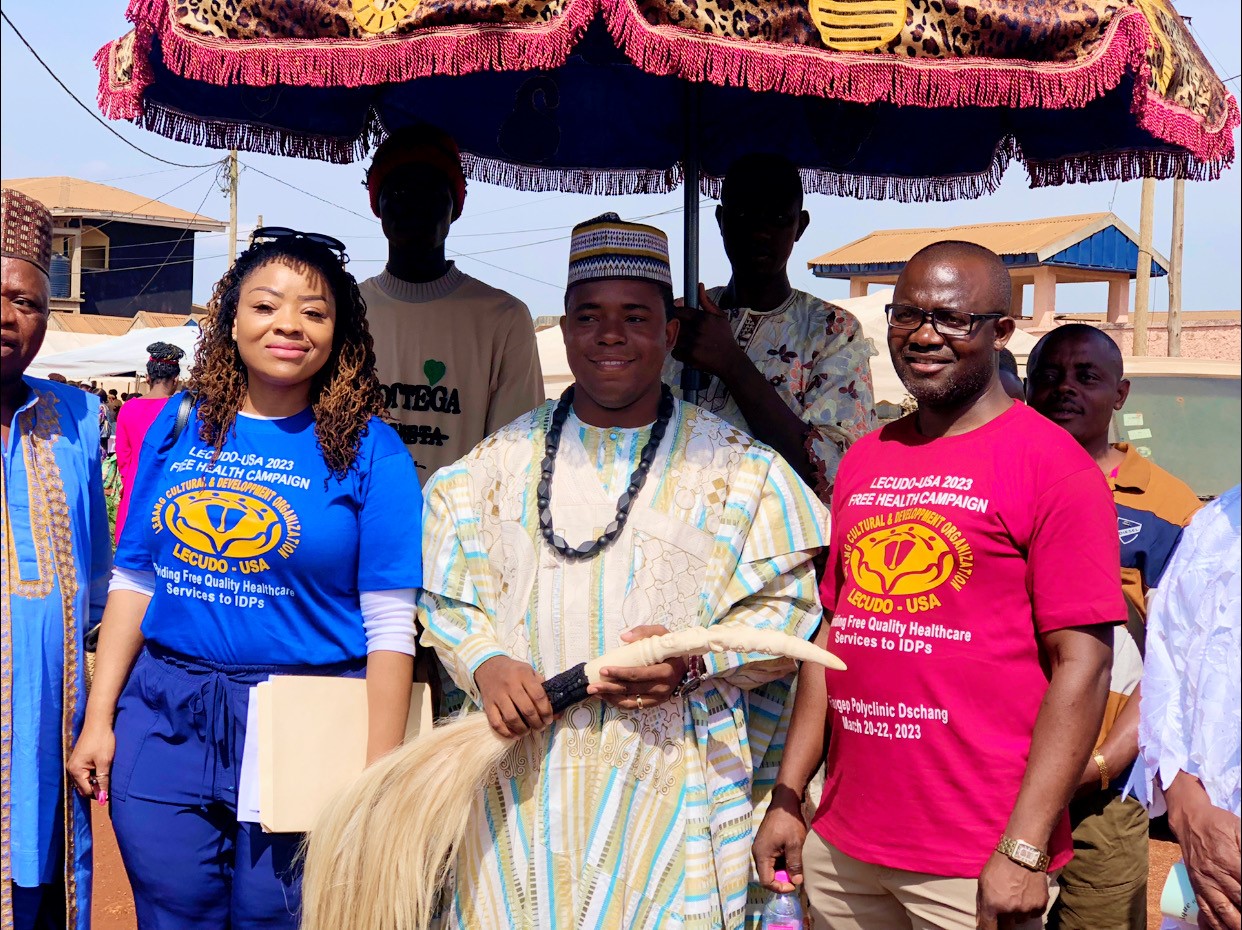 Considering the tense and challenging times we live in politically, how challenging is for your leadership to federate people or members with divergent political views?
Terrence Atem: The Bangwa man as they say, some people call us 99.9, we have a lot of intelligent people, people who are well-schooled, well-educated, very articulate and with that comes a lot of rigorous and vigorous arguments. The good thing is that it's not easy to lead an organization like LECUDO, with a lot of people who have their ideas, but the majority of the people are good people. What we have also learned in leadership is that you really have to follow your guts and also listen to everybody even people who are so critical of you.
The leadership that you manage, your team and the projects that you run, you must listen to them, even as unfair as you might feel sometimes that some of the arguments are, you sometimes you learn from them. It is not easy, but I think we are making good use of our talent.
What are some of the other key projects that your organization will be working on for the rest of the year?
Terrence Atem: Some of our projects and one that I would like to talk about is schools. When I took over there were no schools in Fontem, but we made it a responsibility to make sure that kids who are in Fontem should not be placed in a disadvantageous position just because of where they find themselves. Right now, as we speak, we have five schools running.
We at LECUDO-USA initiated the schools, working with the local communities, these are mostly private schools, and we pay salaries for the teachers. Right now, we have close to 300 kids going to school in Fontem and we're making progress. We are also looking at institutions like Our Lady of Seat of Wisdom College, which is a flagship college. I think hopefully things will be better for it to start and so many people are looking forward to that.
We are also trying to make sure we improve our road network. LECUDO has approved money to be able to go and improve our roads. We also have other projects, for example, we have a forestry project that we are working on with an international donor, if that works then that's going to be fine also for us. We have many projects in the United States, we have a summer enrichment program where we bring our youths, especially high schoolers and we have professors who are big and have labs they're going to teach them.  So, there are a lot of projects that are coming up.
Any last words?
Terrence Atem:  I will say thank you to Pan African Visions and thank you guys for making it here. It is a huge sacrifice, and we thank you for the opportunity also to cover our activities. I want to give a shout-out to my Executive, a special shout-out to our Health Committee Chairpersons and the entire Health Committee, our donors who have supported us all the way and the individual donors and sponsors. But, more especially our very resilient people, have shown a lot of grace and the fact that they have been able to appear, show up and benefit from this program to us is also very satisfying. We just pray to God that our organization would continue to grow and continue to impact lives.