More than 110,000 tons of Grain from Ukraine shipped to African countries
By Boris Esono Nwenfor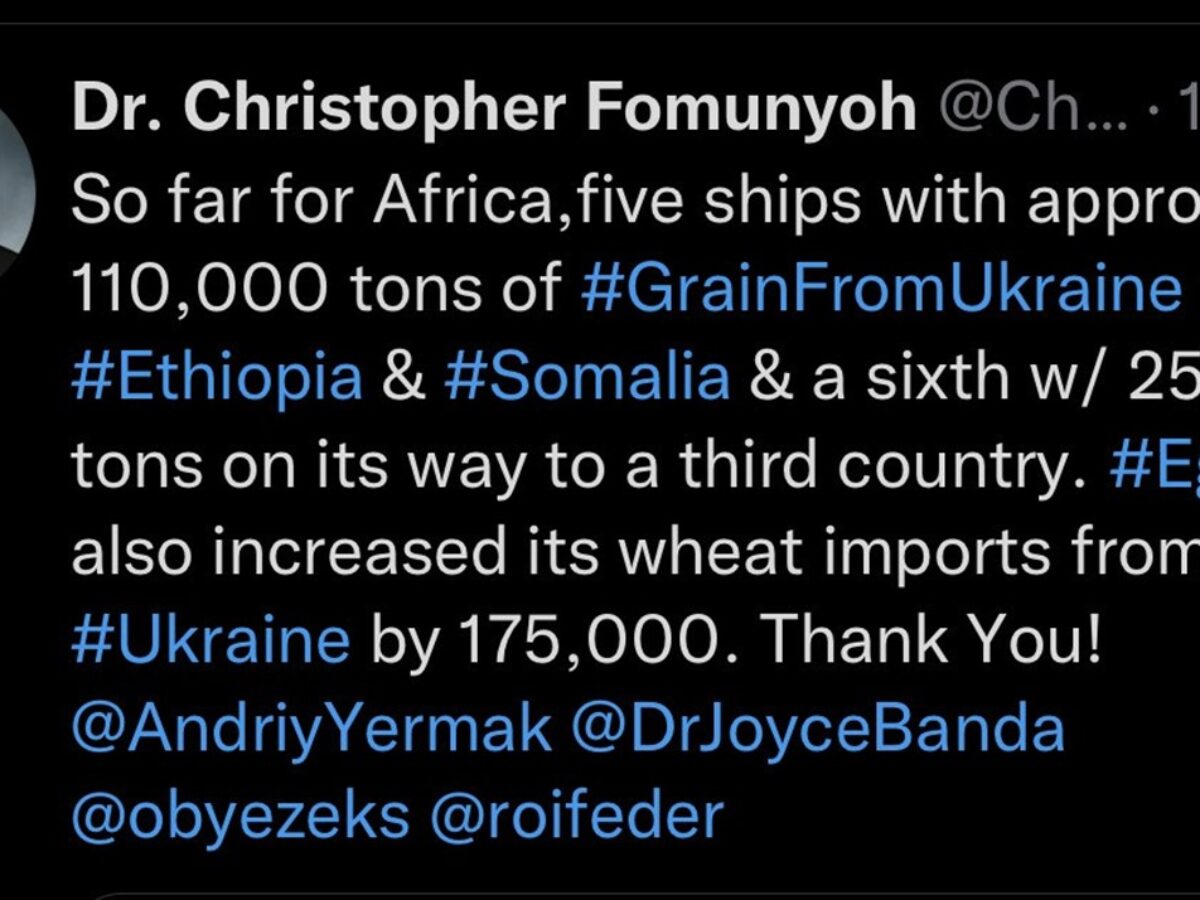 Buea (Cameroon) February 22 – Dr Christopher Fomunyoh, Ambassador of Grain from Ukraine Initiative for the African continent has indicated that over one hundred and ten thousand (110,000) tons of Grain from Ukraine has been shipped to the African continent.
"So far for Africa, five ships with approximately 110,000 tons of Grain from Ukraine for Ethiopia and Somalia and a sixth with approximately 25,000 tons on its way to a third country," Christopher Fomunyoh said in a Tweet.
"Egypt also increased its wheat imports from Ukraine by 175,000. Thank you!"
The information from Dr Fomunyoh, one of the Ambassadors of Grain from Ukraine Initiative, was in response to a tweet from Andriy Yermak, Head of the Office of the President of Ukraine who stated: "Each ship sent within the framework of the Grain from Ukraine initiative provides food for an average of 90,000 people." "Ukraine has been and will remain among global food security guarantor states. It will continue contributing to fighting undernutrition globally."
According to Andriy Yermak, since the Ukrainian nation experienced several terrible waves of Holodomor in the last century, and about 15 million Ukrainians died of the famine artificially created by the Soviet authorities, our state understands well all those who have problems with food and therefore does not stand aside and even in difficult times tries to help them.
Dr Christopher Fomunyoh, Regional Director for Central and West Africa Programs at the National Democratic Institute (USA), who has led international election observation missions and managed democracy support programs in many countries on the African continent, following his appointment back in January said: "I reaffirm my commitment to working with you to achieve results. Our hearts are full of sympathy for the people of Ukraine. We would like to express our respect to President Zelensky, the government and the people of Ukraine for fighting the threat of annexation despite all the difficulties and setting an example for the rest of the world," he said.
President Zelenksyy also established the International Coordination Group for Prevention of Hunger (ICGPH), which includes representatives from governments, corporations, and other patrons who can directly influence the provision of food needs of millions of people around the world. ICGPH functions under President Zelenskyy and is chaired by his Chief of Staff, Mr Andriy Yermak, with Dr Christopher Fomunyoh among the Ambassadors.
Since the start of the launched the "Grain from Ukraine" humanitarian programme in partnership with the UN World Food Programme in November 2022, more than 30 donor countries have joined it. These are the countries of the European Union, Qatar, Turkey, Japan, Norway, Korea, Canada and the USA. So far, the participants have announced the allocation of almost 200 million dollars.