Sierra Leone: Ecobank Hands Over Okada & Other Items To 8 Save & Win Promo Winners
By Ishmael Sallieu Koroma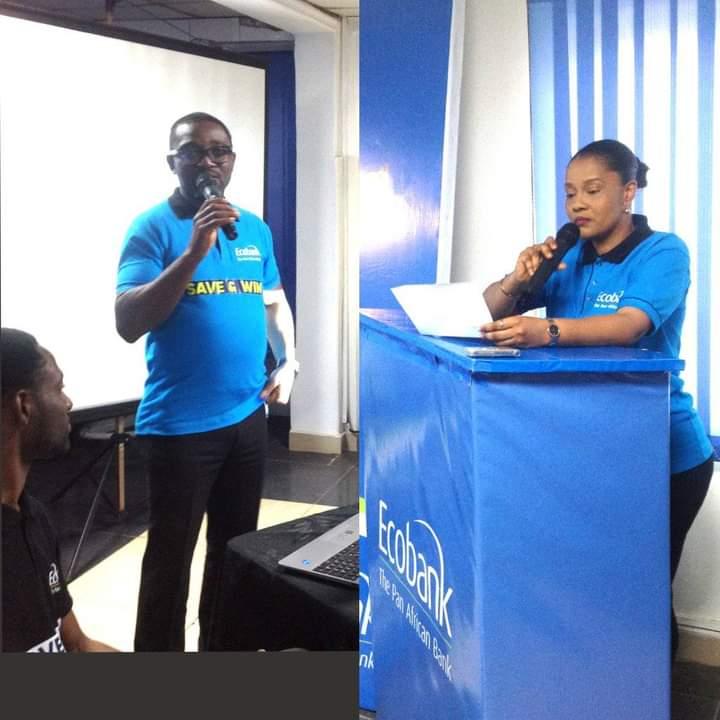 Last Friday, 13th January 2022, Ecobank Sierra Leone handed over a brand new motorcycle to Micah Richards, cash prizes to 5 winners and Phones to 2 winners in the first draw of its ongoing 'Save & Win' promotion. The draw was held at the banks' headquarters on Lightfoot Boston Street in Freetown.
Speaking during the handing over ceremony, the Acting Head of Consumer Banking, Sahr Musuyamasu, said that in October last year, the bank launched its save and win promotion to enable customers who save with them to win attractive prizes like Samsung phones, Kekeh, okada, cash and the Star Prize of a brand new car, stating that as part of their customer service principle, ''they do what they say they will do''
'' So at Ecobank we are doing what we say we are going to do. That's why we are here today with the lucky winners to do what we promised in October. But notwithstanding that, you that are listening, may be through radio, or through social media, we have other draws that we will do. All you need to do for a customer of Ecobank is to continue to deposit. If you haven't had an account with us, just visit any of our branches to open an account. Continue to save, as there is still Kekeh and other prizes. Not only is there a Kekeh, but there is a car that is waiting for the lucky winner. I want to encourage everyone to come onboard, as you all have equal chances,'' he urged.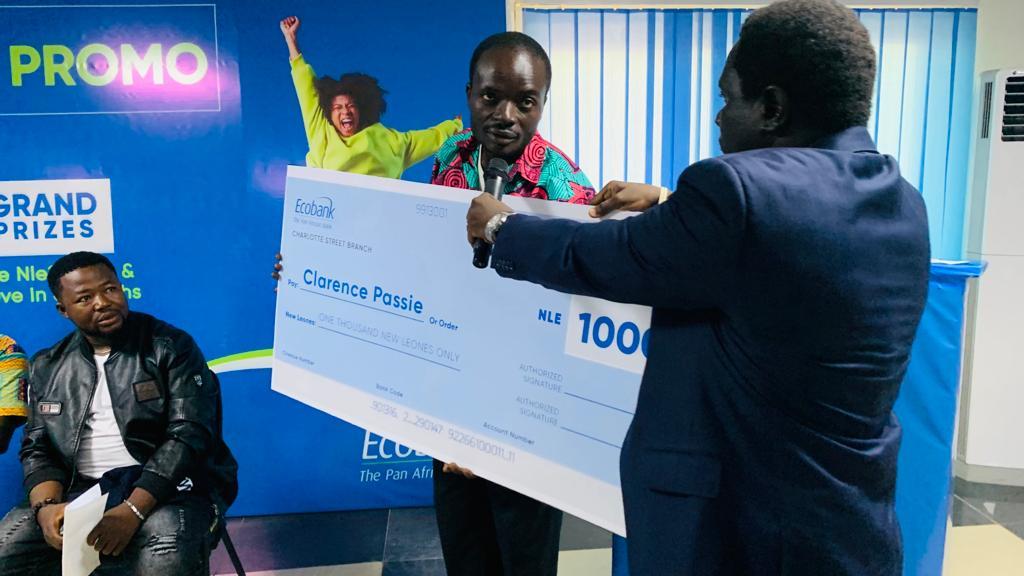 He encouraged customers to take part in the promotion, as they will stand a chance to win exciting prices in the next draw, as the promotion is free and fair. He stated that as a bank, their aim is to put smiles on the faces of their customers.
Handing over the motor bike to the winner, the Head of Corporate Banking, Winston Williams congratulated Micah Richards for saving with the bank, and for emerging as a winner for the grand prize for the first draw, whilst encouraging customers to continue saving more in order to qualify for the next draw, which will take place in February.
'' To qualify for the next draw, you have to save up to 20 million Leones in order to have the chance to win that car outside, and the final draw, which will be the star prize (a car). But in February for Valentines, we will do a draw for other items like this Kekeh and another bike. Congratulations again Mr. Richards. This is your bike. This is the helmet,'' Winston Williams said.
In his statement, the winner of the motorcycle, Micah Richards, expressed happiness and joy in winning the grand prize of the first draw of the Save & Win promotion, adding that he has been a long customer to the bank since 2015.
Richards encouraged other Sierra Leoneans to bank with Ecobank, as it is one of the best banks in Sierra Leone and other parts of Africa.
Kingsley Emezue, Head of Customer Product and Business, in his closing remarks, said that to qualify for the next draw, a customer needed to save above NLE 5000 before April in order to stand a chance to win different prizes.
'' If you are able to save above NLe 10,000, you will have a chance to win a Kekeh. If you are able to save above NLe 20,000 on your account, you stand a chance to win the brand new Suzuki outside the bank,'' he said.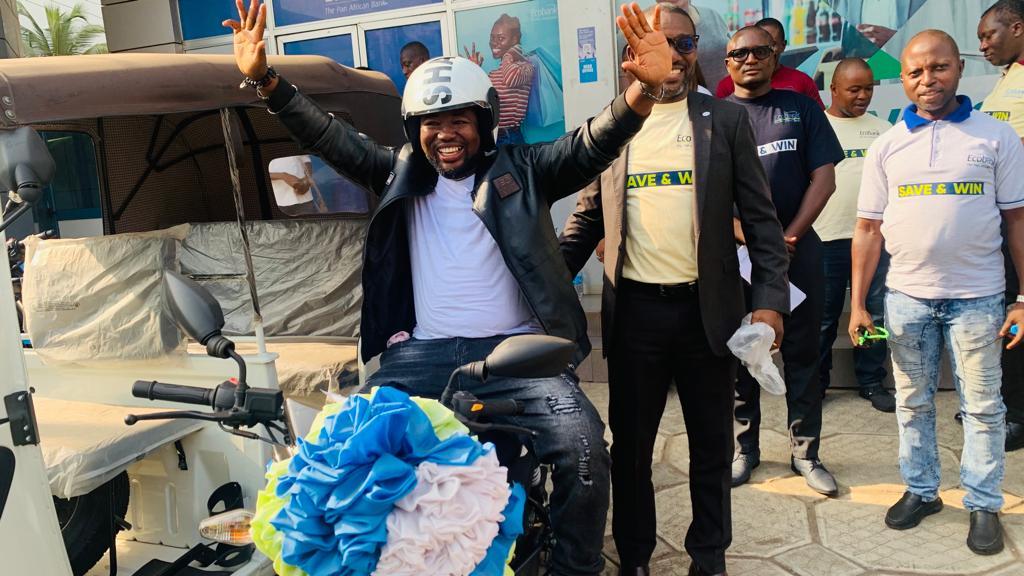 He added that the Save and Win promotion will run till April this year, and encouraged those that haven't open an account with the bank to do so  by visiting any of the bank's branches across the country to start saving and win.
''So finally we have presented the grand prize for the first draw. We all see how the winner was excited, so happy. At least Ecobank has added so much value to him.  What did he do? Did he do much to qualify for the draw? He only saved above NLe 5000 in his account,'' Kingsley Emezue maintained.
The Head of Customer Product and Business went on to say that the winners of the Save & Win promo should serve as an encouragement to those banking with them, adding that the promotion is free and fair, stressing that whatever the bank promises, they do.