Bigger Deals ,Stronger Drive To Make African Energy Poverty History On 2023 Menu-AEC's NJ Ayuk
By Boris Esono Nwenfor
A leading authority in the African energy sector, NJ Ayuk, Executive Chairman of the African Energy Chamber, AEC – the voice of the African energy sector, says progress has been made in the African energy sector but expects 2023 to see a lot more deals being signed.
Speaking to Boason Omofaye on Arise News, the discussions centred on Africa's energy issues, a just energy transition, investments in hydrocarbons, the upcoming London energy investment drive and Africa Energy Week in Cape Town.
"What we saw in 2022 was amazing, we saw for the first time African companies, being given priorities. We saw physical accounts being revised, for companies that we coming out of COVID, so, that they can start producing again as we had seen a natural decline across Africa," said NJ Ayuk, Executive Chairman of the African Energy Chamber, AEC.
"We saw deals being signed across Mozambique, Angola, Nigeria, Senegal, so, we have seen a lot of progress and thank God we have the African Energy Chamber to stand up and defend these industries like a junkyard dog in the face of a hurricane."
NJ Ayuk added: "There has been progressed, but am I happy, no. I want more, we want to see a lot more coming out in 2023. We want to see more jobs being created, we want to see an increase in production, and we want to see the biggest issue of the day, making African energy poverty history. We have to go on a super drive to make this happen and this is how we are going to start 2023."
As Western Europe accelerates a structural shift away from Russian energy dependence, Africa could play a salient role in filling the void. The longer-term transition towards renewable energy and a shorter-term reduction in Russian hydrocarbon dependence will increase demand for African renewable and non-renewable resources.
Algeria's state energy firm, Sonatrach, has said it is ready to ramp up gas supply to Europe from its surplus via the Transmed pipeline; Italy is already in talks with Algeria to increase quantities of Algerian gas. In turn, Egypt aims to position itself as a key regional destination for the processing and re-exportation of natural gas – Israel recently approved a new route for gas exports to Egypt via Jordan. Notably, though, authorities in both Algeria and Egypt have said domestic demand will be prioritized before the gas is made available for export.
"That is the most critical thing we need to focus on. They (Europeans) have choked out the African oil and gas industry. They say gas is green for Europe but gas is not green for Africa," NJ Ayuk questions.
"Choking up financing is not a way to build our energy future and drive up exploration, drive up production and deal with jobs for young people. We have to create that enabling environment for financing, and funding to drive up these projects. We have to start thinking that if you boycott Africa, we will boycott you and we will boycott you with our money. We are going, to be frank, and drive this home because we cannot be funding those who don't fund us."
Multinational energy market research firm, Rystad Energy, and leading pan-African financial services provider, the African Export-Import Bank (Afreximbank) will be supporting the African Energy Chamber's January 26 summit in London. The summit is to dialogue with European investors on investing in Africa's oil and gas industry.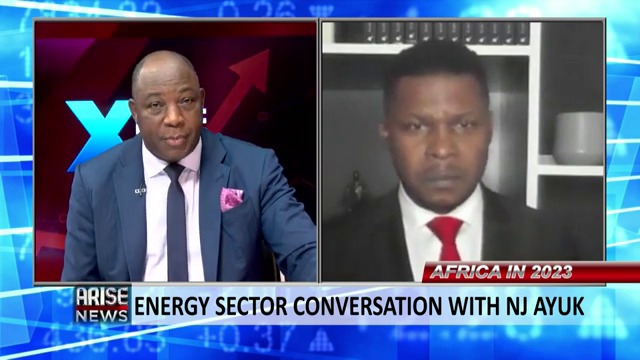 Having served as the official partner for the 2022 edition of the AEC's annual energy event, African Energy Week (AEW) – Africa's premier event for the oil and gas sector which saw $2 billion worth of deals signed to grow Africa's energy sector – as a partner of the Invest in African Energy Reception, the Afreximbank, alongside the AEC, is set to usher in a new era of stronger energy developments on the back of optimal capital flow across the continent's oil and gas sector.
"Give me solar, wind, hydrogen, oil, gas and I'll give you rest. That is a message we are going to take to Europe," NJ Ayuk said. "We have to engage with our European partners to find ways we can bridge this dive on investments. New has delegations coming from Namibia, Nigeria, Sierra Leone, Liberia, Ghana, and South Africa engaging in more than 250 companies in the UK. The African Energy Chamber wants some real matchmaking but also, but we want to see Africans working with their European partners to do deals so that we can drive up with our future. We don't have to wait till the African Energy Week to sign deals."