Volunteerism stepping up the humanitarian sector in Zimbabwe
By Nevison Mpofu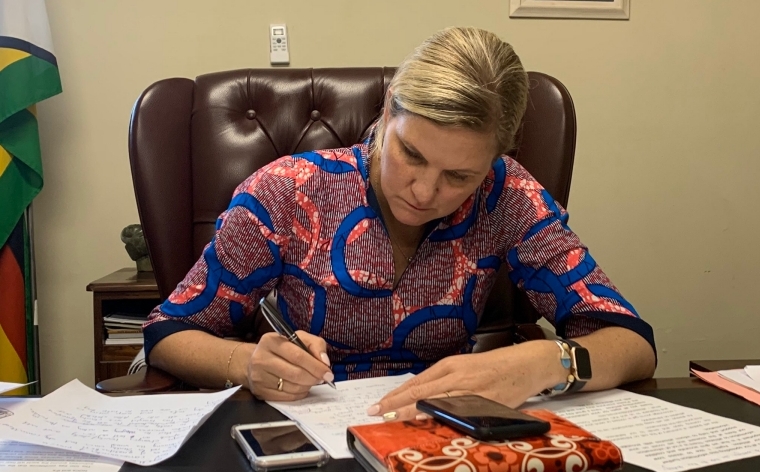 "Solidarity through volunteerism " has proved vital successful tool to the humanitarian sector despite economic challenges here faced. It has been noted that collective roles and responsibilities have made better communities in the face of hardships Zimbabweans face . This comes in the wake of the recent commemoration of the International Volunteer Day annually held on 9 December.
Addressing senior Government officials , junior Parliamentarians , members of the volunteer community  , regional delegates and media in Harare Minister of Youth , Sport , Arts and Recreation Kirsty Coventry said volunteerism is an active expression of civic participation which strengthens common values as a nation. Collective roles and responsibilities of  those at large playing their part in community development make communities look better .
"Collective roles and responsibilities make different communities better .Volunteerism is an active expression of civic participation which strengthens our common values as a nation .At the same time solidarity strengthens one's sense of identity and belonging . Sense of identity and belonging is a key ingredient needed in an Individual especially in young people . This positively direct and guide their restless energies in developing communities."
Youth Build Zimbabwe is a programme the country has developed. This programme encourages Youth to participate in the  development of  their communities by participating in construction of clinics , schools , community halls and many other projects.
"Youth build Zimbabwe connects Youth to their communities . It encourages them participate in the development of their communities like in the construction of clinics and schools . Basically these stand vital in the development of any given community of a nation .
"Volunteerism facilitates social inclusion there by fostering development processes . It strengthens bonds between young people and their communities thereby giving young people respect of their communities .Connectedness means that individuals within a particular community feel that they have to defend and ensure that humanity and dignity of others in that particular community is protected".
"Solidarity makes communities strong because they are brought together , reduces conflict and encourages them to share their time and help each other so that everyone benefits from being part of the same community . Volunteers integrates the society thereby giving z picture of their good work"
"As Zimbabweans , lets not feel that we are not alone in difficult challenges . This is why National Youth Service was established , at least 100,000 youth will be incorporated in the programme for the next 5 years. This promotes respect , tolerance , the spirit of service and solidarity encored by Ubuthu . It also creates employment through Life Skills Orientation Programme.""
Zimbabwe has multi-concerted efforts in National Volunteer Strategy NVS .This strategy encourages better co-ordination , monitoring and attribution of volunteer contributions to development objectives in the country. This is supported by the United Nations Volunteers Programme and Volunteers Service Overseas. Significant progress has bee  made on this process .It is aim of the Government to finalize on the process and submit the document for cabinet consideration , review and approval .