US-AFRICA LEADERS' SUMMIT "Guess Who's Coming to Dinner… at the White House"
By Omar Arouna*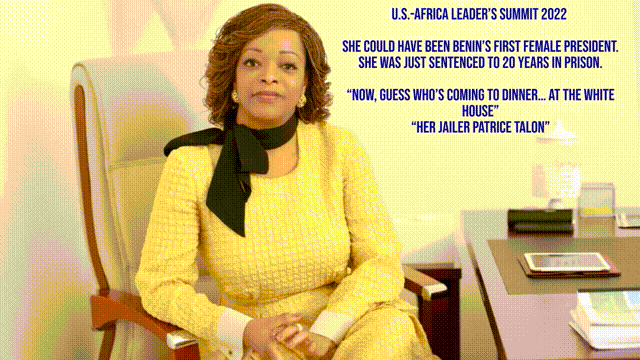 As a former Ambassador to the United States, I know that diplomacy is part science and part art.
Alliances are made, deals are cut, conflicts are left unresolved and civil rights are either promoted or trampled. Diplomacy is conducted under the idea that bringing disparate peoples together and negotiating differences can maintain stable and sometimes peaceful relationships between nations – but at what cost and who decides who is coming to dinner and who is not?
Where U.S. diplomacy toward Africa is concerned, one can certainly wonder how the art is conjured, who is stirring the pot and who decides that some dictators and certain autocrats come to the White House, and some don't.
Just last week, President Biden and French President Macron met and then issued a joint statement on how the two leaders would work with their African partners – their collective commitment to, "… support democratic institutions and civil societies in Africa and to enhance accountability and the delivery of basic services."
The sentiment expressed by Mr. Biden and Mr. Macron is laudable but looking at the White House guest list for the African U.S.-Africa Leaders' Summit, American diplomacy in Africa still lends legitimacy to certain autocrats, human rights abusers and thugs holding office completely illegitimately.
West Africa for example has its cohort of autocrats and human rights abusers, who arguably should not have been invited to the summit by the White House.
Patrice Talon of Benin, a self-declared autocrat, recently declared that"Democracy can lead to anarchy and paralyze government decisions," is one of them.
Patrice Talon is a poster child of an autocratic leader who does not share American values. Talon has turned a perfectly functional African democracy into an autocratic state and is jailing political opponents.
On March 3, 2021, Benin's former Minister of Justice, Reckya Madougou, was arrested by hooded thugs and beaten. Now she is serving a 20-year prison sentence under the cruelest of conditions. Her only crime was to be candidate for the 2021 presidential elections.
TheWashington Postwrote that Mrs. Madougou could have been Benin's first female president.
In its opinion N°51/2022, of August 31st, 2022, theUN Working Group on Arbitrary Detention, ruled that Mrs. Madougou's detention was completely arbitrary, and recommended her immediate and unconditional release.
This year, theNew York Center For Foreign Policy officially nominated Patrice Talon of Benin to be sanctioned by the U.S. Government under the Global Magnitsky Sanctions Law for his complicity in human rights violations and state-sponsored corruption and his involvement in drug trafficking and money laundering operations.
And yet, next week, Patrice Talon will sleep at the Four Seasons Hotel in Washington and visit the White House.
According to National Security Council Senior Advisor, Dana Banks,"Invitations went to 49 African Union member states"with the exception of Mali, Burkina Faso, Sudan, and Guinea countries barred because of the illegal transfer of power through coups.
The White House rightly excluded these heads of state and their delegations – but other heads of state in Africa should also be excluded.
This week, American Enterprise Institute's Michael Rubin noted in an article that Prime Minister Abiy of Ethiopia and Presidents George Weah of Liberia, Fattah El-Sisi of Egypt, Paul Biya of Cameroon and Salva Kiir of South Sudan should not have been invited by due to their poor record on human rights, corruption and democracy and genocidal tendencies. Although the above list is not exhaustive, it raises questions about the invitation process to African leaders.
Much good can come from the Africa Summit and America needs to continue its leadership role in supporting democracy in Africa. However, some of the attendees, like Patrice Talon, should be held to account for anti-democratic polices and his human rights abuses. President Biden will denigrate the diplomatic ideals of the Summit if he fails to do so – and the place to start is by pressing President Talon for Mrs. Madougou's release from prison.
*Omar Arouna, MBA is a Former Benin Ambassador to the United State, Mexico, and the Organization of American States. Former Benin Representative to the World Bank, the International Monetary Fund and Chairman of the Advisory Board of the New York Center for Foreign Policy Affairs