U.S Committed To Deeper Ties With Africa- Secretary of State Antony Blinken
By Samuel Ouma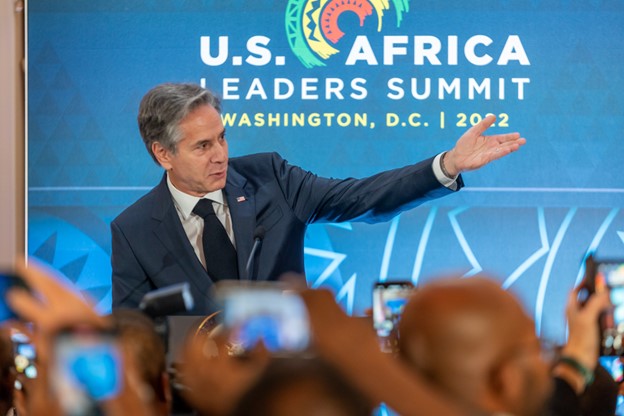 U.S. Secretary Antony Blinken on Monday delivered his remarks at the African Innovators Reception in Washington DC, ahead of the US-Africa Leaders summit.
In his speech, Blinken said America focuses on deepening its ties with African innovators, entrepreneurs and young people due to the region's diversity and influence.
He said Africa has an advantage over other continents due to its young population, which has the power and ability to drive economic growth in their countries and beyond. While highlighting African startups' achievements, Blinken revealed that $350 million was raised in 2016 and $5 billion in 2021 in investment and the figures are expected to increase in future.
Blinken noted that African startups not only close enduring gaps in health care but also health entrepreneurs break into the formal economy.
"Partnership is rooted in the recognition that the United States and African nations can't deliver on any of our fundamental needs and aspirations for our people, and we can't solve any of the really big challenges we face, if we don't work together. So it's about what we can do with African nations and people – not for them," said Secretary Blinken.
Blinken said the U.S. government is investing in infrastructure to foster African innovation to create a free flow of ideas, information, and investment for entrepreneurs. For instance, U.S. Development Finance Corporation is investing $300 million in building data centres across the continent.
America is also investing in raising leaders through the Young African Leaders Initiative and Mandela Washington Fellows. In addition, In September 2022, the U.S. African Development Foundation partnered with the Tony Elumelu Foundation to create a new program to provide financing, technical assistance, and mentorship to emerging innovators in Africa.
Recently, America also launched an initiative to connect up-and-coming climate entrepreneurs with American companies.
Lastly, the American government also promote greater encouragement by American companies in Africa.
"U.S. private sector already invests more than $4 in Africa for every dollar that our government allocates to the region in foreign assistance – and it wants to do more. That's the objective of our Office of Global Partnerships, which will take a U.S. private sector delegation to Ghana in February," added Blinken.