Tunisia: Strong Labour Union Rejects December Election, criticizes president Agenda
By Joshua Samuel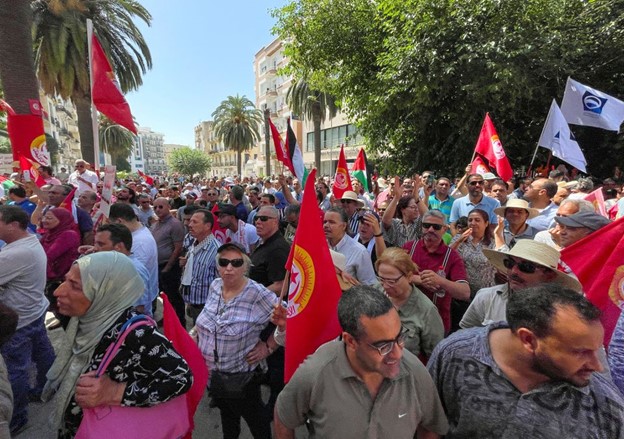 In its most obvious challenge to him yet, Tunisia's powerful labor union assailed the president's political and economic ambitions on Saturday, including the elections this month. It said it will no longer accept what it called a threat to democracy.
According to the UGTT union, it has more than a million members and has demonstrated the ability to shut down the economy through strikes.  It has occasionally backed President Kais Saied since he took control of the power last year, but it has also occasionally shown muted dissent.
The leader of the UGTT, Noureddine Taboubi, addressed thousands of supporters and declared, "We no longer accept the current course because of its ambiguity and individual rule, as well as the nasty shocks it hides for the fate of the country and democracy.
In his most strident critique of the president to date, he continued, "We will not hesitate to protect rights and freedoms whatever of the cost."
In order to write a new constitution that was approved this summer in a vote with low turnout after Saied shut down the elected parliament last year and began to rule by decree, elections for a new, underpowered legislature will be held on December 17.
The majority of political parties are boycotting the election because they disagree with the president's directives, which include bringing the electoral commission under his control, and because they believe the new parliament will be powerless.
Saied's constitution, according to Taboubi, would cause the December election to "have no colour and flavour," and the vote would lack national consensus.
The president's detractors have called his actions a coup and staged many street protests. According to Saied, he had to take these steps to defend Tunisia.
Except for a walkout in the summer over wages and budget reductions, the UGTT had previously expressed concern but refrained from overtly criticizing his plan.
As the economy deteriorated this year, Saied's new administration enraged the UGTT by suggesting subsidy reductions and state-owned company reorganization in an effort to get the IMF bailout that was required to prevent a financial collapse of the country.
Taboubi declared, "We will not follow any hidden agreements the government makes with the International Monetary Fund, and the workers will resist it.