South Africa: Ruling Party Set to Decide Ramphosa's Future as President
By Samuel Joshua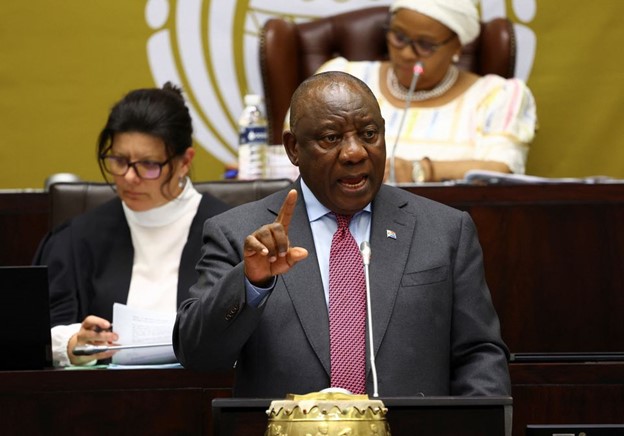 After an investigation revealed an evidence of misappropriation of funds hidden at his farm, senior members of South Africa's ruling African National Congress (ANC) are meeting on Friday to discuss whether President Cyril Ramaphosa should continue in office.
Since the publication on Wednesday of a report by a panel of specialists looking into the suspected loss of millions of dollars in cash from the multi-millionaire leader's Phala Phala game farm in 2020, his future has been in doubt.
Ramaphosa has been cleared of all charges and has consistently denied any misconduct. According to the president, the amount was considerably less than the $4 million to $8 million previously reported and came from the farm's sales of game.
The incident is known as "Farmgate" in the media.
The crime, which was only discovered in June, has prompted inquiries from the investigators about how Ramaphosa received the money, why he wasn't storing it in a bank, and whether or not it had been reported to the authorities.
In his successful campaign to unseat his predecessor Jacob Zuma in 2018, Ramaphosa placed a resolution to combat pervasive corruption at its core.
The National Executive Committee (NEC), the ANC's senior body, was gathering in Johannesburg, according to the ANC.
The scandal has tarnished South Africa's reputation as an accessible entry point to the continent and a generally secure investment location. Authorities are currently looking into multiple corruption scandals connected to Zuma that the nation was only just beginning to recover from. Zuma disputes the charges.
ANC QUIT RANKS
Ramaphosa's possible resignation was refuted by ANC Chairman Gwede Mantashe in an interview with regional television station Newzroom Afrika on Friday.
Mantashe later told the SABC that the study had numerous flaws and might be contested. Ramaphosa, according to Mantashe, was allowing time for the report to be questioned and examined.
Mantashe, a significant political figure who also serves as the energy and mines minister in Ramaphosa's cabinet, said to Newzroom Afrika, "My own view is that it would be premature for the president to unilaterally step down without a due process."
Amid panic selling on Thursday following reports in the local media that Ramaphosa was considering quitting, the South African financial markets stabilized on Friday.
Nkosazana Dlamini-Zuma, the ex-wife of preceding president Jacob Zuma, who barely lost the ANC's 2017 leadership election to Ramaphosa, and Tourism Minister Lindiwe Sisulu, who is running for ANC leader this month, are two members of Ramaphosa's cabinet who have called for the president to resign. Ramaphosa might still be impeached in a protracted process, but given the ANC's control of parliament, it's probable that he will survive even that step if he survives Friday's NEC meeting, which appears likely given the depth of his support.