Simon Ateba Shares Travails of African White House Reporters On 'Tucker Carlson
By Kester Kenn Klomegah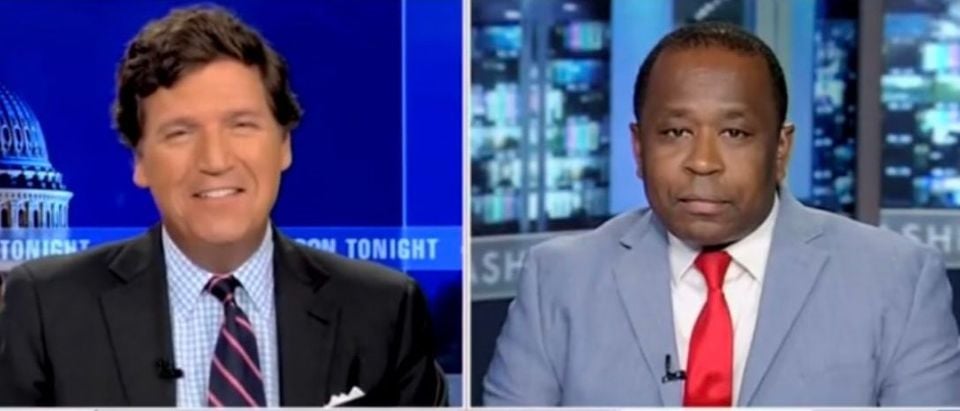 Today News Africa' White House correspondent Simon Ateba appeared Friday on 'Tucker Carlson Tonight' to share what a "nightmare" it has been to cover the Biden administration with Karine Jean-Pierre as the press secretary.
"Thank you, Tucker, for having me on your show. There's a reason why your show is the most watched show in news in the U.S. Because you bring people like me. It's been a disaster, a total catastrophe, a real nightmare covering the Biden White House," Ateba shared.
"Right now I'm the voice of Africa in the U.S," Ateba told Carlson. "But I can confirm that the level of discrimination against me and against African journalists in the White Jouse is astounding, it's disgraceful. You know, it's been three months that we don't have questions at the White House. Even as President Biden is about to receive 50 African heads of state in D.C. for the U.S.-African summit, she didn't give us even a single question. I've been trying for the past three months. And, you know, it's shocking, because she's black. She's an immigrant. I'm black. I'm also an immigrant. And she's discriminating against me more than the white people who work — the white lady [Jen Psaki] that was there before and it's shocking. She should be ashamed of herself for doing that. And it's heartbreaking."
"She's obviously a bigot. You can see it in her face. She really, really dislikes you. Do you suppose because you don't have the same views that someone who looks like you should have, in her opinion?" Carlson asked.
"Yes," Ateba replied. "I believe that it has to do with maybe two or three things. The first thing, I sound different. I wasn't born here. I was born in Cameroon. I speak French. I speak different languages. I don't have the American accent. I've tried. I've failed and I've decided I'll stick with my accent."
"I'm an immigrant and she doesn't like that," Ateba continued. "I asked her a question, for instance, how is it understandable that President Biden is inviting 50 African heads of state to the U.S. who has spent almost $50 million each and he doesn't have five minutes to spend with each of them? He won't have a one-on-one with any of those African presidents who are coming here, in countries where money is a really big problem Why not have this meeting on Zoom, for instance?"
"So I asked questions about COVID," he said. "How do you explain that 1 million people, even have to go by official figures, 1 million Americans were killed by COVID, and we don't know where COVID came from. You lied to us. You told us COVID came from bat to human, and then now we understand that it probably came from the lab. That's the most consequential question. She wouldn't even allow Diana [Glebova] from 'Daily Caller' to ask that question to be asked. And when I intervened and said, no, you need to allow her to ask the question, you know I've been blacklisted. It is unfortunate. It is disgraceful."