Sierra Leone: Freetown Terminal Ltd hands over school materials worth Le 142m to MP for constituency 122
By Ishmael Sallieu Koroma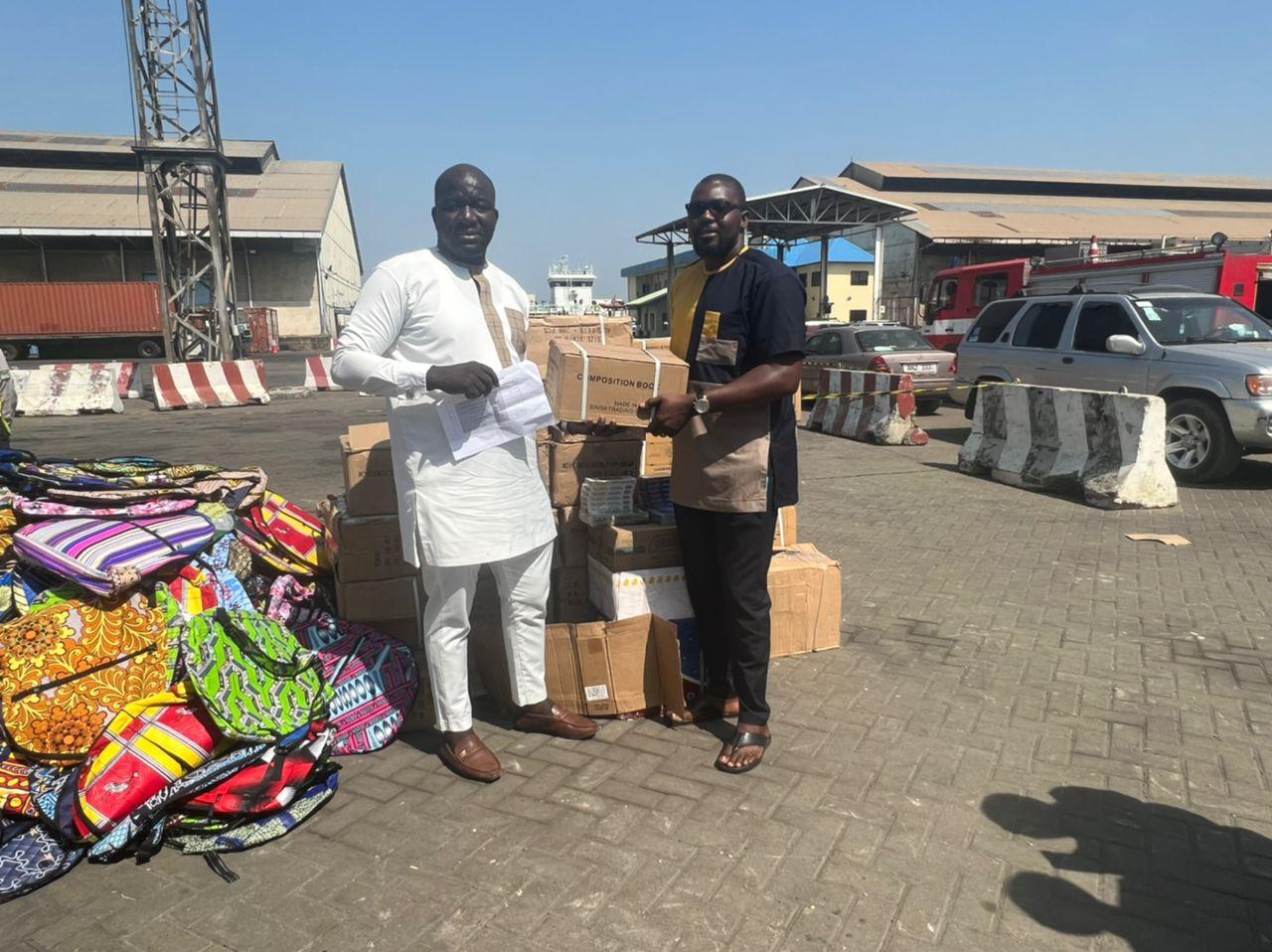 The Freetown Terminal Limited , a subsidiary of Bollore Transport and Logistics  has on Friday 23rd December 2022,  handed over 142 million Leones worth of school materials to the Member of Parliament of constituency 122 Alieu Ibrahim Kamara during a short ceremony at the company's ground,  Water Quay in Freetown.
The donated items includes 650 locally made bags, 720 pieces of pens, 150 200 pages note books, 570 pieces of crayon among others.
In his statement, the Head of Communication of Freetown Terminal Ltd Gassimu S. Fofana,  said they as a company received a request from the Member of Parliament of constituency 122 to help his community especially deprived kids for school materials thus they answered it as they wanted to contribute to the Free Quality Education Scheme of President Julius Maada Bio.
''Hon Koyo as per the request you made to us with regards helping your constituency with school materials. we have on this day , on behalf of Freetown Terminal prepared these materials,  assorted school materials and school bags that we are presenting to you in honouring your request you made to us for the constituency in a bid for us to also contribute to the Free quality Education .  So on behalf of the Freetown Terminal I want to present these school materials to you,'' he said.
Gassimu Fofana added that, part of their donated items which includes  the school bags were locally made which he said was deliberate on the part of the company in order to promote  the local content policy in  the country  adding that it will help indigenous companies to grow which will in turn brings development to Sierra Leone.
The Head of Communication went on to say that , if every company working within  the country's quay put hands on deck  to bring help , it will help more people in the community thus enabled development in different sectors.
On his part, the Member of Parliament of const. 122 Alieu Ibrahim Kamara popularly known as Hon. Koyo, thanked the company for always fulfilling his request and for owning up to its corporate social responsibility adding the Freetown Terminal has always been extending their good will towards his constituency for the longest time since their inception to the community and the people of constituency 122.
'' When you look at company's around, I always say this, the company that owing their corporate social responsibility, is Bollore. You knock at their door, in the eleventh hour they will respond to you. I can vividly recalled I requested for these school materials, a month to re-opening of schools. You know, I know it was challenge but the general manager answered by request. I want to say thank you very much to him and the company, ''he said.
Alieu Ibrahim Kamara said that the honouring of his request by Freetown Terminal Ltd shows that there is a sign of good cooperation between his constituency and the company stating it also shows that he has always given out any goodies or donation he received from the company to his people in a responsible and transparent manner.
'' I am here to receive this laudable gesture from Bollore. I want to say thank you Bollore whatever request I sent to Bollore, they will always honour it. This shows signs of good cooperation between my constituency and the company and it shows another thing what does it shows, it shows that whether the company is giving to me to represent my people I always delegate it responsibly and transparently. That is why, they have the confidence, they have the belief that whenever I requested something they will give it to me,'' the Constituency 122 MP added.
The Member of Parliament went on to say,  the people of his constituency appreciates the goodies that Bollore as a company has been offering to them adding that the school materials is another testament  of the love of the company to its people , the  communities and the  children to better their future.
'' I remember last year, we distributed all the school items they gave us to the Mabella community/ magazine community. This time, our focus will mainly be in the Fourah bay community as well as Kossoh Town Community. Within the one to two weeks I would ask you journalists to come around and do your personal investigation so that at the end of the day to see exactly the beneficiaries of this wonderful gesture done by BOLLORE ,''the MP recalled.
The constituency 122 MP assured the company that the donated school items will be distributed fairly within his community and will reach the deserved beneficiaries thus urging the company to continue its development drive especially on education in his constituency and its environs as it also coincides with Agenda of the government of Julius Maada Bio.