Nigeria: Presidential Voting Will Test Democratic Advancements-Tinubu
By Joshua Samuel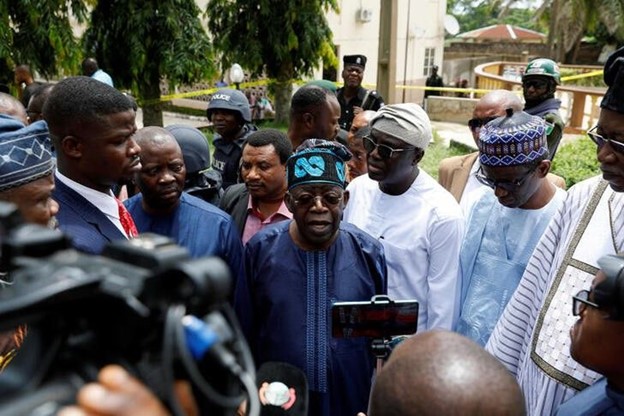 In a time when some other governments in the country have been overthrown by military coups, Bola Tinubu, the presidential candidate for the ruling party, stated on Monday that Nigeria's elections in February would be a key step in cementing democratic advances.
Tinubu is the favorite to succeed President Muhammadu Buhari, who is stepping down, for the All Progressives Congress party in a nation with a long history of electoral fraud and a built-in advantage for the incumbent party.
In a speech at the Chatham House think tank in London, Tinubu spoke to a concerning pattern of attacks on INEC (the Independent National Electoral Commission of Nigeria) employees and facilities in several regions of the nation. In Nigeria's effort to consolidate democracy, the upcoming election, which will take place in the first quarter of 2023, might be viewed as very important, according to Tinubu.
He said Nigeria, the most populous country in Africa, was still establishing trust in its electoral system 23 years after the end of military dictatorship, and that Nigerians living in the diaspora overseas would not be allowed to vote.
Before we incorporate pressing challenges like mail-in ballots and other such things, INEC still needs to reassure us that electronic transmission (of results), the technology being employed for accreditation and total vote count, is reliable, dependable, and assuring in our democratic process. The Islamist insurgency in the north and pervasive corruption have both harmed Nigeria's democracy.
The 70-year-old Presidential aspirant has drawn criticism at home for declining to participate in televised discussions and in media interviews. He deferred the majority of inquiries to his campaign staff on Monday.
He pledged to increase the country's GDP by more than 7% yearly, double it over the following ten years, increase agricultural output, and maintain some of Buhari's initiatives.
Atiku Abubakar, the candidate for the People's Democratic Change, said at a rally in Tinubu's home state of Lagos that his administration would set aside $10 billion to support small companies run by women and young people. According to Abubakar, the funds will come from the privatization of state oil refineries.