Kenyan Woman Shines In The African Rising Activism Awards
By Samuel Ouma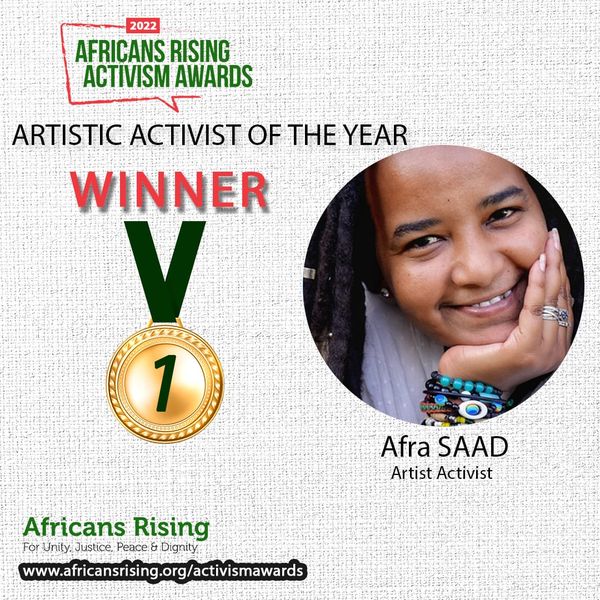 A Kenyan Editar Ochieng emerged as an activist of the year in the African Rising Activism Awards held on December 16, 2022.
Editar won the prize ahead of Pascal Bisimwa of the Democratic Republic of the Congo and Fatma Messaoud of Algeria. Bisimwa and Fatma came in second and third place, respectively.
Editar is the founder of the Feminist for Peace, Rights, and Justice Center in Kibera, Kenya. Her vision is for a society that "enables young women's full development, safety, access to equal rights, fair justice, and self-actualization."
Her work at the Centre aims to develop leadership in young women, particularly in preparing them to combat gender-based violence.
She also encourages women to share their stories to raise awareness and support by publicizing the similarities of their experiences.
"It has not been easy to defend human rights, though it has been a journey of learning and fun. I believe that we all have the power to transform our communities, our voices might shake when defending human rights and that's the most important thing", says Editar.
The awards held virtually were classified into three categories: Activist of the Year, Movement of the Year, and Artistic Activist of the Year 2021.
Botswana Jobs for Graduates of Botswana received the Movement of the Year award, with XR Goma University of the Democratic Republic of the Congo coming in second and Uganda/ Tanzania's Education Crisis coming in third.
The artistic activist of the year award was bagged by Afra Saad from Sudan, followed by Etienne Kasereka of the Democratic Republic of Congo and Wad Al Zain, also from Sudan, who finished second and third positions, respectively.
"We congratulate all the winners and nominees in the three categories for taking part in this awards initiative. They remind us that Africans across the globe are taking the lead in building Africa We Want," said the Africans Rising Movement in a statement.
A total number of 2.562 votes were cast by Africans Rising members to select the 2022 winners.