Home From Home For Diaspora Africans In Ghana.
By Papisdaff Abdullah Ali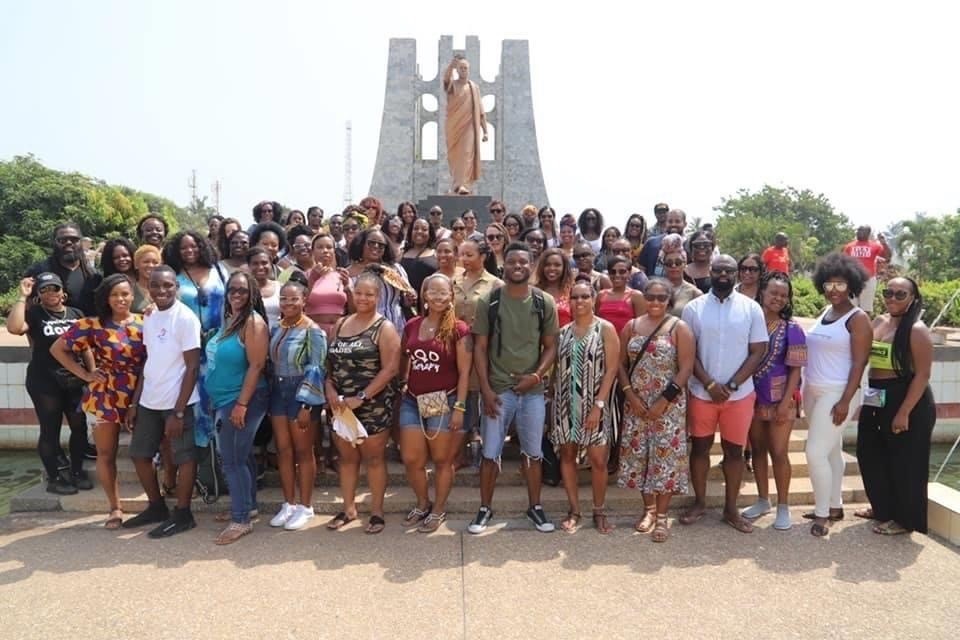 Hadria' Nenden is Sudanese born British national living in Ghana. In November 2021, Hadria' visited Ghana, a country described by many as Africa's gateway, for the first time. Having painfully left the shores of Africa decades ago as a child with her family to flee the chaos that threatened their life, Hadria' felt a sense of belongingness in a country that once upon a time was used as point to transport Africans taken against their will to foreign lands as slaves. Indeed, for the likes of Hadria' and several other diaspora Africans, each reference to Ghana as ''home from home'' means more than just a saying; it sure is home.
Hadria's love affair with Ghana started as vacation for two months, then she planned to relocate to the West African Country after going back to the UK, a place her called home for most of her life. The determined daughter of the land then got the fuel to push through with her desire by securing a job in Ghana just two months after going back to the UK. Today, she works for an International NGO headquartered in Accra. Throughout the year, Ghana serves as host to thousands of diaspora Africans who troop in at different periods to immerse in a hospitality strong enough to effortlessly replicate that calm feeling of being home.
Ghana is the first country in sub-Saharan Africa to attain independence from British rule. The West African nation has had decades of stable democracy through multiple successful elections and government transitions. The country's hospitality is demonstrated through its people across the length and breath of the nation. Indeed, the food, culture and social norms in the country is an easy transition for many "visitors" of the motherland.
"When I came to Ghana in 2021, I left a certain strong sense of belonginess and at-home, it sounds strange, I know, considering how further east I'm originally from on the continent." " For the first time, I understood what real peace actually meant and I lived it" Hadria' told Panafricanvisions.
Again, YouTuber Wode Maya captures the story of an African American family that sold everything and relocated to Ghana. According to the family, their seven-year search for a ''fresh start'' away from everything happening in the United States ended with their relocation to Ghana. ''we wanted a new beginning to build our family in a peaceful environment.'' ''You remember Trevor Martin?'' he quizzed, adding'' you know the cops, the economy; there's so much going on for our people, and it seems like we can never get ahead. So we wanted to come somewhere we can see our people and learn business and trade.''
The middle-aged man who identified himself as Rex, spotted in the video with his family ecstatically narrated "everywhere we go people are like, brother welcome home. And we were expecting to be treated as foreigners, but Kumasi-Ghana has done nothing but embrace us with love and peace, I mean it's like we never left." For some of the returnees, it is relatively cheaper to live in Ghana than the west where they pay an arm and leg in taxes, mortgages, and education.
Popular Nigerian Afrobeat star, Burna Boy recently confessed in an interview to feeling at home only when he is in Ghana. The Grammy Award winner says he frequents the West African country because that is where he finds genuine peace. The musician revealed that Ghana reenergizes him to tour the world for shows.
The Year of Return
In September 2018, President Akufo Addo declared that Ghana was going to welcome and encourage African diasporans to come to Africa to settle and also invest in the continent. The year-long campaign which climaxed in December 2019 with recreational activities, business opportunities and a chance to find common historic community among other reasons was a commemorative tool for the 400th anniversary of the African slaves that arrived in America. What started out as a strategy to rake in capital for the West African nation's tourism industry became a global spectacle overnight.
Ordinarily, the story of migration for better pastures is told of Africans, but alas, the narrative has changed with the campaign to welcome African diasporans to Ghana. Data from the Ghana Immigration Service speaks to several diasporans taking citizenship in the West African nation at the expense of the "comfort'' from their western world.  According to the World Bank, seven of the top 10 fastest growing economies are in Africa. Part of Ghana's intent behind the Year of Return was not only to showcase the country as a great tourist destination, but also to generate business and investment. As an advocate for African entrepreneurship.
Beyond the Return
As a follow-up, Beyond the Return initiative was mainstreamed into Ghana's tourism sector after the successful implementation and patronage of the Year of Return Campaign by the Ghanaian government in 2019. This is expected to further deepen the connection between Ghana and the African diaspora.
Year on year, a lot more diasporans of African ancestry continue to quiz their sense of belongingness and ask the hard question of what if. A good number of them dare to take the courageous step of rediscovery hidden under in a continent written off by those who exploit it for natural and human capital. If there is certainty in their journey, it is the fulfilled feeling of easiness by their host community.