Cameroon: Tazifor's Family Fetes Patriarch's 113th Birthday in Grandeur
-A Certificate of Recognition from the Ministry of Social Affairs was accorded to Pa Tazifor for his invaluable contribution to the development of Cameroo
By Boris Esono Nwenfor & Sonita Ngunyi Nwohtazie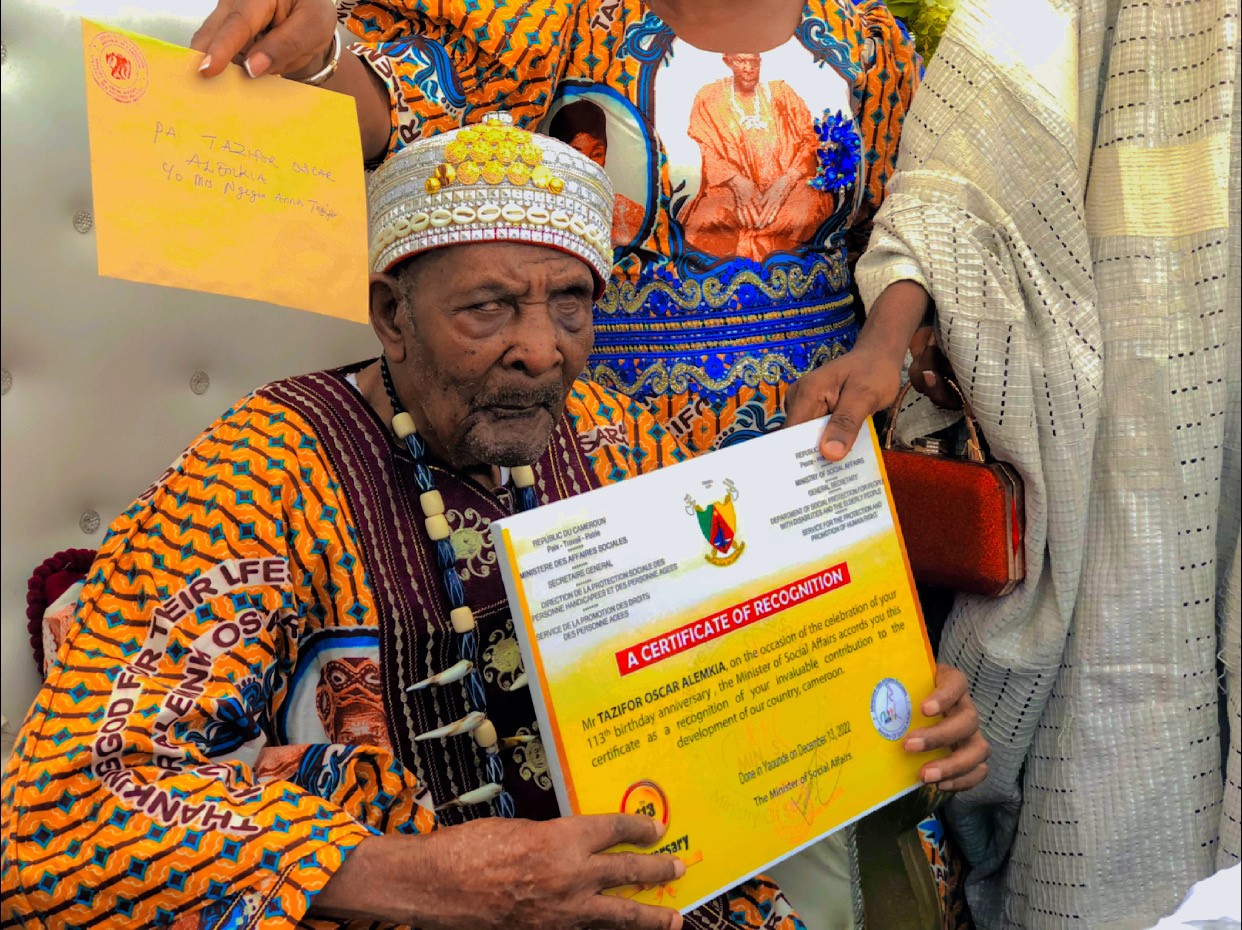 Thousands gathered on December 29, 2022, in Buea to celebrate the 113th birthday of Pa Tazifor Alemnkia Oscar, a colossus, a father figure, and someone who gave his all for the development, protection and promotion of elderly persons in Cameroon.
Pa Tazifor who witnessed the first and second World Wars has also lived to celebrate five Fons of Fontem, the ethnic community he comes from. Despite his frail state of health having lost his left eye whilst hunting as he confronted a lion, his depreciated hearing, being amputated in 2014 due to gangrene and recovery from a prostrate, Pa Tazifor has not suffered from any form of dementia.
"As one of the family heads, I am so excited that this greatest event of celebrating my fathers' one hundred and thirteen (113) years today has finally come to a reality. Before getting to this age, my father has not suffered from any form of dementia and has not lost his memory as he can narrate every single thing that is unfolding today," said Thomas Nkematem Tazifor, first son and family head of the Tazifor's family.
The two-part celebration began with a mass at the St Martin Porres Church Bokwango with the officiating minister dwelling on the unity and love that the family has shown amongst themselves, which is why such a celebration could take place. Pa Tazifor was commended for his strong respect for the catholic church and all it stands for and for a retentive memory, one that was noticeable having been the author of his biography, despite being in a frail state.
His children, grand grandchildren, family, friends, relatives and those connected in one way or the other to the family came out at mass to accompany a man who has created an immense impact on his community and the country of Cameroon as a whole. It was also an opportunity for the family to celebrate the wives of Pa Tazifor in Ma Justina (90 years) and Ma Cecilia.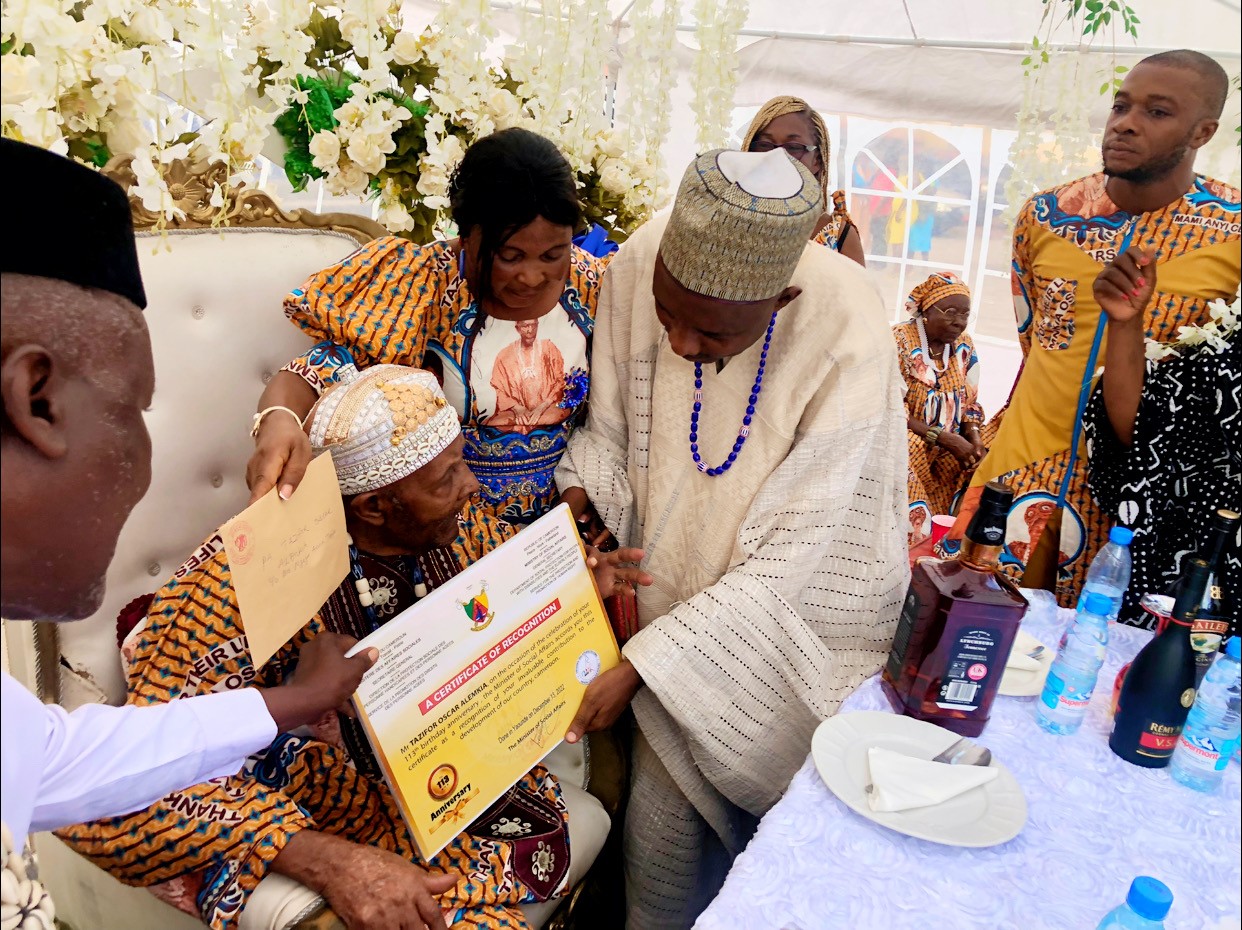 "So, I want to thank God almighty including all our invitees who made it to this memorable celebration especially members of the Tazifor family. I also pray that after this great event my father should continue to have good health because he has a few health challenges," Thomas Nkematem Tazifor added.
A philanthropist per excellence
Pa Tazifor was not only a prudent farmer but engaged in philanthropic exercises by providing hectares of land for others to do farming. Pa Tazifor donated land to the mission for the creation of schools with a missionary school created from that gesture having trained ninety (90) per cent of the sons and daughters from that community and at large.
"He distributed large portions of his land to the women in the community, which was/is used for agricultural purposes. The entire community fed from the produce from that farmland offered by Pa," part of the biography read. "contributed to the development of the community in generosity and fiscal cash."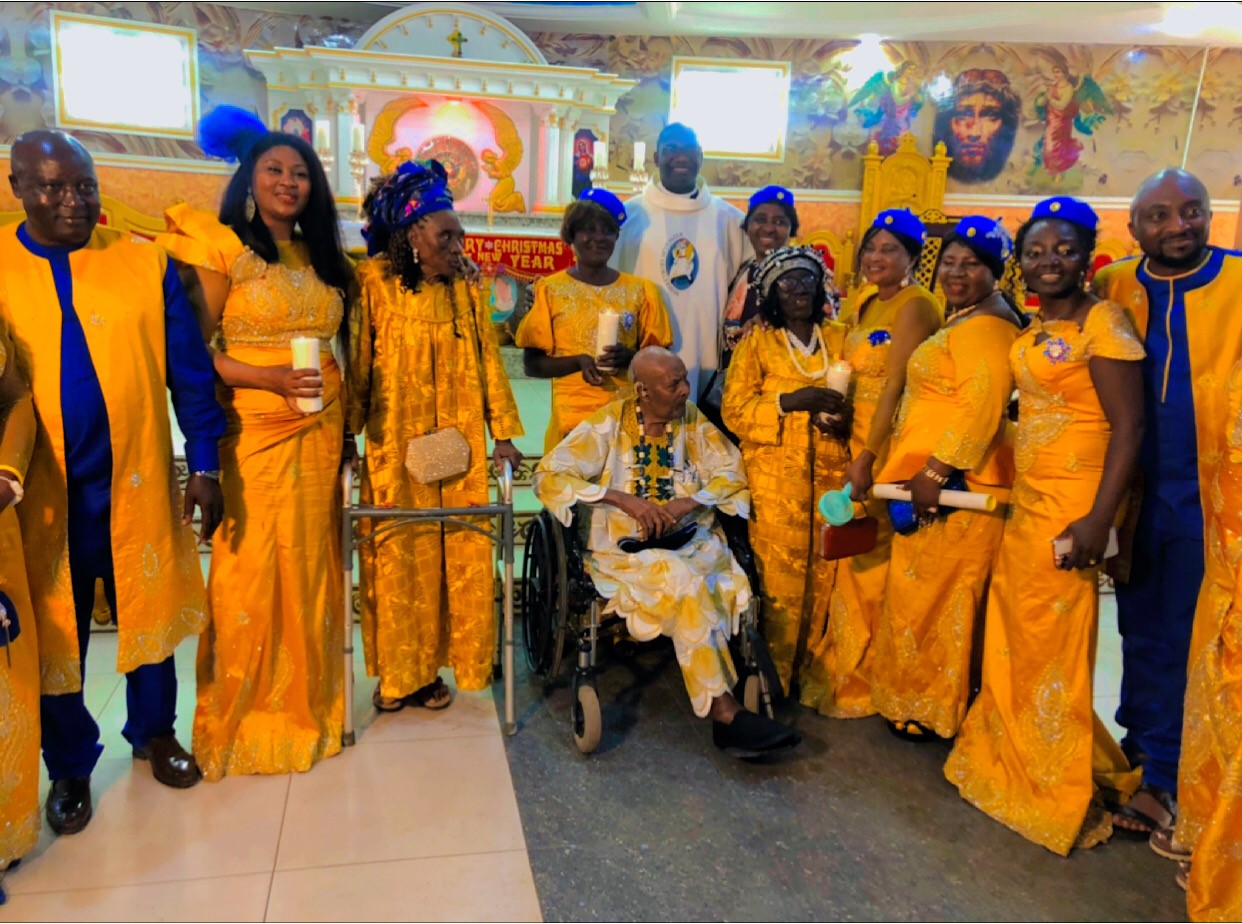 During the celebrations, Cameroon's Ministry of Social Affairs recognized Pa Tazifor as being amongst the oldest persons with a Certificate of Recognition accorded to him for his invaluable contribution to the development of Cameroon.
Thomas Nkematem Tazifor added: "Having one hundred and thirteen years today reminds me of the longevity that the Tazifor family is blessed with, as my father's first wife Mami Justine (90 years), my mother Cecilia (85 years) including a host of other family members. All I wish is good health for my father and all the members of the Tazifor family."
About pa Tazifor Oscar
Pa Tazifor Oscar Alemnkia was born in 1909 circa in Ezalewi Lebang Fontem, precisely in Njenste, a small community located in Fontem, Lebialem Division. Pa Oscar was barely five years old when the First World War broke out. At the end of the First World War, Pa was just 8-years-old where he witnesses the Bangwa Resistance under the defiant Fontem Asonganyi, who was exiled by the Germans to Garoua.
Pa Tazifor was not sent to school because the possibilities of pursuing academics during that period were not there. While growing up, he often followed his father to harvest and sort for palm nuts. This farm work became apparent that he could now fend for himself. At the age of 23 in the middle of the Second World War, Pa got married to his first wife Auanjem.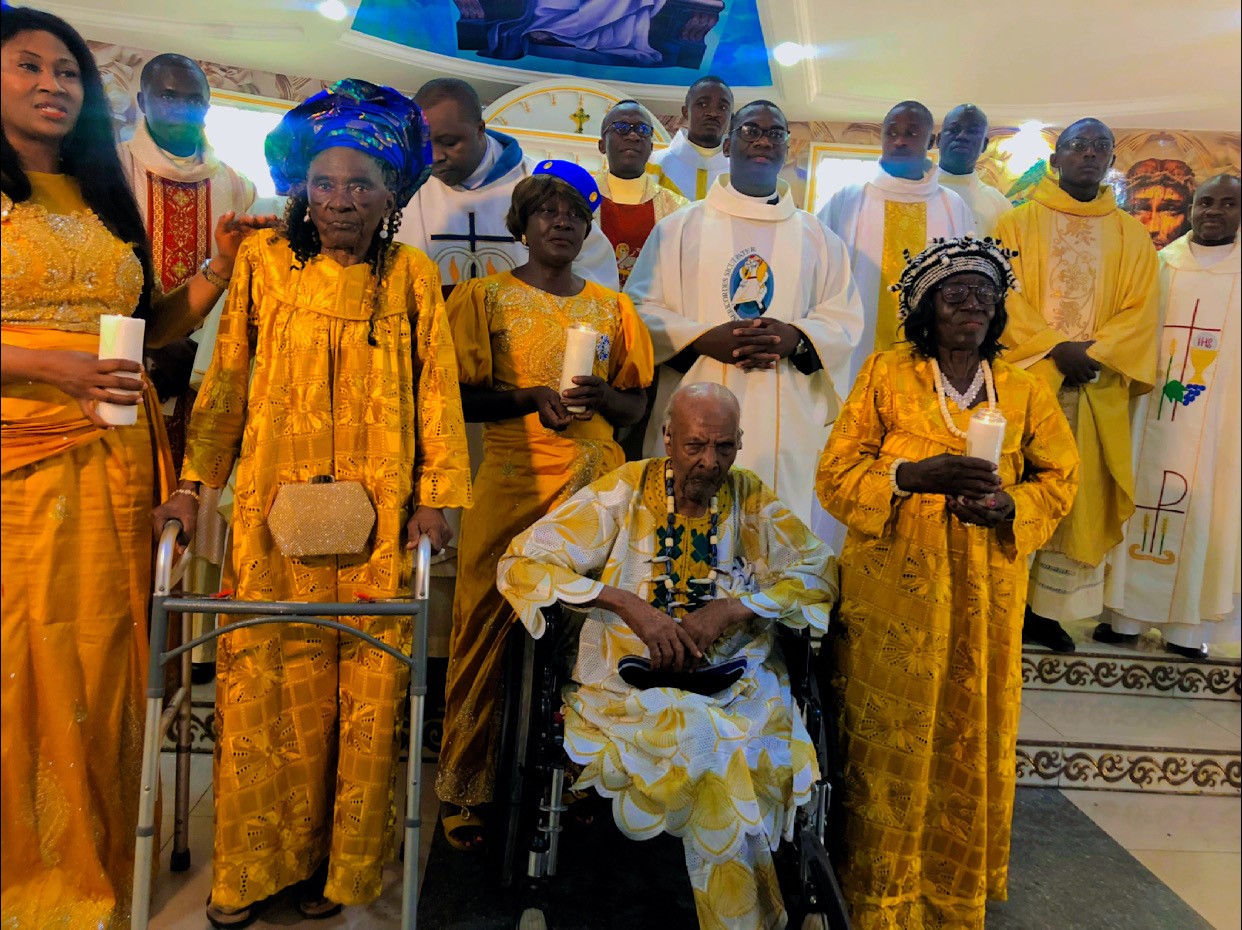 After a couple of years, Pa decided to move to the German plantation base in Misselele popularly called the coast, created in 1947. Having hunting experience, he had acquired from home, Pa was employed on the plantation as a hunter and security officer. Pa was one of the first employees of the Cameroon Development Corporation.
While on the coast Pa Tazifor had 11 children who all died mysteriously .He was later on called back home by his father with his first wife who fled away. Pa equally decided to resign from his job at the corporation as he returned home. During his stay in the village, Pa decided to get married to his present second wife Mama Nkiangwa Justine who is 90 years old. Pa Tazifor continued with his farming and hunting work in the village and got married to his third wife Mama Cecilia Anyiache.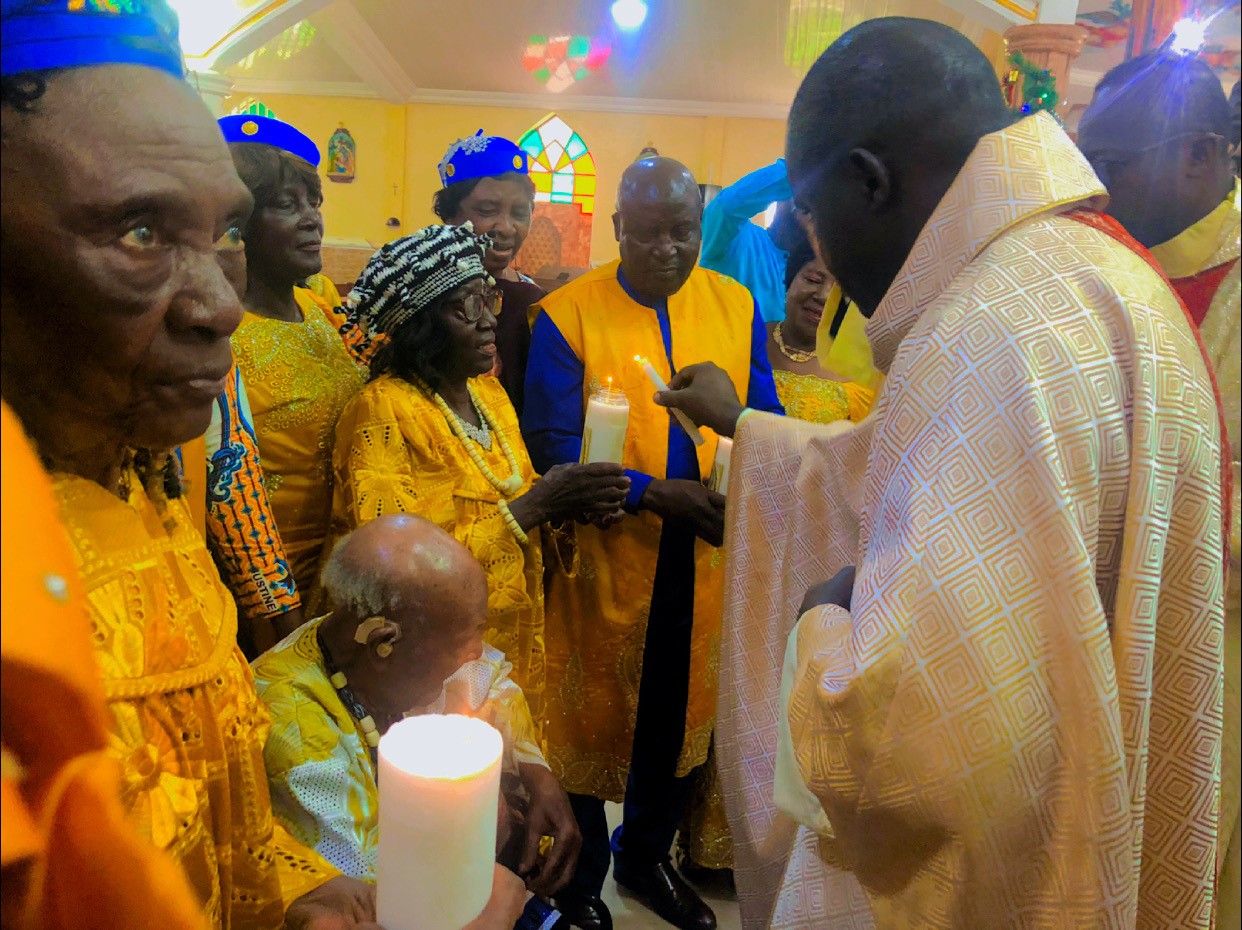 When Pa Tazifor's father died, he became the successor as the traditional tenet dictated. Pa Tazifor Oscar has a total of 14 children, 69 grandchildren and 48 great-grandchildren.
As the Tazifor family celebrates Pa's "graduation", they are hoping that God will continue protecting and preserving the life of the community icon their father is and for them to have more opportunities to communing and celebrating future birthdays.