Cameroon: Biya Cites Limited Finance as Impediment to Africa's Development at U.S-Africa Leaders' Summit
By Synthia Lateu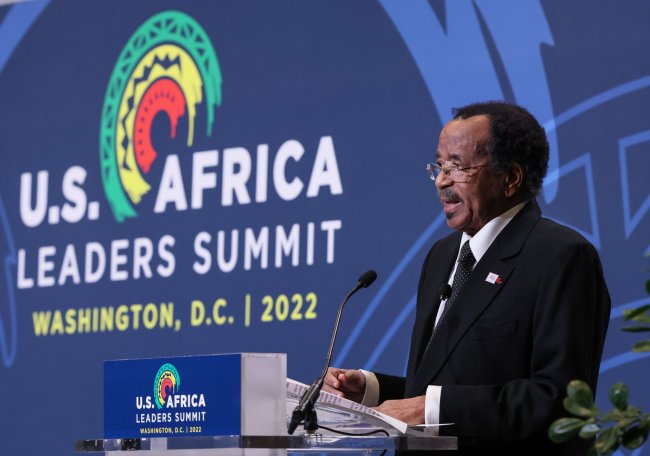 Cameroon's president Paul Biya, has challenged Africans to put in place a Capital Market, capable of offering adaptable tools for the financing of the development of the continent. He was speaking in a roundtable discussion in Washington DC on December 12 during the second U.S. – Africa leaders' summit.
President Biya explained that natural resources in Africa are under-exploited or their transformation is not done on the spot which fails to create added value and wealth for the continent. He added that Africa continues to seek financial aid for its development which increases her exposure to budgetary risks and stability of institutions given the existing laws governing these aids.
On December 13, the U.S.-Africa Leaders Summit kicked off with a focus on the vital role of civil society and the strength of our African diaspora communities in the United States. It featured a range of sessions on topics from trade and investment, to health and climate change, to peace, security, and governance, to space cooperation.
According to reports, the summit is to "really highlight how the United States and our African partners are strengthening our partnerships and advancing shared priorities and indicates a reflection of the U.S. strategy towards sub-Saharan Africa and the African Union's Agenda 2063, both of which emphasize the critical importance of the region in meeting this era's defining challenges."
President Biya is amongst 49 African heads of state currently attending the U.S.-Africa Leaders Summit. Before leaving for the U.S. it was widely reported that the Anglophone crisis may be on the head of State's agenda, but there are still no clear indications that discussions took place on that. Recent estimates suggest that 550,000 people have been internally displaced as a result of the crisis. There was however a rally of Southern Cameroons proponents to highlight the crisis in Cameroon. Speakers highlighted the precarious situation in the NW and SW regions at the rally which was countered by partisans of President bearing Cameroon colors to the bemusement of troops.
The United Nations estimates that 4.3 million people need humanitarian aid in Cameroon. These civilians often lack food, water, shelter, or adequate medical care. Sexual and gender-based violence is increasing, and health centres have been targeted by combatants, facing burning, shooting, and raiding. In some Anglophone areas, children have been out of school for nearly three years. Pupils, students, and teachers have been kidnapped and school buildings have been burned.
President Biya said Africa has insignificant access to the world's financial resources in circulation. This, he added is limited by prohibitive rates and sometimes restrictive conditions to the sovereignty of African States. To be independent of financial aid, the head of state proposed amongst other solutions that, the exploitation and the transformation of natural resources on the continent should be financed.
Africa's development has over the years been obstructed by several factors. According to African Economic outlook's 2022 publication, about 30 million people in Africa were pushed into extreme poverty in 2021 and about 22 million jobs were lost in the same year because of the COVID-19 Pandemic. And the trend is expected to continue through the second half of 2022 and on into 2023.
The economic disruptions stemming from the Russia-Ukraine war, the publication states, could push a further 1.8 million people across the African continent into extreme poverty in 2022. This number could swell with another 2.1 million in 2023.
It has been reported that President Biden will consider seriously the future of the African Growth and Opportunity Act (AGOA) which expires in 2025.  It has been the bedrock of trade relations between the two regions since the legislation was passed in 2000. This question is important and connects the current African Continental Free Trade Area (AfCFTA). It will also be a platform to discuss AGOA implementation and how to work together to improve, for example, AGOA utilization rates, strengthen economic cooperation, expand trade and investment, and of course, support regional economic integration.