Henry Njalla Quan Junior: A Cameroon Football Administrator per Excellence
By Boris Esono Nwenfor
Nicknamed "President" Henry Njalla Quan Junior, an elite of Bimbia made history in December last year by becoming the youngest-ever executive committee member of the Cameroon Football Federation, FECAFOOT, at just 31 years old.
The football club president cum proprietor of Njalla Quan Sports Academy is the heir of former CDC General Manager, Chief Henry Njalla Quan, and a former president of the South West Regional League of FECAFOOT.
"Unless you go in search of what you want, no one will hand it to you on a golden plate… Never let anyone tell you that you are too young to lead and force you into believing that you still have time. Make an impact while you can!" Henry Njalla Quan Junior said.
With firm conviction, the astute football administrator embarked on a journey to transform football in his region and bring the necessary change for a region that boost several modern-day infrastructures but had been beckoning for Elite football. His "New Dawn" agenda has left up to the beckoning as the Region finally got a team to the Elite 2 in Victoria United after 8 years of asking.
In an interview with this reporter, the football promoter, and philanthropist opened up on a wide range of topics such as the flagging NQSA and their bid to get back to Elite football, his motivation to become FECAFOOT SW President and his support for Samuel Eto'o and the development of football in the South West.
Since Njalla Quan Sports Academy left Elite football, it has struggled to get back. What accounts for this and do you see any light at the end of the tunnel?
Njalla Quan Junior: I am no longer part of the club but that notwithstanding I remain the proprietor. The institution is still very dear to my heart because if not for the institution I would not have had the opportunity to impact the management of Cameroon football. Yes, we had difficulty staying in the Elite championship and we found ourselves in the regional league with the main focus of scouting and training young players which are going on well. Every year we have players who leave our academy to join professional league clubs be it in the country or out of the country. Everything is going on as planned and as for plans for returning to the Elite championship, the president of the club and the officials are working on building a solid team this season and beyond.
Don't you feel like supporters of Njalla Quan Sports Academy want Elite football?
Njalla Quan Junior: Yes, they (fans) have been craving. As I said earlier, the staff of NQSA have told me that they are going to do everything possible and that they are now in a better position to return to Elite. Good luck to all the teams participating in the Regional League this year, we need another Elite team from the South West Region.
 In November 2021, you went in for the SW FECAFOOT Presidency and came out victorious. What was your driving force?
Njalla Quan Junior: Being a stakeholder, one of the youngest in the region but one of the oldest in terms of club management, experience and longevity, we can admit without accusing anybody that our football was not heading towards the right direction. At the start I didn't see it as a possibility but becoming president of the regional league, or vice president of the Federation or any post of responsibility doesn't just depend on you; you need people to put you in that position. My peers in the region, the majority of the electoral college saw me as the best candidate at that particular time to lead the region and bring much-needed change. After giving it a thought and being motivated on my part that we had someone like Samuel Eto'o coming in to manage our football at the national level; for me that was the ultimate motivation. I had to play my role in why not accompanying his vision and most importantly our vision in the region.
I was one hundred per cent certain going into the elections and many people were doubting why but I knew those who were behind me and how sincere they were and motivated to make sure that our football returns to its glory days. You cannot expect at times other people to write your destiny. If you are involved in a particular sector, your inputs count. Many people did not understand my methods and position during the electoral process, but I think all that is history. Today, even those who were not with us, if they search their souls very deep will be satisfied with what is going on.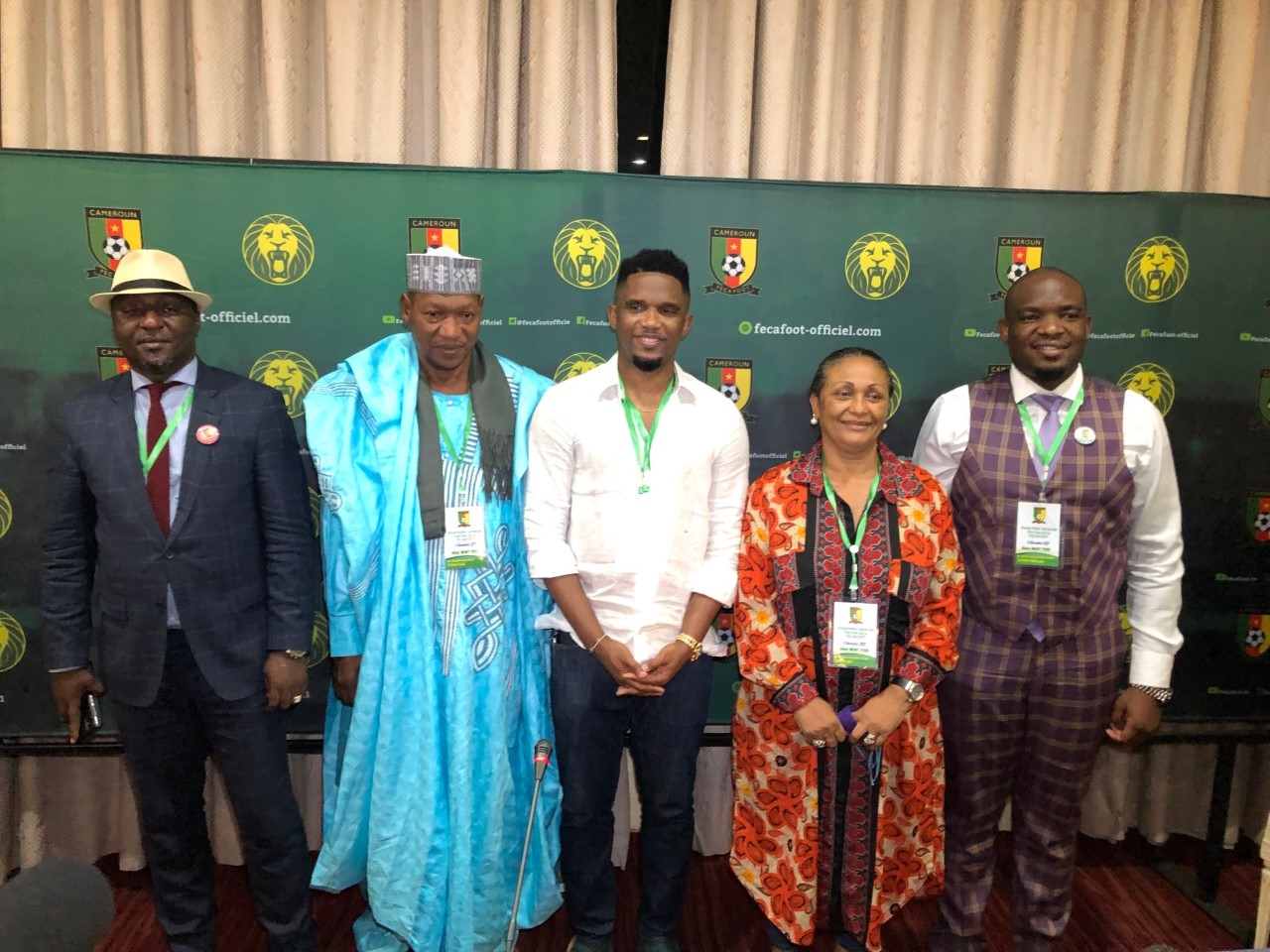 Taking over as SW FECAFOOT President, you called for unity and reconciliation. Do you think that has been achieved?
Njalla Quan Junior: For those who have an interest to a greater extent, there has been unity. We saw the just-ended Interpools; the mobilization was marvelous – from Limbe to Tiko, Buea and even from other Divisions, the support to Victoria United was marvelous. That unity is there for those who genuinely love football. Others for reasons which we know and other reasons which may be close to their hearts which we don't know have decided to stay in their lane. We don't focus on those who don't want to progress; the most important thing is that the region came out as one and we have obtained the results which we needed. Looking at the roadmap and the action plans that we put in place before the election, I think we are more than 60 per cent already complete, less than a year into our four-year mandate.
I would like to take this opportunity and thank all football stakeholders in the region for supporting our vision. We will continue preaching the message of unity and reconciliation and hopefully, even those who are still lagging for reasons best known to themselves as time goes on will join the train because there is no turning back.
 The SW Regional League has always been seen as being in the forest. When you watch the games last year and the fan turnout, do you get the impression that football is finally back in the region?
Njalla Quan Junior: Throughout the championship, the fan turnout was massive. Every game I witnessed in Limbe be it at the Centenary Stadium or the middle Farms Stadium, was a complete sell-out in terms of the crowd. We also witnessed good crowds in Tiko and Buea and Kumba. Generally, the championship was very well attended by fans; there was that desire, zeal and I think as time goes on (even though we have an Elite team now) the interest in Elite football is only going up. We are even going to have a more animated championship in the region this coming season. I will continue to advise the present FECAFOOT bureau in the SW to keep on working as a team; as a team, we make better decisions.
I am looking forward to a better SW Regional Championship this season and with Victoria United in the Elite 2 championship, the push is not yet complete. We need to continue to push them to Elite 1 and prepare another team which is going to go to Elite 2; we are not leaving out feminine football. We have serious plans. I am doing everything possible so that by the end of the coming season we are going to have a feminine team in the Guinness Super League. Things are being done and I think feminine football should not be discarded in any way, it falls within our action plan.
 When Victoria United qualified for Elite Two you were with the Indomitable Lions in South Korea. How did you feel?
Njalla Quan Junior: The pressure was much, and we thank God that everything went well; qualification was attained and with regards to the organization no major incident was recorded.
The SW Regional League is ranked consistently amongst the best-organized competition in the region. Can it get better and what do we expect in the coming season?
Njalla Quan Junior: Of course, it is all about continuous improvement. We had a good championship last year but there were lapses. I have spoken to the present SW FECAFOOT bureau, and I urged them to get to the stakeholders; participating clubs and all other people involve, sample their opinions, and agree on what didn't go as planned and how to ameliorate. There is still so much to be done and improvement is continuous; even when we reach 90 per cent or 95 per cent, there is still going to be room for improvement.
What do you say to the call of football fans and analysts that the Region has fewer persons holding positions at the national level of FECAFOOT?
Njalla Quan Junior: This issue of English-speaking representation is deep and mainly political. It is something which I try not to dive into but I am representing two regions and I have certain duties and obligations. Amongst these duties and obligations are ensuring that football is developed in these regions. If you were to choose between having ten anglophone directors at FECAFOOT who may not do anything for football in their region or having the football federation develop football in your region directly, what will that be? We have a constriction that is ongoing in Bamenda and the possible construction of one stadium in the SW which for me should go to Kumba. We are all Cameroonians and we cannot say there is one region that is more qualified than another I am playing my little role to make sure that in accompanying this vision of the president (rebranding Cameroon football) at least there should be a good anglophone representation.
We have started concerning the appointments that have been done at the level of the national selections. We inherited a FECAFOOT with less anglophone representation and the president told me that one of our objectives will be bilingualism and increasing the quota of anglophone workers. I still hold him (FECAFOOT President Eto'o) to that assertion, and we have been doing much so far and we are going to do more I think this question of anglophone representation can be best answered at the end of our mandate; where we will know that we may have succeeded or failed.
How do you see Cameroon football in the nearest future?
Njalla Quan Junior: We had been held back for so long; one court case to another and for thirteen years we have not had a stable executive. The future is bright for Cameroon football. Just yesterday we took over, the subventions for Elite 1 clubs were under 20 million FCFA but in the first season, the subvention was in the region of 25 million FCFA with accommodation and feeding took care of by the federation. Today, we are at 45 million FCFA as subventions for Elite 1 teams and 24 million FCFA for Elite 2 clubs. There is also an infrastructural development plan; at least one stadium in all the regions to ensure that games take place on the best pitches. At the level of amateur football, the president announced that the global envelope of 300 million FCFA will be shared by all amateur clubs in the country. Those are all efforts that we cannot disregard.
Let's talk about this initiative which you started a few years back; Walk for Life. What was the idea behind this annual event and how successful has it been so far?
Njalla Quan Junior: The campaign has not only been very successful so far but very encouraging and we are actively preparing for our third edition which is going to take place in December. The tentative date we have put for the sports walk itself is December 18 and before that, we are going to have a series of campaigns as usual. The motive behind this event, you may want to know that with the advent of the 2019 pandemic, very many of us had to adapt to new lifestyles. There were a lot of restrictions on movement and outdoor activities in other to contain the pandemic. That notwithstanding, based on the South West region which is predominantly a region whereby the main economy is agriculture, we had a lot of farmers who because of the socio-political crisis, were unable to go to their farms due to insecurity and had to change their activities and move on to something else.
So, if you have a farmer for example who was going to the farm maybe five times in a week-three to four hours each session, that's enough physical activity not requiring him/her to practice regular sports like you and me who may sit down on a desk for eight hours and need to do to keep our bodies active. So, the idea behind this was to remind people of the importance of physical exercise on overall health despite the changing social and economic trends due to the political crisis affecting the region as well as the global COVID-19 pandemic. That was the idea behind this initiative, and we've had largely successful first and second editions which were backed by many corporate entities who supported our visions materially and financially as I said, we are actively preparing for the third edition where we expect to have more participants.