FIFA Qatar World Cup: Saudi Arabia Shocks Argentina, Messi left to ponder what next!
By Boris Esono Nwenfor & Sonita Ngunyi Nwohtazie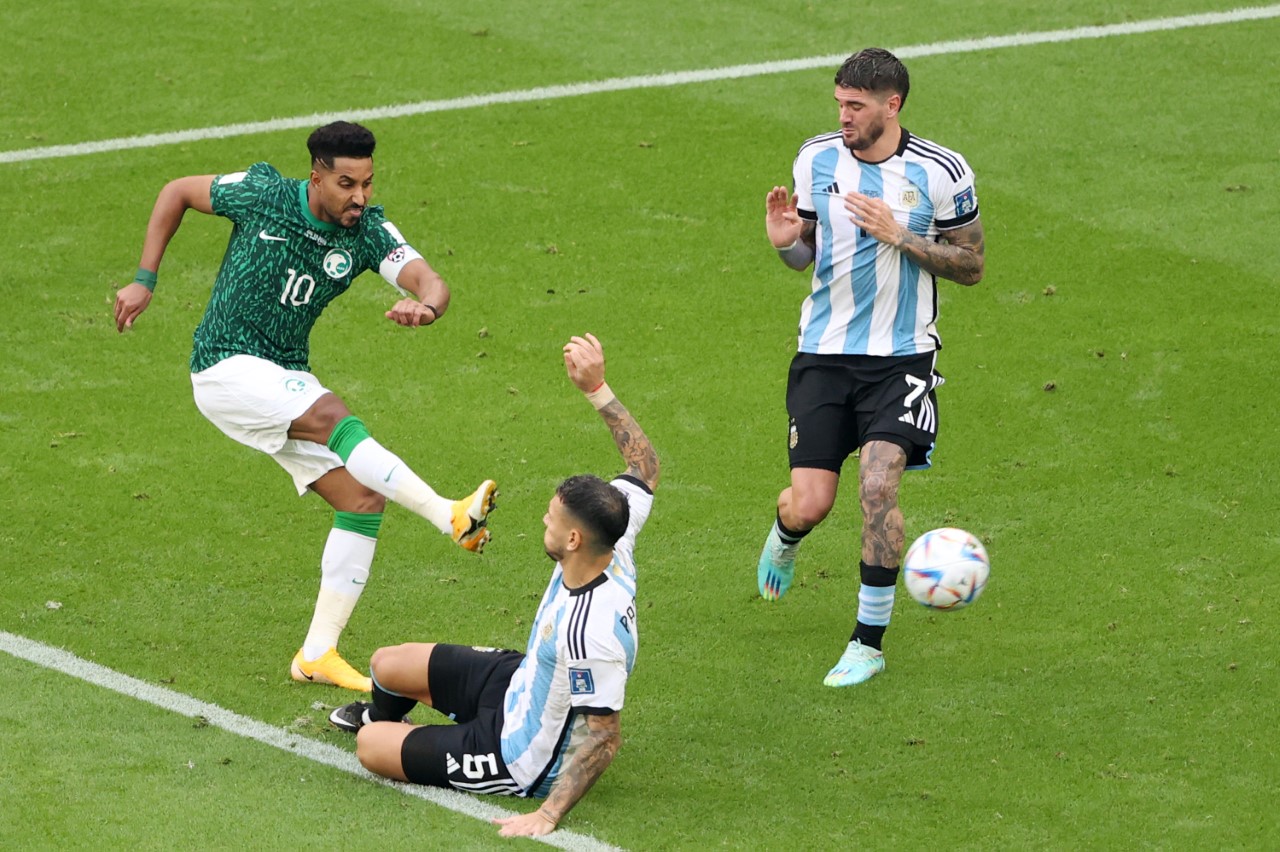 Ranked 51st in the latest FIFA rankings, Saudi Arabia created a monumental upset by defeating World Cup favourites Argentina, a result that has sent a shockwave to the other top contenders for the global showpiece event. A belter from Salem Aldaswari gave Herve Renard's side a 2-1 victory on Tuesday.
Argentina with Lionel Messi, Di Maria, a generation of players seen to be featuring for their FIFA World Cup and young blood like Lautaro Martinez, Argentina has a squad that is the envy of many countries. Having finished runner-up back in 2014, Qatar World Cup is seen as almost the last dance for PSG star player Messi to get his hand on that converted trophy that has eluded him.
And it seems things will be in Argentina's favour as they faced a low-rank Saudi Arabia side. Lionel Messi opened the scoring through a penalty kick. The goal made him the first Argentinian player to have scored at four different World Cups. Messi and Martinez did find the back of the net on three occasions but Martinez was twice denied by the offside flag, as was Messi.
With Argentina in the lead, many fans were left to ponder how many goals the little magician will score or how many goals Argentina will score in the game, but the reverse was the case as Saudi Arabia contested for every ball. The mentality incorporated by former two times AFCON winner Herve Renard was that of pressing till the final whistle, something that seems to have caught Argentina off guard.
And the side will be made to pay for their blemishes after just eight minutes into the second half with Salem Aldaswari scoring a beautiful goal from outside the penalty box.
Al-daswari made his international debut ten years ago for Saudi Arabia and continues to deliver eye-catching performances at both club and international levels. Last season in the Saudi League he had a hand in 14 goals in just 21 games – 9 goals and 5 assists. The jet-heeled wideman has not featured in a few of the side's most recent games but remains a pivotal figure within the squad due to the number of different roles he can play.
Al-Dawsari started all three group-stage games in Russia in 2018 and hit a last-gasp winner in the final group-stage game against Egypt. He is expected to feature heavily in the Green Falcons' quest to make their mark in Qatar.
Saudi Arabia will persist against the onslaught from Argentina to pick up a monumental victory against the South American giant, a victory the side will hope to propel them to their next victory on Saturday, November 26 against Poland. For Messi, they are left to ponder if lightning will strike twice in their second encounter, a must-win game against Mexico on Saturday, November 26.