Dubai, UAE: Merck Foundation Executive Board Pledges More Support To African First Ladies On Health Related Initiatives.
By Ishmael Sallieu Koroma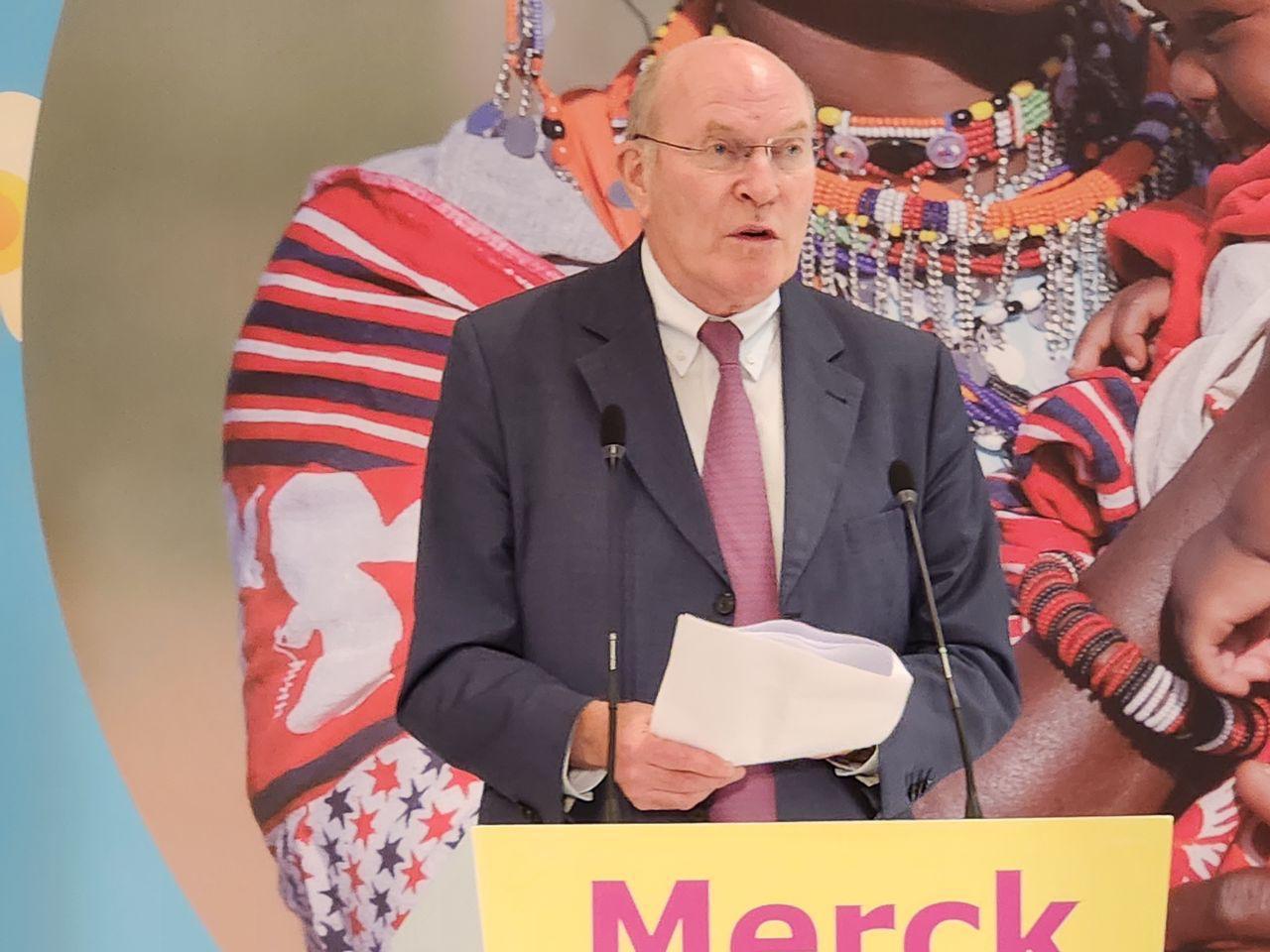 Chairman of both of Executive Board of E. Merck and the Merck Foundation Board of Trustees Prof. Dr. Frank Stangenberg – Kamp has assured the First Ladies of 15 African countries of their continued support in fighting and championing health issues, like infertility, diabetes among others thus calling on them to join hands with the foundation to continue their vision.
He made this statement on Tuesday 15th November, 2022, whilst delivering his key note speech during the inauguration ceremony of the 9th Merck Foundation Africa Asia Luminary at Hilton Hotel, Habtoor city in Dubai.
 ''Your Excellences, let me take this opportunity to acknowledge your great effort to support the health care sector in many ways which in turn boost our healthcare workers. I am very glad to celebrate the 5th anniversary of the Merck Foundation, and to mark 10 years of our journey of building health care capacity. Up till now, it has been an amazing journey full of success and significant impact of transforming the everyday lives of many people,'' he said.
Prof. Dr. Frank Stangenberg – Kamp said that as a foundation they wouldn't have done the huge milestone over the last five years since the Merck Foundation was created in 2017 without the continued support of the different African First Ladies efforts and dedication of the well-being of their nations adding the Corona virus pandemic has highlighted globally of the need to focusing on building and advancing health care capacity, training of health care staffs at all levels.
'' Government realized  that more than ever the urgent need to address the gaps in the public health sectors to meet demands like Covid- 19 pandemic and the ongoing health care needs of their population. Therefore we appreciate your valuable role and we are happy that Merck Foundation contributed in a big way since 2012 with transforming patient landscape in 50 countries across the world in Africa, Asia and Latin America by  providing more than 1,000 scholarships,'' Prof. Dr. Frank Stangenberg-Kamp added.
CEO of Merck Foundation and Chairperson of the Merck Foundation Africa Asia Luminary Dr. Rasha Kelej thanked the African first ladies for gracing the two days conference which she said was the first face to face gathering of the foundation since their last meeting in Ghana in 2019 owing to the global pandemic in the world.
''I am so honoured and grateful that you have the time, of your busy agenda and to be with us after a long time of travelling restrictions and movement because of the pandemic for three years since the last meeting we had in Ghana in 2019,''she said.
Dr. Rasha Kelej said they started their programmes in 2012 and the establishment of the foundation came after that time adding they have since been building capacity, raising awareness, and doing a lot of development programmes with a great success and huge improvement year after year until they established that foundation in 2017.
''So we are also celebrating ten years together and also 5th anniversary of Merck Foundation. This is an important occasion for me, for all Merck Foundation team and our partners, and our ambassadors. Thank you for being here today, to celebrate the 5th anniversary of Merck Foundation. Happy anniversary Merck Foundation,'' the CEO of Merck Foundation added.
CEO Kelej said the foundation has provided scholarships to 50 countries which she said is a huge milestone and a huge foot print adding those doctors will and ready to contribute to the transformation of patient care landscape in their countries.
'' Many of them was the first specialties', in reproductive care, oncology, first specialist in diabetes, endocrinology, respiratory care, pediatric care. We are very proud that Merck Foundation have realized the right strategy in both access to quality and affordable solutions in each country in Africa. And of course provided to South Eastern Asian countries and Latin America,'' CEO Rasha Kelej lamented.
Sierra Leone's first lady  Fatima Maada Bio  however  called for support to be given to women with infertility issues in Africa  whilst also urging for an end to   stigma towards them adding the issue of infertility is  not only a problem to women but also to men.
She thanked Merck Foundation for the scholarship and training opportunities granted to 40 Sierra Leonean doctors in her country to study in different medical fields like palliative care, cancer and oncology adding that this has culminated in her drive in constructing a 500 bed capacity hospital in Sierra Leone.
Among the Sierra Leonean doctors trained by Merck are Dr. Desmond Maada Kangbai, and Reginald Cole who are both back in their home country giving back what they have studied over the years working for the Sierra Leonean government.
First lady of Ghana madam Rebecca Akufo-Addo thanked Merck Foundation for the immense support to infertility and other medical conditions in her home country adding that through this support, Ghana has received opportunity for specialist training for their medical doctors.
'' Ghana's partnership with Merck Foundation was launched in January 2019 and it is one productive partnerships for my office and the Rebecca Foundation,'' the Ghanaian First lady added.
The Merck foundation Africa Asia Luminary gathers more 6000 Healthcare providers , policy makers , Academia researchers and Health media from sub –Saharan Africa , more than 70 English , French , Spanish , and Portuguese speaking countries.