Cameroon: Health Experts X-ray Africa's Health care Delivery Potentials post COVID-19
By Boris Esono Nwenfor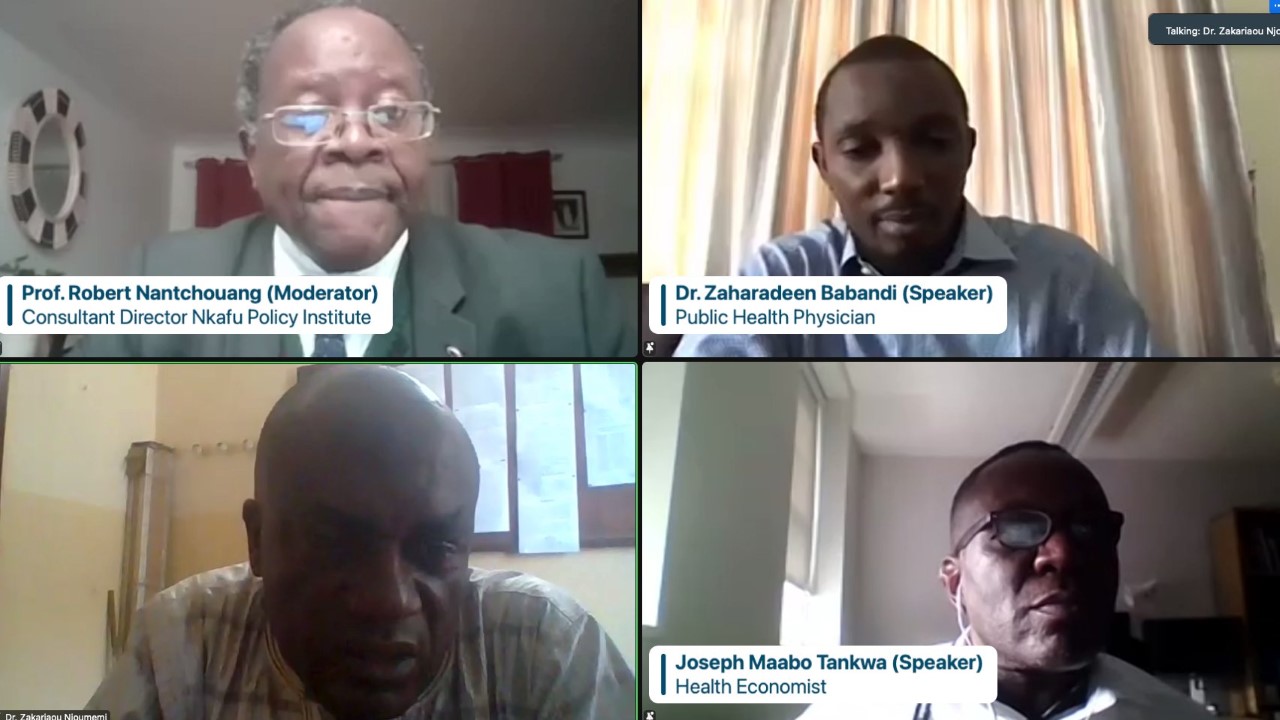 Since 2019, the world has been facing a global health pandemic known as COVID-19 which has posed a global risk in all economies. Over the past decades, the African health system has faced significant challenges in sustaining healthcare delivery which has, unfortunately, been worsened by the COVID-19 pandemic.
On October 28, the Health Policy and Research Division of the Nkafu Policy Institute lodged at the Denis and Lenora Foretia Foundation, organized the Nkafu Africa Health Forum (NAHF), a forum that highlighted some of the most pressing issues and engaged experts to discuss and develop an agenda for cross-border collaboration given giving the African health sector a much-deserved facelift.
"The continent of Africa was hit seriously because they lack capacity in many ways including diagnostic and vaccines development and others. Despite that, the continent was able to resist and stand strong," Dr George Alemnji, chemical pathologist.
"Another pandemic is coming, is Africa ready? When COVID hit it was not easy for the continent. A lot has happened on the continent in strengthening diagnostic systems, and general public health systems. The Africa-CDC has been a game changer, we have seen how this institution rallied governments, and resources to able to support and strengthen a lot of public health systems."
During the webinar, the experts focused on how Digitalizing health care systems in Africa works; challenges in optimizing surgical care in Africa and Health care financing towards greater health equity in Africa.
Dr George Alemnji added: "The continent needs to see the global health care system strengthening through the lens of global health care security, pandemic preparedness and response and continue to move in that direction. Countries that had resilient health systems did better and most especially, we should see diagnostic systems as being decentralized; we are dealing with an infectious disease and the continent will need to support decentralized diagnostic systems, community testing and so forth."
Sustainable global health entails a careful adoption of innovative strategies committed to improving the lives of people, safeguarding individuals, and improving the community's well-being. It involves providing preventive care systems adapted to the evolving health challenges of today and the future. Therefore, achieving a sustainable healthy Africa is very crucial to the development of African economies.
"The pandemic exposed a lot. Africa, just like the entire world was unprepared but we are even more unprepared because we did not have manufacturing companies in Cameroon and Africa in general," said Dr Pamela Oben. "Through COVID-19, our surveillance has been able to be strengthened which has led us to detect and fight against other diseases in Cameroon such as monkeypox."
A report from the World Health Organization shows that the consolidated average system performance index in the African region is 0.49, implying that systems are only performing at 49 per cent of their possible levels of functionality. Countries' performance scores range from 0.26 and 0.70. All the indices for the performance dimensions are underperforming, with system resilience and access to essential services doing worst.
"The pandemic exposed the fact that our standards are a little low and that our commitment to quality is shaky. In Cameroon, we do not have a reference infectious disease centre which could have been birth from all the spending that has been done," said Dr Ronald Gobina, Director of the Health Policy and Research Program, Nkafu Policy Institute.
The panel specified that Africa does not lack the resources or the know-how. It is endowed with a lot of natural plants which can boost and ease research. The Omicron Virus for instance was first detected by Africa, South Africa. Meanwhile, the supply chain system, diagnostic and vaccines are still very weak as Africa accounts only for 3 per cent of the world's pharmaceutical industry.
Dr Ronald Gobina added: "We are still in the learning process, establishing what we will call standards; we are still in the process of building our commitment to quality. We have learnt all through this pandemic and I am not too certain that we are learning all the right lessons. We are doing some things right and I don't see Africa leveraging on the genetic advantage in terms of our antigenic pool and others."
About the Nkafu Africa Health Forum (NAHF)
The Nkafu Africa Health Forum offers an exclusive, up-to-date view of the major opportunities and challenges affecting the health sector in Africa. By pooling together, the brightest minds from across the continent and associating key governmental and nongovernmental stakeholders, the NAHF is poised to make its mark on Africa's drive toward modernization of its health sector and attaining universal health coverage.
About the Nkafu Policy Institute
The Nkafu Policy Institute is an independent pan-African think tank dedicated to catalyzing Africa's economic transformation. Its mission is to provide independent, in-depth, and insightful policy recommendations that allow all Africans to prosper in free, fair, democratic and sustainable economies.