Kenya's KUTRRH Acquires Cyberknife Machine
By Samuel Ouma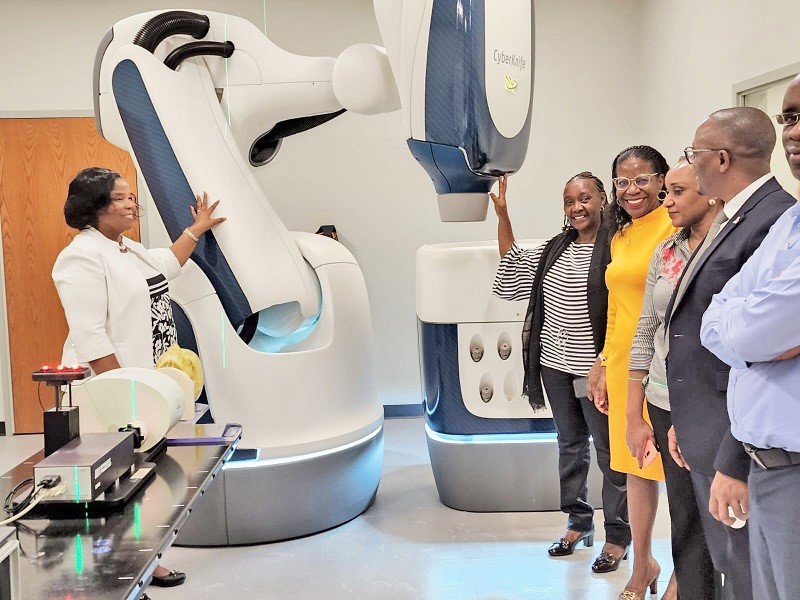 The fight against cancer in Kenya has received a significant boost following the arrival of the Cyberknife Machine, a device used to treat cancerous and non-cancerous tumors.
The Kenyatta University Teaching, Research, and Referral Hospital (KUTRRH) acquired the machine. It will be used for specialized treatment of brain tumors, head and neck cancer, lung, breast, spinal, liver, pancreas, and prostate cancer.
Following the arrival of the machine in the East African nation, Kenya has become the second country to own the device after Egypt.
"The delivery of the CyberKnife, today at KUTRRH is a milestone in the provision of robotic radiosurgery treatment. It treats without affecting adjacent cells." Prof Olive Mugenda, the hospital's Board Chairperson, said
"This valuable precision nuclear medicine for cancerous & non-cancerous tumors is a game changer for Kenya and the region." She added.
Only the CyberKnife System uses a linear accelerator (linac) mounted directly on a robot to deliver the high-energy photons or x-rays used in radiation therapy.
The robot moves and bends around the patient to deliver radiation doses from tens of thousands of different beam angles. This dramatically increases the range of possible locations for concentrating radiation on the tumor while minimizing the dose to nearby healthy tissue.
Patients benefit from CyberKnife in various ways, including faster relief from pain and other symptoms.
Given Cyberknife's low risk of complications and harm to healthy tissue, recovery is frequently immediate.