Cameroon: Lure for Skin Whitening Products despite Health Risk
By Boris Esono Nwenfor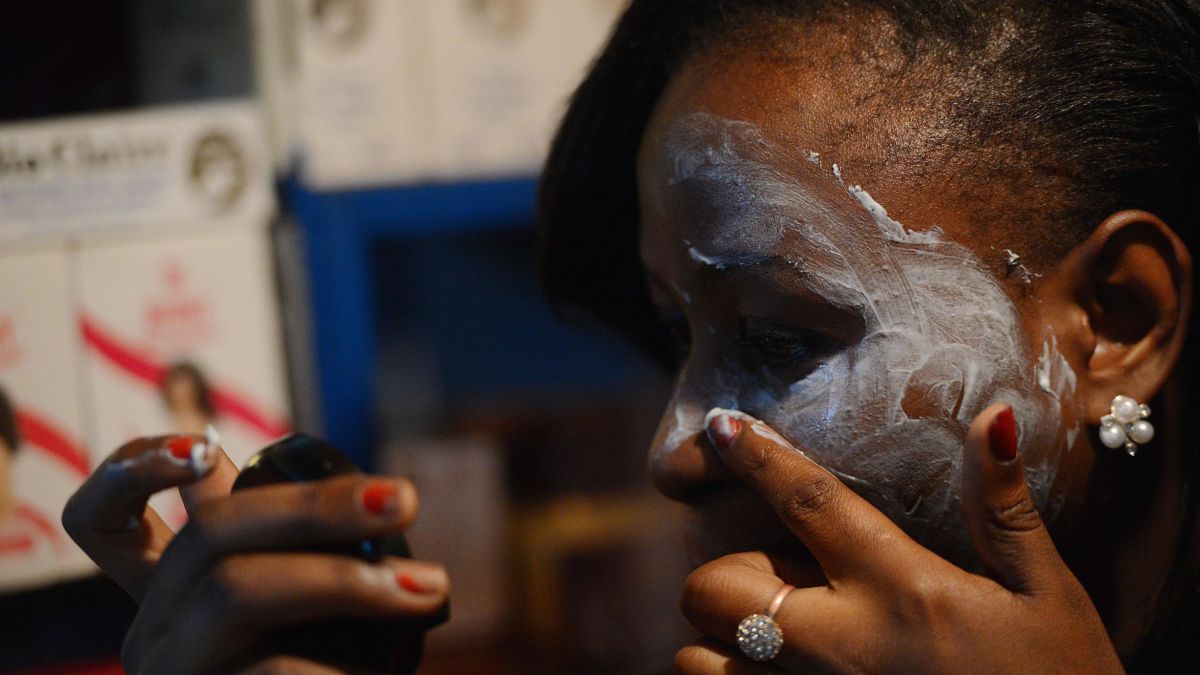 Despite the health risk like skin cancers, peeling skin and burns, the lure of a "desirable" lighter skin by many young Cameroonians is insurmountable, with skin whitening products still hugely popular in the country.
According to the Cameroon Dermatology Society (Socaderm), nearly 30 per cent of residents in the economic capital Douala and a quarter of schoolgirls used skin whitening products in 2019
Cameroon's Ministry of Public Health on August 19 banned the import, production and distribution of cosmetic and personal hygiene products containing dangerous substances such as hydroquinone and mercury. Despite this ban, the lure for these products remains high despite the health risk it brings.
The products with names like "White now" and "Super white", are instantly recognizable on shop shelves by the fair-skinned women on the packaging.
According to a 2019 study by the University of Yaounde 1, hydroquinone is one of the most used whitening products in the country. The dangerous effect that Hydroquinone brings made the European Union back in 2001 ban the substance because of the risk of cancer and genetic mutations.
"I am embarrassed when people look at me," 63-year-old Jeanne, a trader in Cameroon's capital, Yaounde told AFP. For the past forty years, she has been using whitening products to achieve a "desirable" lighter skin.
Jeanne like so many Cameroonians continues to use these whitening products which had had a dangerous consequence on their health. After a lesion grew on her face over five months, Jeanne went to a doctor who diagnosed her with one of the most common skin cancers.
The effects of these products on others have been very harsh and are now left feeling regret. Annette, a 20-year-old student said she suffers from red patches on her face, peeling skin and also burns. "Under a strong sun, my face became hot and I had to stop," she told AFP.
Alain Patrice Meledie Ndjong, a dermatologist at a hospital in Douala, said: "We encounter patients complaining of symptoms linked to skin depigmentation every day… It is a public health problem."
"There is a desire" rooted "in our consciences to want to look like" Western populations, Sociologist Achille Pinghane Yonta said. "It's a very old practice. It's even said, in some parts of the country, that a light-skinned woman's dowry is higher than that of a darker woman."
Several African countries, including Rwanda and Ghana, recently banned the use of skin bleaching products because they are dangerous. In Nigeria alone, 77 per cent of women — by extrapolation, more than 60 million people — are using lightening products on a "regular basis", the World Health Organization (WHO) said in 2011.
Experts say the African market is rapidly expanding as companies seek to cash in on the continent's booming youth population. "More clients want insight on the lightening market," said Rubab Abdoolla, a beauty analyst at market researchers Euromonitor International.
Banning bleaching products will not completely solve the problem of unsafe skin bleaching unless other measures are also put in place. African women don't bleach their skin simply because they are vain. They lighten their skin because fair skin is too often seen as more attractive and provides them with an economic advantage.
Pascaline Mbida said: "I noticed that men were more attracted to women with lighter skin and I had confirmation of this when I whitened my skin, I had never got so much attention."