Tanzania: Samia Set For Talks With China's Xi Next Week
By Prosper Makene, Dar es Salaam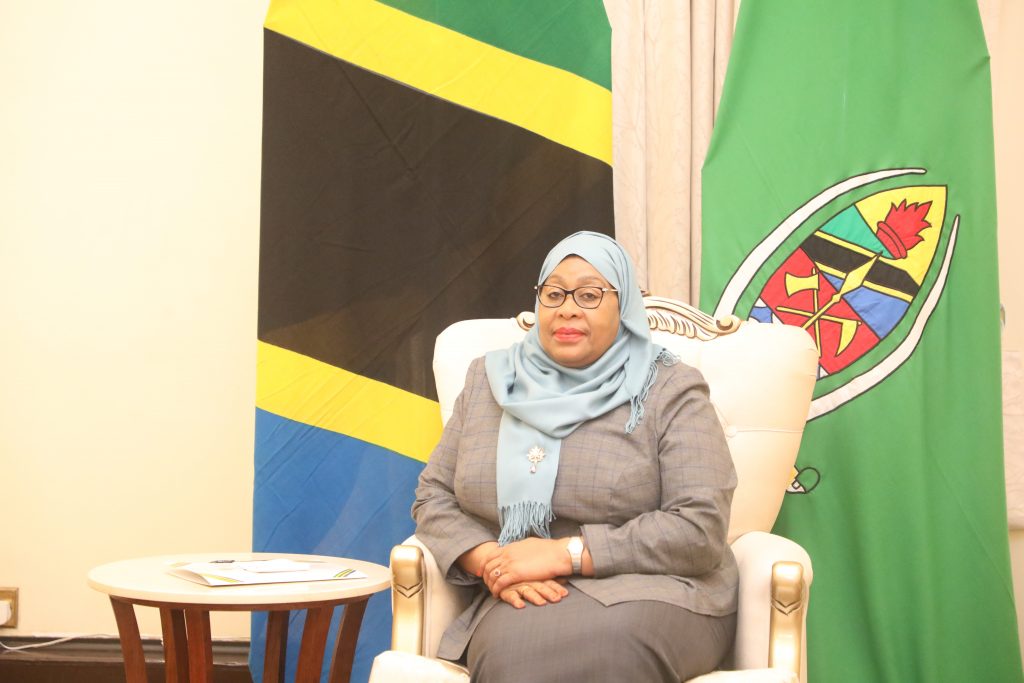 Chinese President Xi Jinping will hold talks with his Tanzanian counterpart, Samia Suluhu Hassan, next week and become the first African head of state that China is going to receive after the 20th CPC National Congress.
"Tanzania President Samia Suluhu Hassan will pay a state visit to China from November 2 to November 4," Chinese Foreign Ministry Spokesperson Hua Chunying announces.
The Tanzania Head of State will visit the Asian country at the invitation of President Xi Jinping, the Chinese Foreign Ministry's statement said.
Speaking on President Samia's visit to Beijing, Chinese Foreign Ministry Spokesperson Mao Ning said: "President Samia Suluhu Hassan will be the first African head of state that China is going to receive after the 20th CPC National Congress."
She went on to say that Tanzania is an important country in East Africa. "China and Tanzania enjoy traditional friendship. In 2013, during his visit to Tanzania, President Xi Jinping put forth the guiding principles of China's policy toward Africa, namely sincerity, real results, affinity and good faith, which have then become China's basic policy on pursuing solidarity and cooperation with other developing countries."
Ning added: "In recent years, the two countries have witnessed deepening political mutual trust and fruitful practical cooperation and have maintained sound cooperation in international and regional affairs."
She pointed out that during the visit of Tanzania's head of state to Beijing; President Xi Jinping will hold a welcome ceremony and a welcome banquet for President Samia Suluhu Hassan.
"The two heads of state will hold talks and attend the signing ceremony of cooperation documents. Premier Li Keqiang and Chairman of the Standing Committee of the National People's Congress Li Zhanshu will meet President Samia Suluhu Hassan respectively," she said.
She concluded: "We believe President Hassan's visit will inject new impetus into the comprehensive and profound development of China-Tanzania relations and make new progress in bilateral friendship and cooperation."
China–Tanzania relations
China established diplomatic relations with Tanganyika and Zanzibar on December 9, 1961, and December 11, 1963, respectively. When Tanganyika and Zanzibar were united and became Tanzania on April 26, 1964, China extended its diplomatic ties to it.
Tanganyika became the tenth African state to recognize the People's Republic of China in 1964 and the first to do it within days of independence. Military and political unrest in the 1960s in mainland Tanzania and Zanzibar further strengthened ties between the two countries.
H.E. Benjamin W. Mkapa, the former President of the United Republic of Tanzania, described Tanzania-China relations as "transcended the traditional government to government contacts and extended to people to people cooperation, to the extent that the people of Tanzania and China call each other 'rafiki' which means 'friend' in Kiswahili".
Bagamoyo Port
Bagamoyo Port was planned to be constructed by by China Merchants Ports Holdings. In 2012, The Tanzanian government, Oman, China Merchants Ports Holdings came to an agreement on a flagship Belt and Road initiative project with a total investment of over US$10 billion. However, the project faced several challenges, including in 2016, when the project was briefly canceled.
Zanzibar International Airport
In January 2011, the Chinese Beijing Construction Engineering Group began upgrading Tanzania's Zanzibar international airport by renovating terminal 2 and constructing terminal 3.
The Tanzanian government received US$70 million in financing from China's Exim Bank to support the project, which is projected to support the travel of 1.5 million passengers annually.
In addition to expanding air transport for passengers, the project also improves air transport of goods to and from Zanzibar by providing a safe and reliable airport for large aircraft and a high volume of flights.
Resident diplomatic missions
China has an embassy in Dar es Salaam and a consulate-general in Zanzibar the same to Tanzania has an embassy in Beijing and a consulate-general in Guangzhou.