Tanzania's 10 Best Street Foods You Have To Try
By Prosper Makene, Dar es Salaam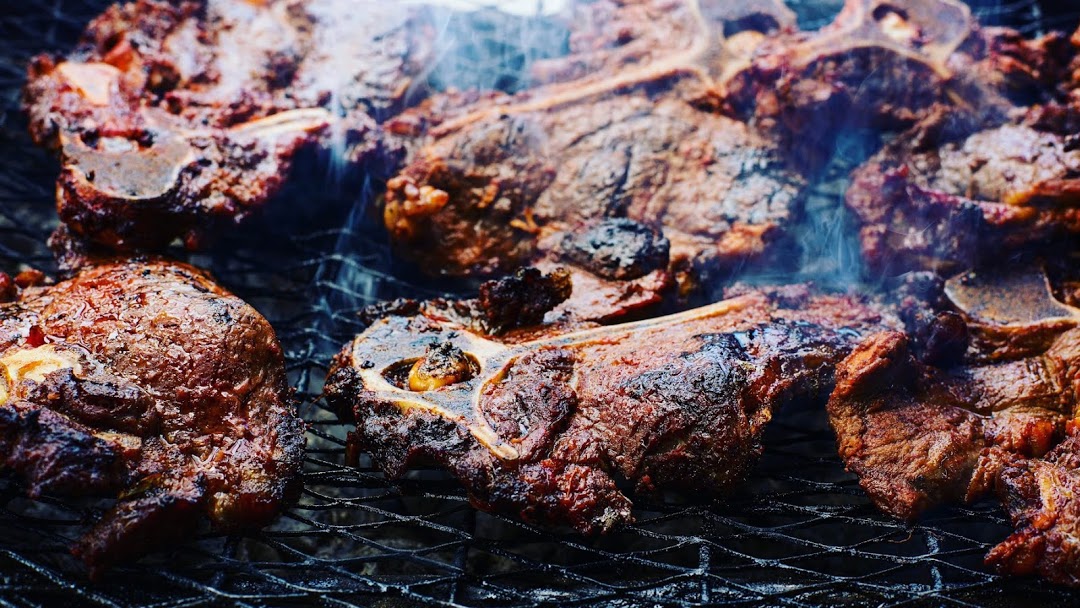 Home to the Maasai tribe, Mt. Kilimanjaro, the Serengeti and the beautiful Zanzibar to name a few, Tanzania is often overlooked for its food especially when you try easting them in streets.
Simple yet flavorful and packed full of nutrition, it makes for some tasty, hearty memories sharing a meal with mates.
Take a look at dishes to sample during your time in Tanzania:
Chipsi mayai
Swahili for "chips and eggs" and is a favorite fast food in Tanzania. Its main components are french fries and eggs. Of course these are not your traditional Western french fries – here they are always fresh, hand cut, peeled and fries to a crispy yellow. You won't find a place without the delicacy as locals enjoy it with ketchup (which we call tomato sauce) and a side of fresh veggies.
2.Nyama Choma
Swahili for "grilled meat," most common type being cow and goat. Watch as it is hacked and tossed on the grill before you. The grill cooks it slow and gives it this smoky flavor that savoriness of it all. Well done and chewy, enjoy a kilo or two (depending on appetite and company present) with a side of french fries or sweets bananas (fried or grilled) while sipping on a beer or other drink of your choice.
3.Mishikaki
Mshikaki are skewered pieces of marinated meat on sticks cooked slowly over open coals. This however is unlike any BBQ you've ever tasted. It tastes way better! The meat can vary from mutton, beef and chicken (yes you read it right; chicken!). But very much like BBQ, you can't rush well cooked grilled food. So place your order and be patient. Many favor this dish with chipsi mayai as well. Hey as long as you're in the neighborhood you might as well go full out!
4.Ugali
Ugali is one of the staple food in Tanzania due to its ease in preparation and affordability. its 's ingredients are maize flour and water, cooked slowly until it reaches a dough-like consistency. It is then removed from the stove and left to set in a hot pot before set on the table to eat. To eat break off a chunk with your hand, roll into a ball with your palm and dip in some yummy side dish and you're good to go. and it can also be enjoyed with nyama choma. Be careful, you don't want to eat or touch it when it's too hot!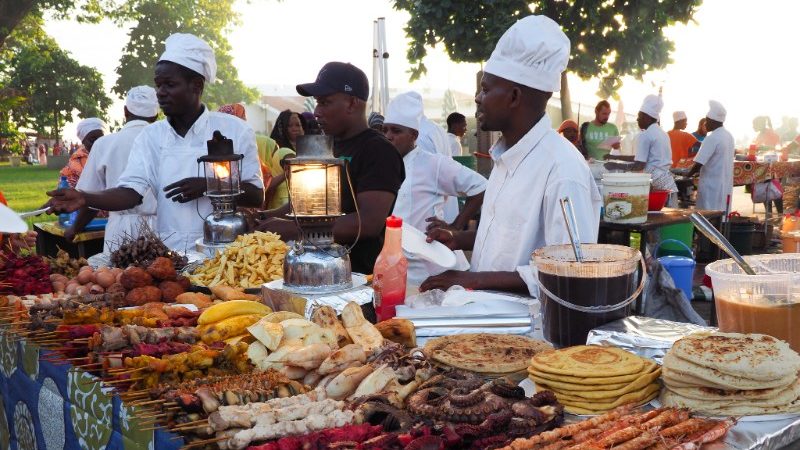 5.Urojo soup
The Zanzibar's special blend, urojo soup tastes significantly better than it looks. The yellowish broth is a mouthwatering blend of mango and ginger (usually with tamarind, lime and hot peppers to taste) stuffed with your choice of potatoes, kachori (spicy mashed potato balls), cassava chips, bread, eggs, salad and meat skewers.
6.Seafood galore
Of course, no trip to Tanzania is complete without an eve at Zanzibar's Forodhani Garden to experience fresh seafood from the Indian Ocean. Enjoy the food while watching the sun set over Stone Town's glorious beachfront.
Vitumbua
Another traditional Tanzania food, Vitumbua is a deep-fried dish commonly served during breakfast, especially with tea. They are sort of an East African breakfast pancake. However, it has a heavier texture than a typical western pancake. It also has a coconut taste to them. Vitumbua is made from rice flour, coconut, and yeast. It is also commonly found in street food. It is sweet tasting and melts in your mouth. Vitumbua is especially common in Ramadan because of how filling it is.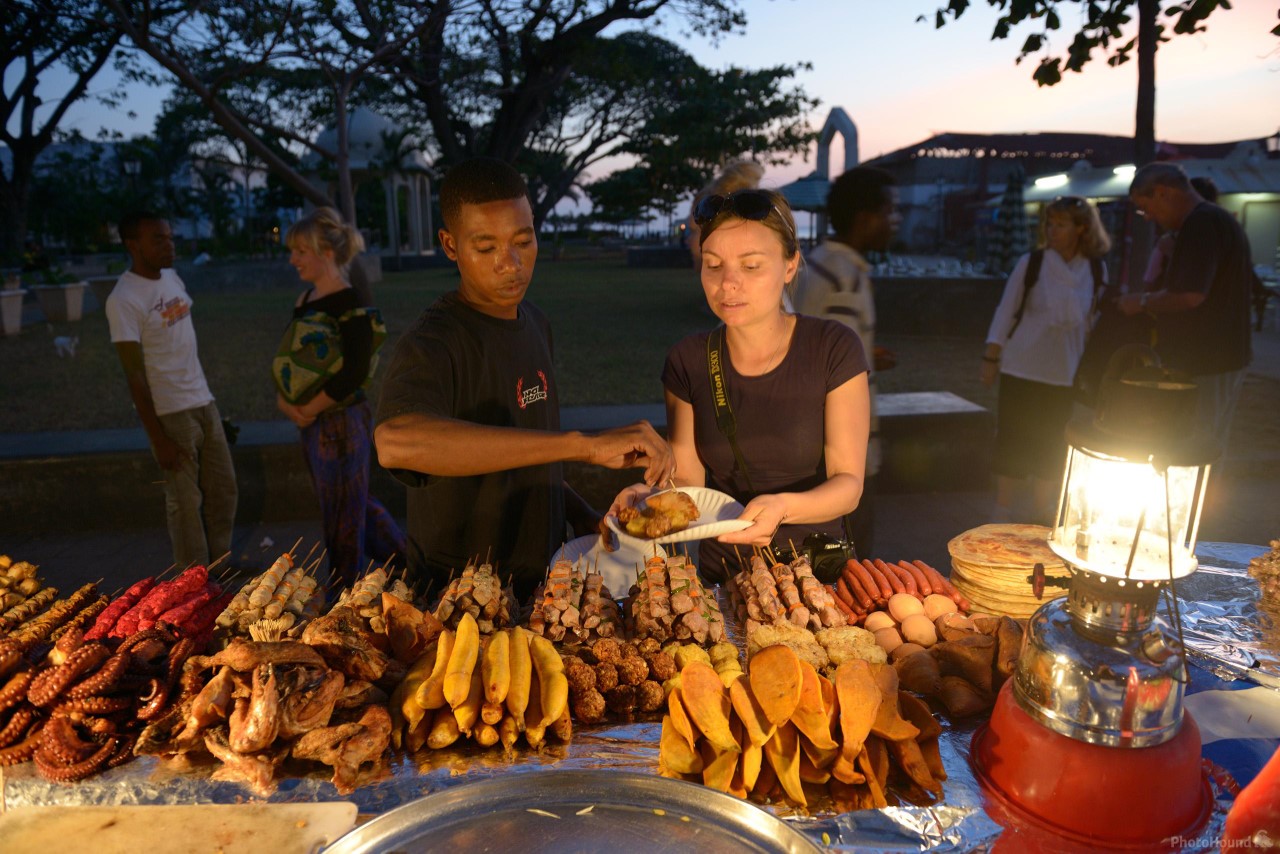 8.Wali-wa-nazi
Do you want to know more about Tanzania's food culture? If so, you should try the popular Swahili dish, wali-wa-nazi is meant to accompany a meal containing either red meat, chicken, fish, or curry. It can also be eaten as a meal by itself. Wali-wa-nazi consists of rice boiled with coconut milk, that is then garnished with vegetable leaves.
Even after the inclusion of other ingredients, it maintains a distinct coconut flavor. It is primarily eaten by Tanzanians who live on the coast of the Indian Ocean. This contrasts with Tanzanians who live inland who eat beans, cornmeal, millet, and sorghum. Wali-wa-nazi can also be found in other East African countries such as Kenya.
9-Ndizi Kaanga (fried bananas)
A popular Tanzanian snack, Ndizi Kaanga are fried plantains that are usually unsweetened. This dish can be seasoned with sugar to give it a sweet taste. Ndizi Kaanga can be served as either a side dish or a snack. They are sometimes grilled, then seasoned with salt.
10-Mchuzi wa samaki (curried fish in coconut milk)
Mchuzi wa Samaki is a fish curry dish that also includes coconut milk, which gives it a creamy texture. This dish originated from the island of Zanzibar. The curry found in this ingredient displays Zanzibar's legacy as an important stopover for traders.