Children in Tanzania crY for their rights,government says National Multisectrol Early Childhood Development Programme is a therapy
By Mutayoba ArbogastBukpba,Tanzania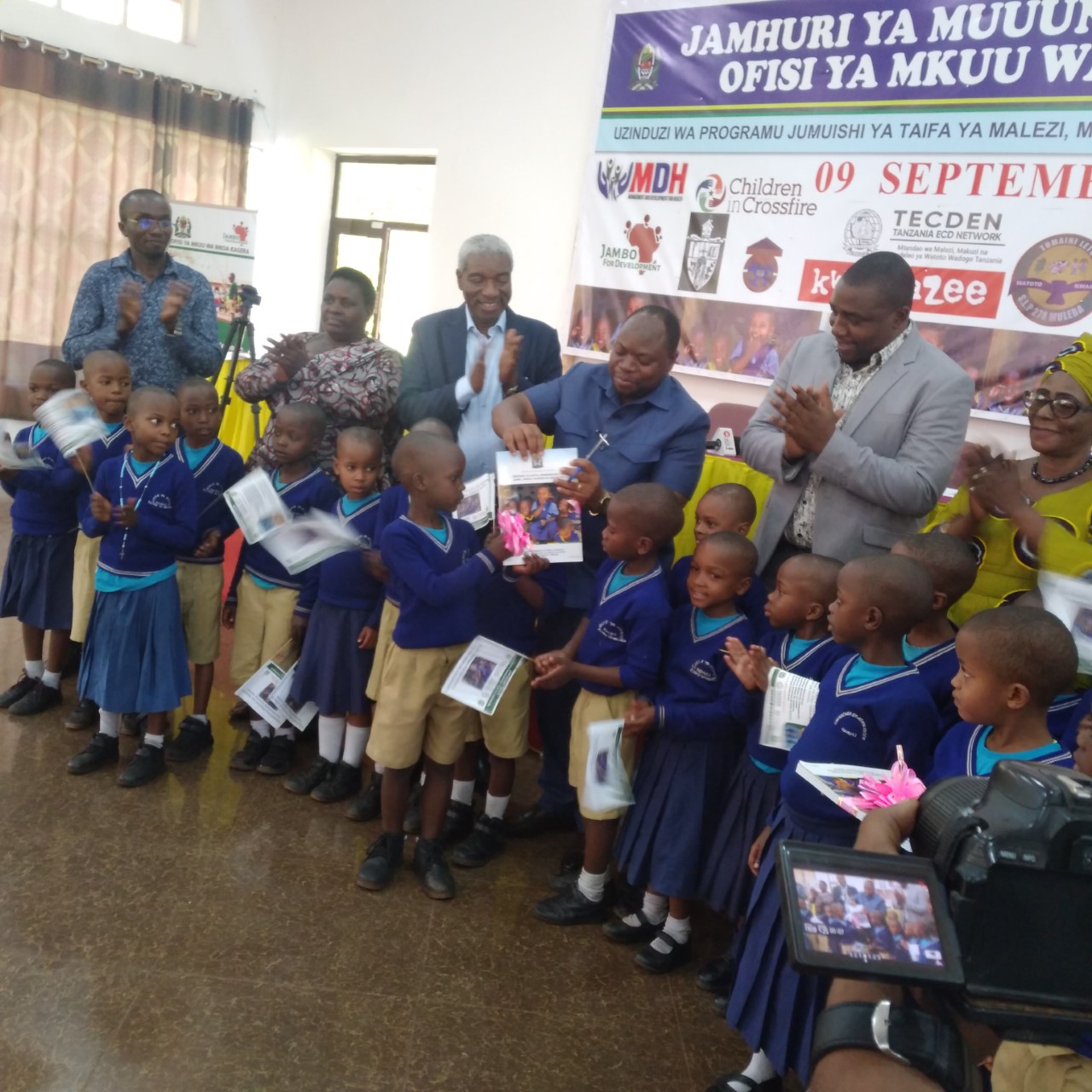 NURSERY class  pupils at Rumuli primary school in Bukoba municipality,Kagera region in Tanzania,on behalf of other children in the country ,asked parents,guardians and the entire community,to give them their rights which include the right of health,education,nutrition and recreationandplays,,and be protected from abuse and harm,so that they grow to reach their full potential.
They sent the message  through the song they presented over the weekend at the launching ceremony of the National Multisectoral-Early Childhood Development Programme (NM-ECDP) in Kagera region,the event  which was attended by children stakeholders including government and political leaders,teachers and pupils,Non Governmental Organisations and other officials from all eight district councils in the regions.
Ibura Compassion  pupils under Evangelical Lutheran Church of Tanzania,Northwest Diocese(ELCT-NWD),staged the brassband which soothed  the attendants,while Minziro Compassion from Missenyi district showed  their knowledge on Information Technology using a computer device.
Toba Nguvila,Kagera Regional Administrative Secretary,welcoming the Chief guest,Kagera Regional Commissioner,Albert Chalamila,said the Programme  at country level was launched by President Samia Suluhu Hassan in December 2021,who was represented by the then Minister for Health,Community  Development ,Elderly and Children,Dr Dorothy Gwajima,who now is Minister for Community Development, Gender,Women and Special Groups.
Nguvila appealed to all development partners  and organisation to contribute to their capacities to make a programme succeeds
Kagera Regional Commissioner,Albert Chalamila,who inaugurated the Programme  by cutting a ribbon tied  a  Book  with  contents,urging mothers and fathers to monitor and control their young children's behaviours,as it is at early stage when they learn to misbehave,and that if they handle them with no proper parenting, their are putting  them at crossroads.
He tasked Kagera residents to work hard and be innovative,so that they raise their income to fight poverty and curb malnutrition among the children.
He also asked Kagera residents not to be slaves of past history of phenomena that befell the  region,such as war against intruder Id Amin of Uganda,HIV/AIDS,earthquake  and Panama disease (Fusarium wilt)in bananas,but rather use the phenomena to become vigorous and stand up for their development,saying Tokyo-Yokoshima in Japan  which was hit by great earthquake in 1923,whereby thousands of people lost their lives,but people didn't keep lamenting
Kagera Regiona Central Police station Gender Desk Officer,PW Susan  Kamwaga said the police force is working hard to fight vioalence against  children,and appealed to the community to report the abuses  and be able to attend the Court proceedings.
Kagera Regional  Assistant Registrar of Non Governmental Organisation,said the region  is prepared to give awareness  education about the programme to communities at all levels,building  81 ECD centres if the budget allows,and have adequate  teaching and learning aids in kindergarten  classes,just to mention a few.
Lazaro Ernest from Tanzania Early Child Development Network(TECDEN) said the Programme  is implemented for five years,2021/22-2025/26,starting with ten regions,but all regions will be covered.