US Considers Sanctioning Rwanda Over Rusesabagina's Detention
By Maniraguha Ferdinand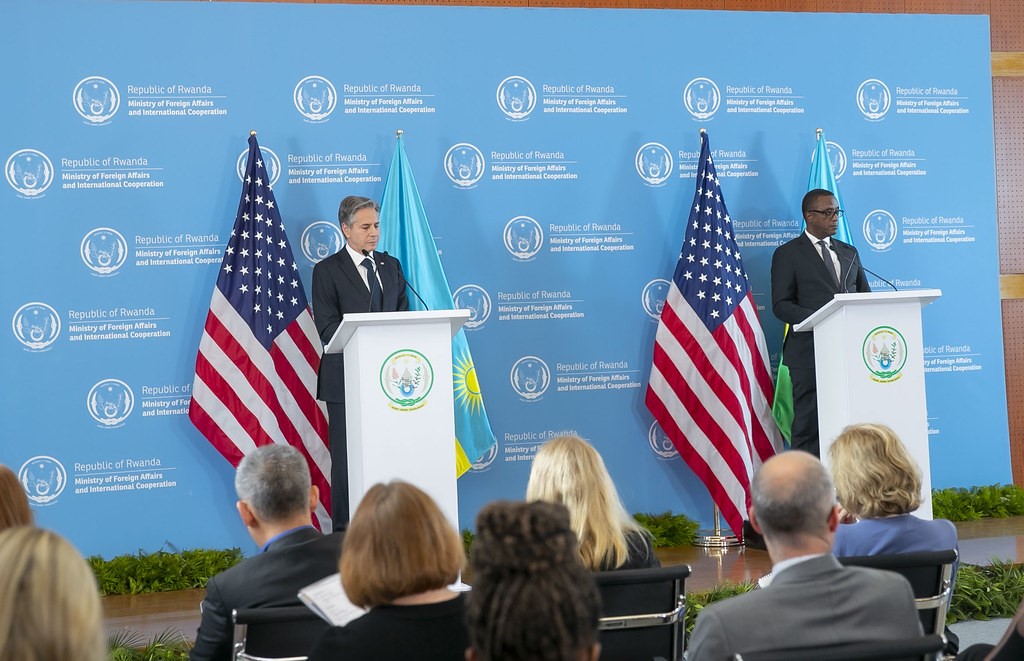 US secretary of State, Antony Blinken insinuated that Rwanda may be sanctioned if it continue with decision of detaining Paul Rusesabagina, a US resident.
Rusesabagina's fame arose from Hotel Rwanda movie, which counts his role during 1994 genocide against the Tutsi where he allegedly hid Tutsi using Hotel des Mille Collines, the hotel  of which he was manager.
He was tricked and arrested in 2020 after landing at Kigali International Airport for charges of terrorism his rebel group, MRCD-FLN committed in south western Rwanda since 2018. Rusesabagina is serving a 25 year long sentence in Kigali Central Prison.
During his African tour which  concluded  in Rwanda on 11th August 2022, Blinken criticized  Rwandan government of wrongfully detaining Rusesabagina.
"Criminalization of some individual's participation in politics, harassment of those who express opposition to the current government, we believe underlie future peace, stability, and success which has already been extraordinary in the case of Rwanda over the last 20 plus years, but which will not reach its full potential if those who express disagreements  criticism of whatever the current government happens to be are repressed in their ability to do that whether that is here in Rwanda or abroad", he told reporters who gathered at Rwandan Ministry of foreign affairs premises.
Before coming to Rwanda, US released a statement which condemned Rusesabagina's trial as unfair, calling Rwandan government to release.
From then Kigali retaliated with anger, and  President Paul Kagame tweeted minutes before Blinken visit  that "there are things that just don't work like that here".
Blinken told reporters that US has a bucket of sanctions directed at those who don't obey human rights, sanctions known as 'Khashoggi ban'. It allows the United States Department of State to impose visa restrictions on individuals who, acting on behalf of a foreign government, are believed to have been directly engaged in serious extraterritorial counter dissident activities.
"We established what is called the Khashoggi Ban to make clear that any country that engages in repressive actions against those who criticize it, if those persons are in the United States, they face consequences for those actions" Blinken said.
"I've shared all of this with President Kagame today.  It's not for me to characterize his response, but these are concerns that I shared.  And I did that, again, in the context of making clear our desire for an even stronger, even more productive relationship […] But these are issues that we care deeply about, our Congress cares deeply about, the American people care deeply about" he insisted.
Rwanda's Minister of Foreign Affairs, Dr Vincent Biruta who stood few meters away from Blinken, ruled out that Rwanda is not ready to discuss about Rusesabagina's release as he was sentenced with competent court of law.'
"When Rwanda deals with people who commit crimes against our country and our people, we abide by laws, both national and international.  We know some other countries have their own method to deal with those kind of people, those criminals who commit crimes against their own countries."
"But as far as Rwanda is concerned, we do it along with, in respect of our laws, and in respect of international laws.  Any other people could qualify these as international repression or whatever, but when we deal with people who commit crimes against our country, against our people, we abide by the laws" he said.
US is a key Rwandan partner in various areas, a partnership which blossomed after 1994 when Rwanda was rebuilding itself from ashes of genocide.
It unclear what measures US will take after Blinken's visit since some analyst found it to be a strategic visit which aimed at countering Russia's influence in Africa especially in post Russia-Ukrainian war.
By the end of last month, Russian Minister of foreign affairs made a tour in Africa in countries like Egypt, Ethiopia, Democratic Republic of Congo and Uganda.