Succession In Cameroon: The Rise of Frank Biya Raising Eyebrows
By Andrew Nsoseka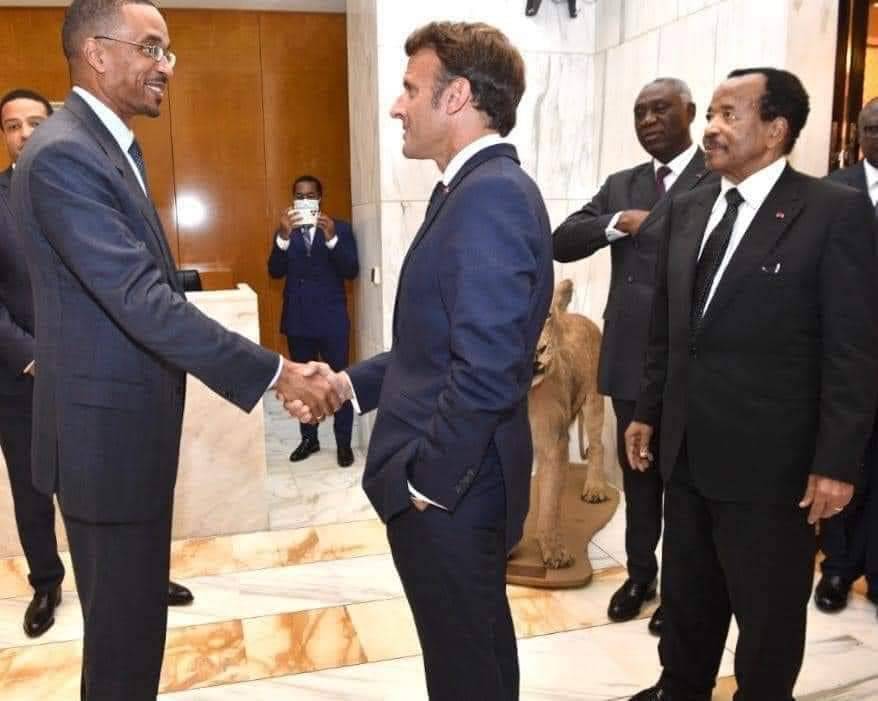 Away from talks on France's economic interest in Cameroon, bilateral relations, talks on more investments in the Agricultural sector and other areas in Cameroon, the July visit of France's President Macron again provided an opportunity for the country to project Biya's son in the country's power circles.
Biya's son, Franck Biya who has been touted around as his father's likely successor was one of those who was there to receive President Macron when he visited Cameroon from July 25 – 27 2022. Though not occupying any administrative or political post in Cameroon, Franck Biya was presented to Macron during his visit, by his father, President Paul Biya who has ruled the country for almost 40 years.
Overnight, before Macron touched down in Yaoundé, political banners projecting President Paul Biya's son, Franck Biya were raised in strategic locations in the city, welcoming the French President to Cameroon. Groups were also mobilised to hold banners, and placards of Franck Biya and his so-called Franckist movement on roadsides where the visiting French President was to pass through. This was to give the impression that Cameroonians, especially the youths, hired to carry such placards were in favour of Franck Biya taking over the reins of the power after his father leaves.
Though with constitutional provisions on succession in case of vacancy, and the legal means of ascending to power through an electoral process, there is little hope in Cameroon that that route will be followed after Biya leaves power, or when power leaves him. The regime has been known to change the constitution to have its way when they want to their way through an unconstitutional move. The situation is even grimmer, especially with the recent case of Chad, where with the blessing and coverage of France, all constitutional provisions were flouted, and with the backing of France and its President Macron, Idriss Déby's 37-year-old son, Mahamat Déby who declared himself president was crowned. He even dissolved Chad's government and declared himself President before his father was buried. The French leader, Macron who drums for democracy only when it is for the interest of his country, was there to give the illegitimate young self-declared President and son of "lost brave friend" of France, the backing of the French authorities.
The case of Chad has given many people in Cameroon cold shivers that a similar thing may be done to Cameroon, with the backing of France that has remained Cameroon's godfather, since the colonial and post-colonial era. The speedy process in Chad that was crowned with the speedy visit of President Macron who was there to give guidelines to the illegitimate ruler and ensure that French interest is preserved. In such arrangements, the interest of the local population or the country as a nation is not top on the agenda. In such arrangements, the democratic process is not even considered by France that trumpets democracy on rooftops and in practice opt for the most undemocratic option available.
The Franckist Movement in Cameroon
A ploy to put Biya's son, Franck Biya in power circles in Cameroon was introduced under a guise of a so-called movement. The movement christened, "Citizens Movement in Support of Franck Biya for Peace and Unity in Cameroon", was is being coordinated by a certain Alain Fidele Owona. The movement is best known in Cameroon as the Franckist Movement. He claims that the movement was created at the request of young Cameroonians to support the 50-year old Franck Biya take over from his 88-year-old father who has been in power for close to 40 years.
The move to present Franck Biya as his father's best successor was introduced using the Biya regime's tactic of testing any move by first announcing it subtly as a rumour. Here, information is deliberately sent out and made available to the press as rumours or leaks. This is often done to test the waters and see how the people could potentially react in case the regime goes on to carry out such a move.
After the first tactic was used, many people took exception to it, while others just dismissed it as rumours that can never materialise. But on the side of the regime, and the so-called movement, they moved to the second stage, which was presenting the movement as something coming from Cameroonian youths. As such, the coordinator of the movement, Alain Fidele Owona now presents it as a call made by 'patriotic' Cameroonian youths who want Biya to be succeeded by his son whom they describe as the best option for Cameroon. As such, when an opportunity shows up like that during the visit of the French President, the hidden faces behind the so-called Franckist Movement go into University campuses and hire hungry university students to carry and display designed political messages and wear t-shirts with messages of support for Franck Biya. This has been the case in Cameroon on several occasions since the Movement aimed as projecting Franck Biya as his father's successor started.
At some point, a project was launched to establish Sub-divisional, Divisional, and Regional bodies to represent the so-called Franckist movement throughout Cameroon. As expected, most of those who could easily be spotted on such events and eventual lists of those who emerged as local representatives were those who militate in Biya's Cameroon Peoples Democratic Movement, CPDM.
Unlike the case of any opposition political party that is often hushed down when carrying out certain political campaigns or similar activities, administrators appointed by the central government in Yaoundé do not disturb Franckist movement promoters from carrying out their activities wherever and whenever they wish.
As such, it was easier to see just banners and placards of Biya's CPDM and his son's Franckist Movement flying or being displayed all over town when the French President's highly mediatised and anticipated visit happened on July 25-27, 2022. Any move by an opposition political partly to do such would have likely been met by brute force.
As expected, playing it like his father would, Franck Biya has not yet said anything about his movement, since it is expected to be seen as young Cameroonians calling on him to take over power, and not him having an interest in taking over power in Cameroon. But the resources used by the movement are enough to show that it is not sponsored by any group of Cameroonian youths.
Since the projection of Franck Biya who was among those presented to Macron, the local media has preoccupied with reports about the rumours actually emerging as a planned thing. In its July 28th edition, Cameroon's English Daily Newspaper, The Guardian Post reported that a secret meeting to convince power wielders in Cameroon's diaspora to endorse Franck Biya as his father's successor ended in a deadlock.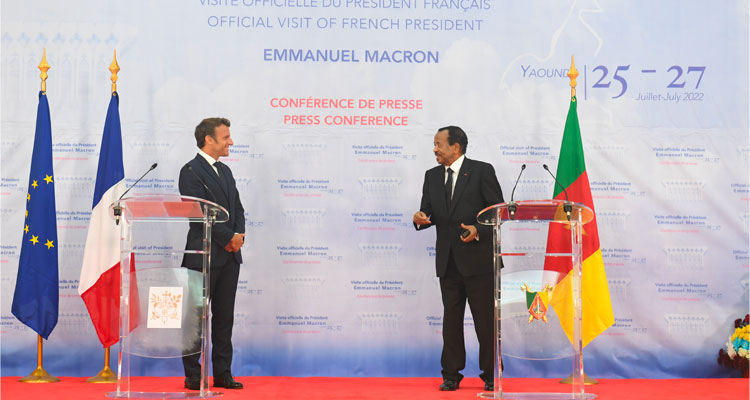 Asked during a press conference on whether he will quit power, Biya told journalists that when his current mandate ends in 2025, he will decide whether to quit and move back to his village, Mvomeka or to run for another term as Cameroon's President.
Though the prospects of Frank Biya succeeding his father still look like speculations and rumours to most Cameroonians, the likelihood of it happening as still high, given that Biya wields power in every circle throughout the country, and can easily have his way, if he wants to. This can likely happen with the backing and use of a military and police force that spares no effort to use terrifying force to drive home a point or crack down on any dissenting voice.