Sierra Leone: MRCG launches Reporting Transitional Justice manual for media practitioners in West Africa
By Ishmael Sallieu Koroma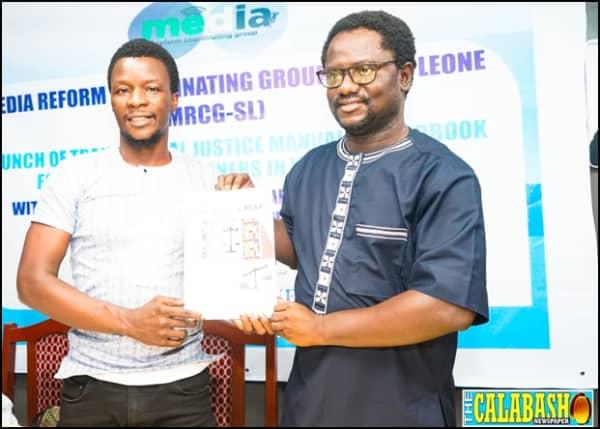 As part of its engaging the media and communities to change the narrative on Transitional Justice (TJ) issues in Sierra Leone, the Media Reform Coordinating Group in Sierra Leone (MRCG-SL) with funds from the African Transitional Justice Legacy Fund (ATJLF) has last Friday 29th July 2022, launched a Handbook on Reporting Transitional Justice for Media Practitioners in West Africa at the SLAJ headquarters in Freetown.
In his remarks, the Head of Programs MRCG, Usman Bah, said that in 2020, journalists in Freetown and the provinces benefitted from the ATJLF mentorship Project adding that, the journalists produced many great stories on TJ issues as a way to engage the media to change the narrative on transitional justice issues in the country.
'' In 2022, we also applied for grant from ATJLF and we were awarded another project. This time around, we expanded the project to include communities. So, the title for this one is to engage the media and communities to change media writings to change the issues on Transitional justice issues in Sierra Leone,'' he said.
He said that, part of the project deliverables was to develop a Transitional Justice manual which was to serve as a guide for journalists in the country and West Africa as a whole adding that they as an organization have developed the manual which is why they were launching it and making it available to journalists in the country to understand the issues better.
Chairman MRCG, Dr. Francis Sowa, said that the idea about transitional justice reporting started at the end of the conflict in Sierra Leone in which media practitioners reported on stories basically dealing with the country's transition from conflict to peace thus stating that reporting on those issues is mainly done after instances of civil conflicts, instances of war, and human rights abuses.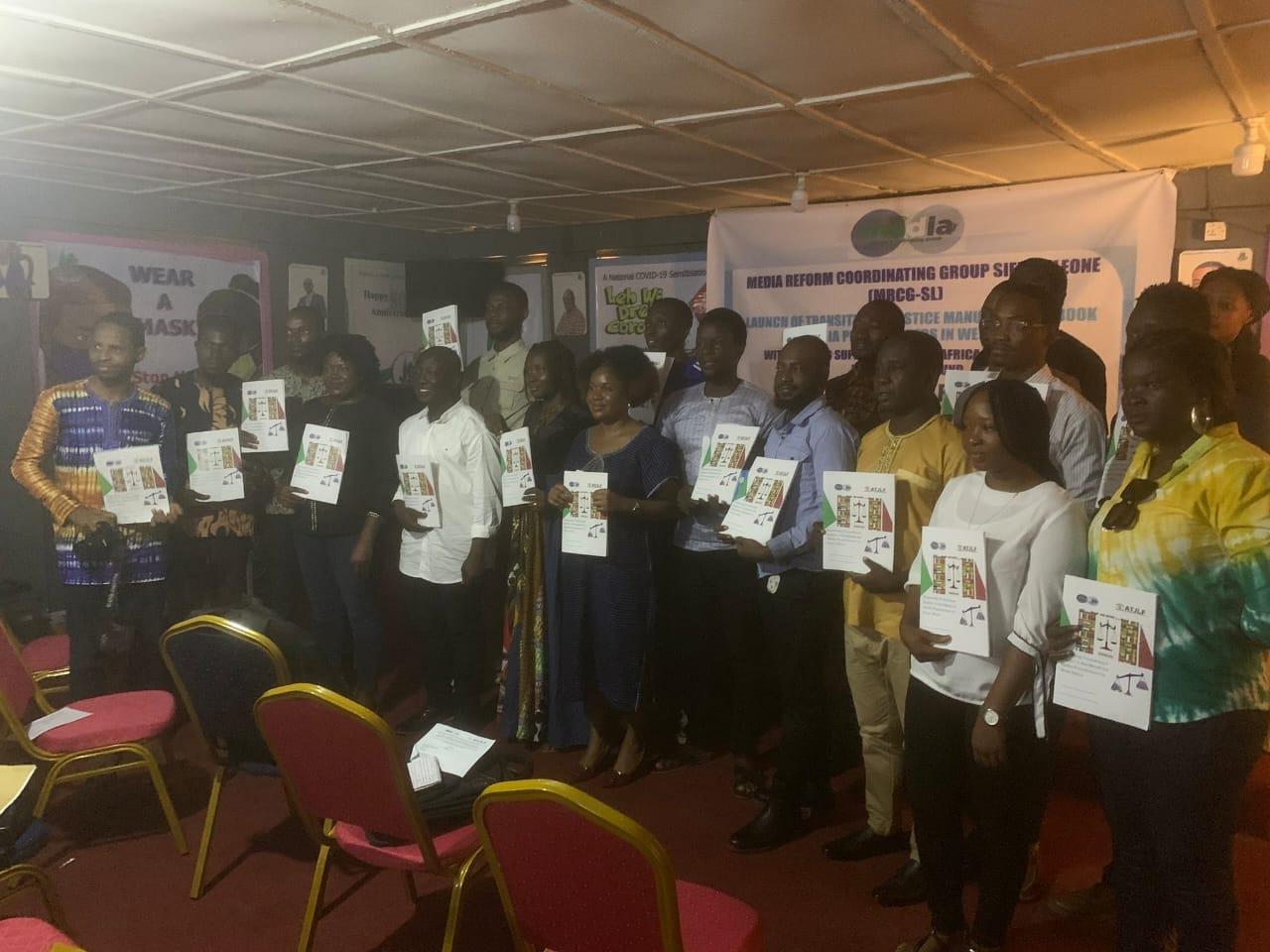 '' The point we are trying to make as a Media Reform Coordinating Group in this project is that, transitional justice issues, they go beyond time or period of conflict that even during the period of peace. There are things that are happening that have the resemblance of conflicts or should remind us about the things that took us to conflict. As part of this engagement, we had mentees who produced stories in the first grant we got from ATJLF based in Ghana. Now,  what those stories clearly showed is that some of the things that took us to war, human rights violations , human rights abuses , some of them are still happening not at very large scale but we should be concerned that they are happening in certain parts of the country,'' he said.
He said that there are still instances in which people believed that their rights  to access land in local communities have been denied, adding that  issues of corruption was another factor  that took the country to war,  which he added is still prevalent in the nation.
''The recommendations that were made by the Truth and Reconciliation Commission some of those imperative recommendations some of them are still yet not properly implemented. So what we are saying, those who  have study Peace and Conflicts studies  believed  that societies that have come from conflict  that are mostly fragile states if they don't consolidate their peace it is highly likely that may go back into conflict and we don't want that in Sierra Leone,'' Dr. Sowa noted.
Dr. Francis Sowa added that as a nation, we need a  constant reminder  of the issues that caused the civil war hence the reason they  have produced the  manual which goes beyond the country as there are other countries in  Africa that has  transitional justice issue that is not only peculiar to Sierra Leone .
''What this manual is supposed to do is to provide some kind of guide to media practitioners in West Africa who are reporting transitional justice issues. For example the manual, explains in simple terms what is meant by transitional justice with emphasis on TJ issues mechanisms and those mechanisms for example, there  are Truth Commission which we have had in Sierra Leone and other west African nations like the Gambia , another one in prosecution  and reparations  at the post conflicts period,'' the MRCG boss noted.
The MRCG boss revealed that, in this year's mentorship program they will add more participants that will report on TJ issues in the country thus calling on media professionals to make use of the opportunity to show their interest as they stand to learn a lot in the project.
Officially launching the Reporting Transitional Justice: A Handbook for Media Practitioners in West Africa, the Secretary General, Sierra Leone Association of Journalists (SLAJ) Alhaji Manika Kamara said, they as an association, have been craving for reporters to specialize in particular areas stating that today there are court reporters, health reporters in the country thus encouraging colleagues to focus on reporting transitional justice (TJ) stories.
'' And as a journalist it is our responsibility, to call the authorities to book to remind them about these issues. Currently, we still have issues of corruption and like my colleagues here said, the issue of women representation, quite recently we saw the house of parliament struck out the 30% reserved seat but thankfully, they also retained the section 59 (2) of the Public Elections Act 2022,'' he said , adding that , parliament is currently debating two acts relating to land which is the customary land rights and the National Land Commission our female colleagues will now have right to access land both at the city and the regional,'' he said.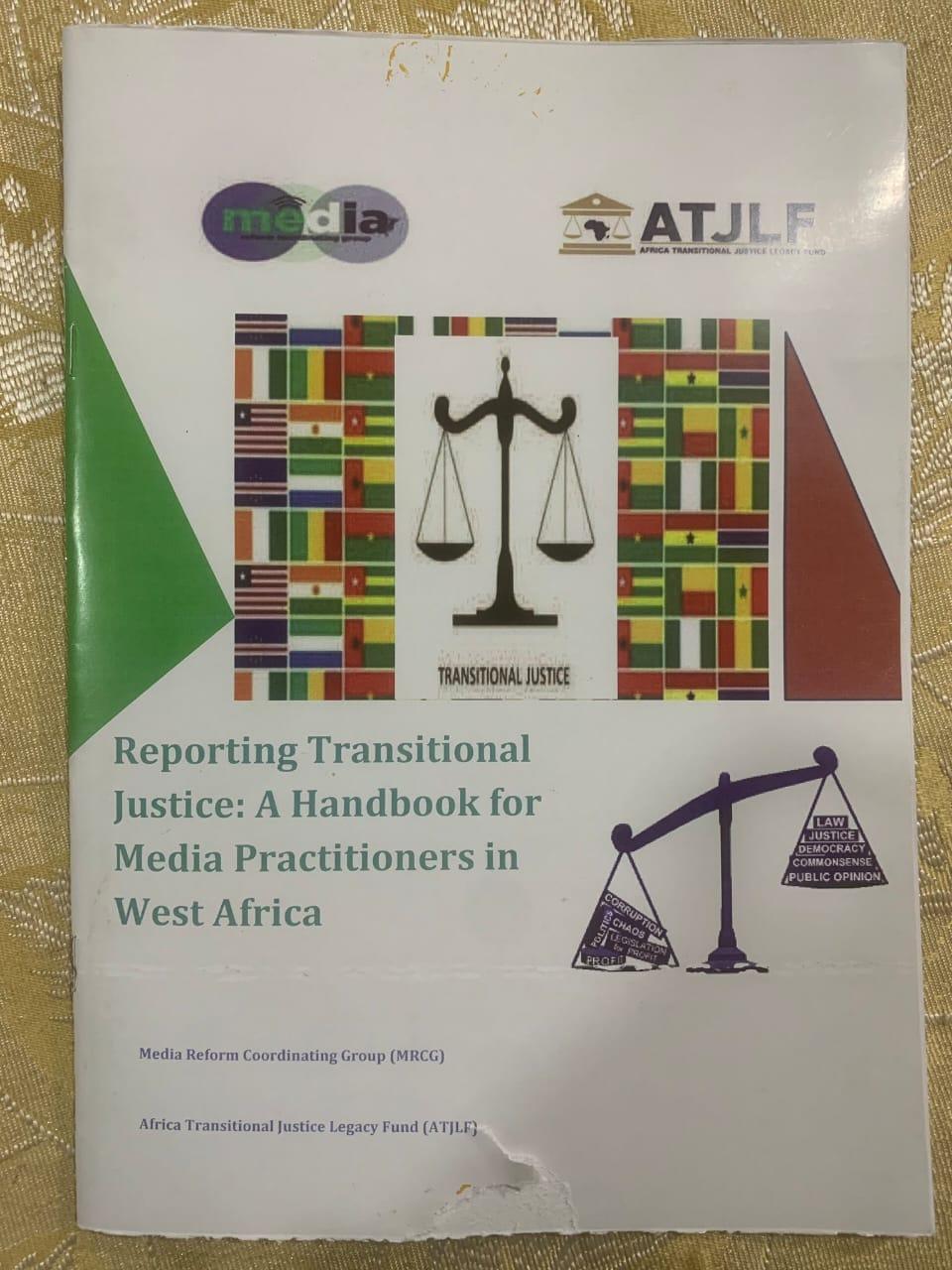 Alhaji Manika Kamara said that there are so many issues within the TRC   Report that are yet to be addressed by succeeding governments in the country thus calling on them to work towards implementing them adding journalist themselves have a role to play especially now that there is a  manual to guide them to report on TJ issues.
The SLAJ scribe added when MRCG launched the first batch of the mentorship programme to report on transitional justice stories, they as an association encouraged colleague journalists to apply but said, very few colleague gave it a try stating that the reportage that come out from the journalists were very much encouraging thus urging journalists to take part in the second batch of the mentorship project as they stand an opportunity to learn a lot and understand TJ issues and how to report them .
''On that note, without much I  do, on behalf of the SLAJ President who is unavoidably absent it's my pleasure to singularly launch the report, reporting transitional justice, a hand book for media practitioners in West Africa. You see, this is not only for Sierra Leone, but for the whole of West Africa. So it is a plus for Sierra Leone to be first country to launch this handbook, so I will encourage you all to make good use of it, read the manual and then put it into practice.  Don't just lay it on your table and allow it to cover with dust ''the SLAJ scribe lamented.
One of the mentees of the MRCG and ATJLF mentorship project Aisha Kamara- Gbla said that she benefitted a lot in reading the findings and recommendations of the TRC adding that the TJ mentorship program served as an eye opener to her in understanding and reporting TJ issues in the country.
'' I want to say a very big thank you to MRCG / ATJLF for giving us the opportunity to really dig into some of the issues that were embedded into the TRC Report, '' she said, adding that, whilst reporting on the TJ stories, she said came to a conclusion that, the solutions to the country's problem is in the TRC findings and recommendations.
She added that most media practitioners do not take a look into the TRC report because as she said if journalists decided to look at it, she believed media professionals would help citizens as well as government in understanding the need to take actions on the recommendations of the TRC Report.