Queens University Canada In Collaboration With Cedi Ghana To Launch E-Jobs4all Project In Ghana
By Maxwell Nkansah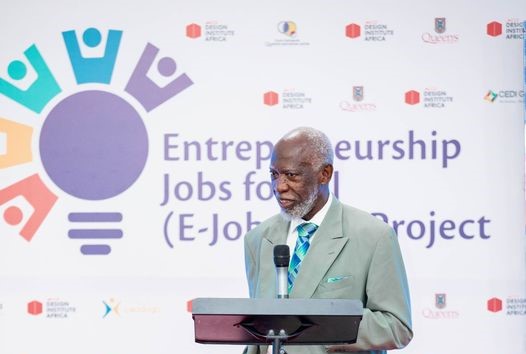 Cedi Ghana, in collaboration with Queens University in Canada, has launched a job for all project to help entrepreneurs in Ghana. The launch, which took place at the JACCD Design Institute Africa, in Accra, was graced by the Hon. Ama Pokuaa Boateng, Deputy Minister for Communication and Digitalization.
At the launch, the President of Cedi Ghana, Mr. Kingsley Kwaku Pinkrah, outlined the reason for the launch of the project. According to him, the rate at which unemployment is rising is very frustrating and the youth need to be equipped with the skills to be able to start their own business.
Addressing dignitaries, the former Rector at GIMPA, Professor Emeritus Stephen Adei, said, "The nation is facing a serious unemployment situation where grandparents don't get jobs to do but come and sit at home without any work."
Prof. Greg Bavington, Executive Director of Queens University DDQIC Canada, who joined the launch via Zoom, lamented on why they chose to train Ghanaian youth on free entrepreneurship in the country. According to him, this will help them advance in their careers while also lowering Ghana's unemployment rate.He further stated that Queens University is going to help raise youth with good entrepreneurship skills through high-quality training to enumerate poverty.
The special guests of honour were H.E Alhaji Dr. Mahamudu Bawumia, vice president of Ghana, who was represented by Hon. Ama Pokuaa Boateng, Deputy Minister for Communication and Digitalization. According to her, the program will serve as a mentorship platform to connect Ghanaian youths to serve as entrepreneurs and also give those who take part in the project the knowledge and skills to create their own jobs at a higher rate.
The Minister for Employment and Labour Relations, Hon. Ignatius Baffour Awuah, who was also represented by Mrs. Gloria Noi Borteley, said, "As a sector, it is our mandate to explore and implement strategies that will ensure employment and decent work for all."
She continued by saying that the ministry will help young people with skills to enable them to come up with their own businesses and that the project will also help to solve unemployment both in the formal and informal sectors of the country.
The president of JACCD Design Institute Africa, Joyce Ababio, as a partner of the E-jobs4all project, said, "The main reason for this state of the facility is to reflect on the need to place technical education to remind ourselves of the role education plays in modern world development." She added
She further stated that the reason or the motivation behind the institution is to develop talents at the grass-root level and structures to support those who have low formal education and new business owners from different sectors; tailors, seamstresses, hairdressers, textile producers, and jewelry makers.
According to her, the JACCD Design Institute Africa has become one of the world's leading private institutions and West Africa's first-ever specialized in creative arts. Mrs. Joyce Ababio lamented that entrepreneurship training is necessary but that entrepreneurship training backed with skill training will provide the individual with a business.
The E-jobs4all project will provide free entrepreneurship training and mentorship to over 1,000 Ghanaian youths.
The Executive Chairman of Cedi Ghana, Prof. Dr. Lawrence Lowell, said the aim is to help individuals positively by applying the duty of principle. He then added, "If education is the key to national development, then the system of education in the country has contributed a lot to the lack of development in the system, by which the system is saying training belongs to less average students."
"Not because there are no jobs, but the grandparents are not bringing in new ideas on board to change or transform the situation, so how can we recruit people to do what we are already doing?" he said.
The Chief Executive Officer of Leadogo Incorporated Canada, Mr. Matt Hawskley Leadogo, said, "Incorporated is going to offer the youth their aims, visions, and missions to have their own creative and innovative ideas since entrepreneurship is about being creative and innovative, which will be in the form of skills to the individual as a whole."
H.E. Dr. Rollan Roberts, Advisor to National Governments, U.S.A. & Founder of Transform Africa, elaborated on the system of education in Ghana, which has to improve with skills and training from the earliest ages to help build talents to help in the development of the country. He then said money shouldn't be an excuse for the country, but training with skills that will bring about creativity and innovation will help when it comes to entrepreneurship and development to reduce unemployment.