Millions In Investments Washed Away As Ghana Continues To Grapple With Perennial Floods
By Papisdaff Abdullah Ali.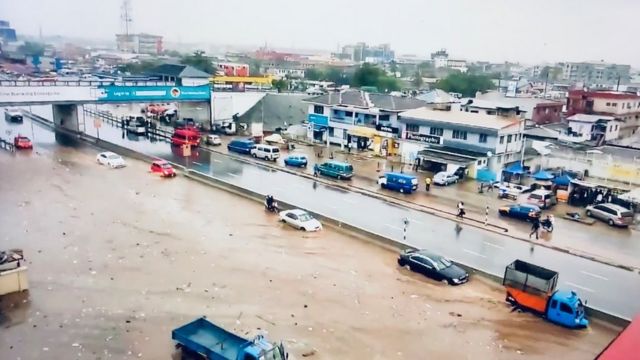 Ghana ranks highly among African countries that are most exposed to risks from multiple weather-related hazards. In the past three decades, the country has experienced seven major floods. Persons living in Accra and other parts of Ghana prone to flood, have had to find self-serving solutions or blindly accept lip service governments pay to the annual flooding problem. Painfully so, the resort to unproductive firefighting and quick fix attitude nothing close to fixing the problem. In June 2015, Ghana there was a rain, which started as any normal rainfall left in its wake a lasting scare on the memory of Ghanaians.
The devastating flood event at the Kwame Nkrumah Circle enclave led to an unfortunate loss of about 150 lives, leaving more than 50,000 others directly affected to varying degrees. As pictures of the havoc began to show on television, the entire nation was thrown into a state of shock and mourning when it emerged the flood had forced the release of fuel (petrol) onto the surface of the flood water sparking a hell of fire. Seven years down the line, it is safe to say no lesson has been learnt as Perennial flooding across the major cities in Ghana continue to pose a significant threat to lives, property and socio-economic development.
Flooding also impacts adversely on the mental health of victims and undermines their ability to contribute meaningfully to economic growth. Annually, people get displaced, transport links disconnected, economic activities disrupted, and livelihoods uprooted because of flooding in the West African country. The Water Resources, Works and Housing Ministry estimates that there are about 30 drainage catchment areas across the country. These facilities are no longer able to contain the water levels during rains because of the human activities around them and building on water ways and buffer zones. The economic impact of widespread flooding across the country is therefore projected to be billions of dollars over time. For its part, the World Bank further estimates that $3.2 billion (4.45 per cent of GDP) worth of economic assets are at risk of flooding in the Greater Accra Region alone, and this figure is expected to quadruple by 2050 without urgent action (World Bank Press Release, May 29, 2019).
Causes
Poor sanitation practices including indiscriminate dumping of solid waste into drains by households, inadequate and inefficient drains, undersized culverts on major roads and uncontrolled development in flood plains, wetlands and waterways are triggers to floods. These activities contribute significantly to flooding by blocking drains, causing storm water to overflow into homes and business premises. Again, people have normalized, encroachments, developments and buildings in waterways and buffer zones. This according to experts, block the flow of storm water and worsens the risk of flooding in the country. Developments in wetlands displace large volumes of storm water meant to be stored on those lands, thereby increasing flood risk. Floodplains and wetlands operate like natural sponges; they absorb and hold back excess water. Disruptions to such areas through development causes storm water to flow at increased velocity leading to flooding and consequent devastating effects on lives and livelihoods.
Floods
Large parts of the capital city are mostly flooded after downpours. Areas such as the Roxy bus stop, Odawna, the Central Business District, sections of the Achimota-Ofankor road, parts of Kaneshie, Madina, Teshie, East Legon and Weija among other areas all receive their fair share of the flood. This leaves people seeking shelter under buildings and at bus stops, while others are forced to vacate their offices as water gushe through any available space to find its way. Many roads are also blocked by the flood waters, resulting in heavy vehicular traffic. Recent rains have resulted in flooding in most parts of Accra with an apparent no end in sight, at least until the end of the rainy season. The Ghana Meteorological Agency has given indications of more of such torrential rains within the season. An MDPI data shows that majority of flood disasters in the country and the biggest toll on properties and lives are recorded in Accra. The data also estimates total damage of over $600 million, affecting more than five million lives, with many fatalities from 1900 to the first half of 2021.
This year in the Central region, heavy rains in the have caused havoc, claiming one life, submerging communities, including the Ankaful Camp Prison, and cutting off the bridge linking Cape Coast and Twifo Praso at Jukwa. More than 100 houses in the Komenda Edina Eguafo Abirem municipality were submerged after some rivers overflowed their banks. At Ankaful, a prison officer, Senior Chief Officer Lutterodt, drowned when flood waters swept through the Camp Prison. Properties worth thousands of Ghana cedis were also destroyed at the prison, while about 70 prison officers and their families were displaced.
Several areas in Kumasi experienced severe and devastating flooding in June last year. This affected commercial areas such as the new Kejetia, Central and Asafo markets, as well as the Bantama High Street Market. Several shops experienced flooding, and goods worth millions of Ghana cedis were destroyed. Additionally, several homes were flooded and household items destroyed. Following my visit to the affected areas, the increasing risk of flooding associated with climate change looked clear to me, and as a nation, we need to take bold steps to tackle this challenge holistically. Similar incidents occurred in the Eastern, Western and Volta regions.
Military Operation
The Ghana Army was forced to deploy detachments of personnel to embark on a search and rescue operation dubbed "Operation BOAFO" to help people trapped by floodwaters. The soldiers worked with civil authorities including the National Disaster Management Organisation (NADMO) to rescue particularly the aged, women and children who had been caught up by the floods. In line with the operation, the 48 Engineer Regiment of the Ghana Army set out to various flood-prone communities in the city such as Osu, Accra Central, Kaneshie, Nungua Barrier, Circle, Odorkor among other areas prone to flood.
Economic activity
The businesses operating in the Odaw enclave, which borders the Graphic Road and its surroundings, estimate that over the past 10 years, property worth billions of Ghana cedis have been destroyed. For the automobile industry, new and old vehicles, vehicle spare parts, office equipment and accessories, and electrical appliances are destroyed by the floods each year, after just few hours of rain. The perennial disaster has forced many of the automobile companies to either close or find alternative and safer locations to keep their businesses. Aside from companies such as Vodi Technics (VW and Skoda), PHC Motors (Land Rover, Range Rover, Tata etc.) and Mechanical Lloyd (BMW etc.), which have been edged out of their main business, other giants such as Silver Star and Toyota Ghana have relocated some of their operations. That enclave also used to have GNTC Motors, RT Briscoe, Yellow Cab and SCOA, which have either folded up or metamorphosed into other businesses.
Action
The government of Ghana says it has collaborated with the World Bank to invest more than $200 million to address solid waste management and flood risk challenges in the Greater Accra Region alone. The project is expected to see the development and implementation of a Flood Early Warning System in collaboration with the Meteorological Agency and the National Disaster Management Organisation. The government maintains, it will "continue to invest more resources across the country to ensure that not only is the current perennial flooding challenge comprehensively addressed, but also that the country builds resilience against future flood risk."
At a press briefing to update Ghanaians on the key developments and achievements within the works and housing sector the Minister, Asenso-Boakye says the Greater Accra Resilient and Integrated Development (GARID) project was being implemented in collaboration with the World Bank, with the objective of mitigating flood risk and addressing the solid waste management challenges in the Odaw Drainage Basin.
The minister said over the past four years, investment in flood control measures under the 2018 and 2020 National Flood Control Programme (NFCP) had been the highest, with the government committing about GH¢450 million to deal with the menace. He said his outfit would continue to engage the Ministry of Finance to secure additional funding for the 2022 NFCP. He further announced that the construction of retention ponds in the Ghana Atomic Energy Commission area to hold large volumes of water, which would have otherwise flowed towards the city centre to cause flooding, would commence by the end of the year.