Kenya's Elections; Who Shall It Be This Time?
By Samuel Omwenga*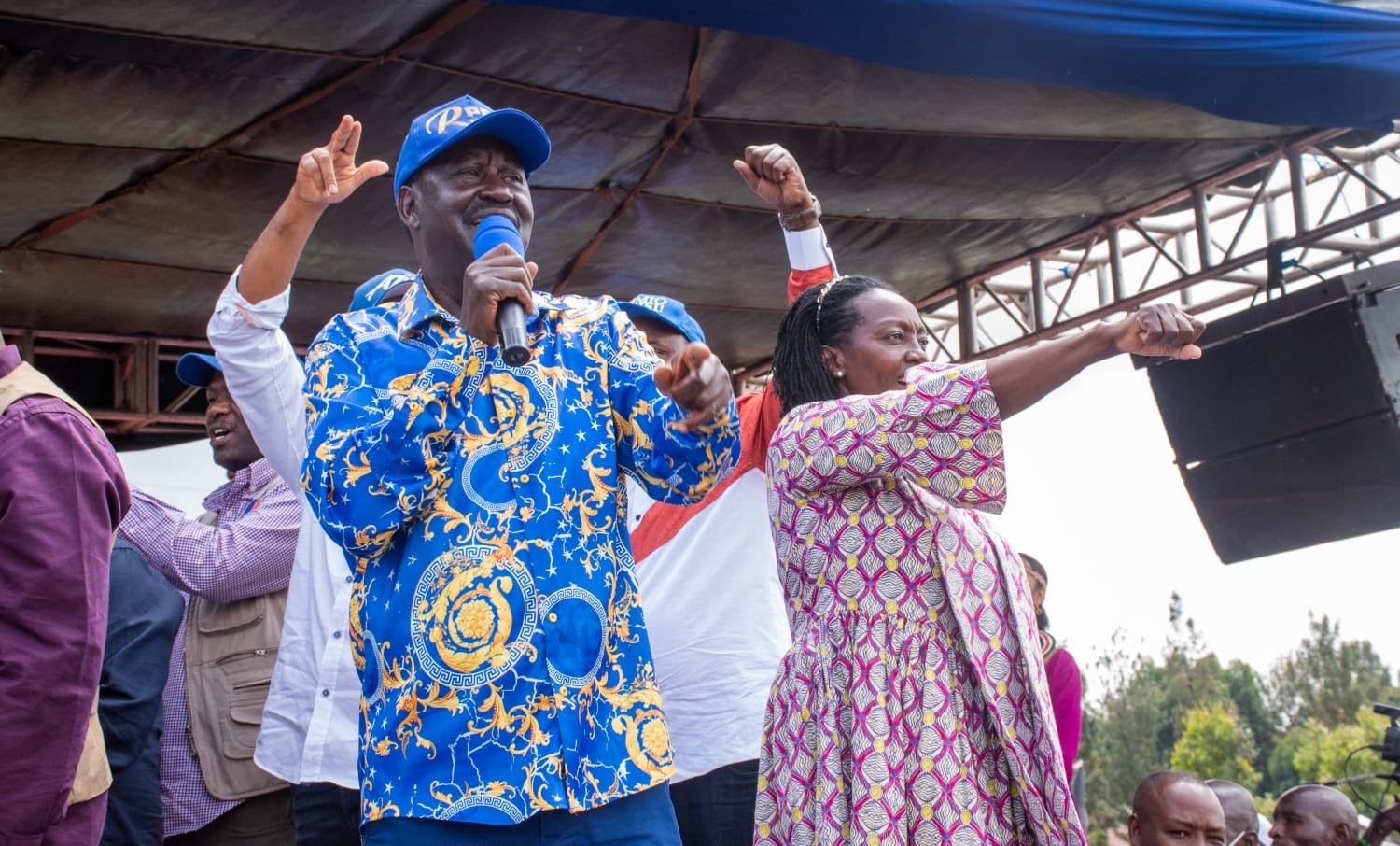 Kenyans are poised to go to the polls to elect their next president on August 9, 2022. At the presidential level, the battle is going to be between Azimio la Umoja Kenya One alliance flagbearer Rt. Hon. Raila Amolo Odinga and Kenya Kwanza Alliance candidate William Ruto, who is the deputy president but only on paper as the man has long since been sidelined as deputy to President Uhuru Kenyatta owing to irreconcilable differences that developed between the two who were bosom buddies when they first vied together in 2013.
The differences between the two candidates cannot be starker. Raila is a seasoned Kenyan politician born on January 7, 1945. He was Prime Minister of Kenya from 2008 through 2013. Raila, or Baba as his supporters and admirers popularly call him—and the man has more nicknames and terms of endearment than anyone in the world, is a resilient politician who is vying for the presidency for the 5th time.
The first time Raila vied for the presidency was in 1997. This was after he had been in and out of detention as a political prisoner going back to 1982, when he did his longest stretch of more than 6 years in detention and then thereafter in and out of detention through 1991 when he fled to Norway to avoid assassination.
Raila returned to the country when multipartyism was allowed with the repeal of the Constitution and that is when he vied for the presidency the first time 1997.
In his first bid for the presidency that year, Raila finished third after President Moi, the incumbent, and Democratic Party candidate Mwai Kibaki. He however retained his position as the Langata Member of Parliament.
In a move that surprised everyone, Raila decided to support his arch-enemy Daniel Moi by merging his LDP party with Moi's KANU.
However, instead of Moi backing Raila's bid for the presidency in 2002, the then president decided to throw his weight and state machinery behind then little-known Uhuru Kenyatta, son of Kenya's first President Jomo Kenyatta—a move that annoyed everyone, especially the main opposition leaders including Raila.
National Rainbow Coalition (Narc)
Moi's endorsement of Uhuru in 2002 was seen as an affront to everyone so much so such that the opposition united to form an alliance called National Rainbow Coalition (Narc)
When cracks started appearing Narc which Moi was prepared to exploit and break-up the opposition against his wishful presidential candidate Uhuru, Odinga declared "Kibaki tosha", Swahili for "Kibaki is sufficient", an endorsement of a Kibaki ticket.
This endorsement resolved the matter of opposition candidacy and Narc went on to defeat Moi's protege, Uhuru Kenyatta. The opposition won a landslide 67% of the vote, dealing a humiliating blow to Moi. Odinga led the campaign for Kibaki throughout the country while Kibaki was bedridden and incapacitated following an accident while on his way back to Nairobi from a campaign meeting at Machakos junction 40 kilometres (25 miles) from Nairobi in which he sustained injuries.
No one disputes the fact but Raila's endorsement of Kibaki with his Kibaki tosha declaration, the opposition would have gone to the elections divided into factions, making it easy for Moi to impose Uhuru as president with a little "help" (rigging) from the system—something that was impossible when Raila endorsed Kibaki and created massive support for Kibaki across the country no rigging would have been possible.
Meanwhile, even as Raila endorsed Kibaki, the two had an agreement in an MOU the two signed before the elections that Kibaki will start the process to amend the constitution and create a position of prime minister, among other things, and Raila was to be the first prime minister under that new constitution. The two also agreed that Raila will get to pick half of the cabinet.
Unfortunately, however, Kibaki shredded the MOU upon becoming president by not honoring either commitments and soon thereafter there was a fall-out between Kibaki and Raila.
Kibaki did initiate a constitutional change process, but the new draft constitution was dramatically different than the one in existence before the elections, so Raila led a campaign to defeat its passage, and he did.
Embarrassingly for Kibaki, out of 8 provinces, only one (Central Province where his tribe the Kikuyu are dominant) voted "yes" for the draft amendment, isolating his own tribe from the rest of Kenya, and exposing his campaign as ethnic-based.
A shell-shocked and disappointed President Kibaki sacked the entire cabinet on 23 November 2005. When it was reconstituted two weeks later, Raila and the entire LDP group were left out.
Orange Democratic Movement (ODM)
Raila led the formation of a new opposition party, the Orange Democratic Movement (ODM). In January 2006, Raila reported to the police that he believed his life was in danger, having received assassination threats.
Raila vied for the presidency for the second time and this time riding on the wave of support from defeating Kibaki and his attempt to forced down Kenyans an even worse new constitution, Raila defeated Kibaki at the polls but those counting the votes declared Kibaki he winner, plunging the country int a crisis.
A civil was avoided when the UN, the US, the UK, and several other countries intervened and a peace deal was brokered between Kibaki and Raila by the now late Dr. Kofi Anan in early 2008 in which Raila was made prime minister, a position he held until 2013.
Raila vied for the presidency for the third time in 2013. There was no clear winner in that election by all objective analysis, but Uhuru was declared president. A petition Raila filed in the Supreme Court was dismissed on grounds Raila did not present his evidence within the strict timeline of 14 days allowed by the law.
Raila vied for the presidency for the fourth time in 2017 and won but Uhuru was declared the winner. Raila challenged the declaration but this time the Supreme Court agreed with him and nullified the presidential election.
Although the Supreme Court ordered fresh presidential elections, Raila boycotted saying the same corrupt election management system and people were in place—a system and people he demanded that they be removed and have a fresh team and voting system.
Swearing in of People's President, and reconciliation
On 30 January, Odinga staged a swearing-in ceremony in Nairobi where he named himself 'People's President'. Following this ceremony TV stations across Kenya were taken off air. This act put the country in high tension as those who believed Raila won the election and should be the president on one side, while those who believed Uhuru did were on the other side though outnumbered by those supporting Raila.
This put the country in a quagmire until both Uhuru and Raila surprised everyone with their historic handshake of 9th March 2018 during which Uhuru and Raila made a joint televised appearance in which they referred to each other as 'brothers,' and agreed to put aside political differences to allow Kenya to move forward.
In all his decades in the public limelight, Raila was one of the heroes involved in the second liberation of Kenya, which was characterized by the detention, torture, and many cases the murder of some of the leaders in the movement. It is still unclear why Raila was spared his life, even though he bears both physical and psychological scars going back to those days he was a regular visitor to Nyayo House—a government torture chamber.
Raila's vision for the country has always been the same and continues to be and that is, to have a country where everyone has a fare shake, freedom and an economy that works for everyone and not just the very few who benefit from it. Raila and his running mate Narc-K leader Martha Karua have also promised to deal a serious, if not fetal blow to corruption which has been getting worse by the year and is completely choking the country.
Many of the promises Raila and Martha are making both in the Azimio manifesto and speeches at rallies such as providing Ksh6,000 to the country's poor and vulnerable can be attained by simply curtailing or eradicating corruption. Other promises such as "BabaCare," a program that will scale up Universal Health Care in the country, "Kazi Kwa Wote," a program of improving and expanding the informal but critical "jua kali" sector and others will be possible under Raila and Martha vision because the government will expand the expand the economy and eliminate waste in government spending.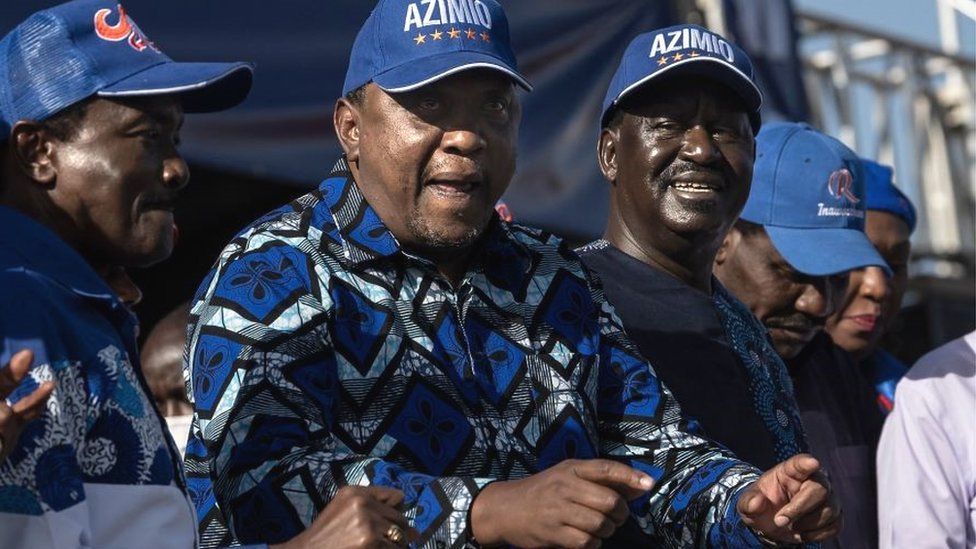 The William Ruto Uphill Task
While Raila has a long resume of both local, regional, and global accomplishment, his primary opponent Ruto has a thin one. Ruto is mostly known for his involvement with a group of youthful supporters of the late President Daniel Arap Moi known as "Y2K." This is how Ruto rose from oblivion to now be a presidential contender. Indeed, Ruto owes much of his rise to where he is not for his Y2K activities, but because he was with Raila in the Orange Democratic Movement (ODM) which Raila led and was its presidential candidate in 2007. Following the disputed elections and the coalition government of national unity that was formed in which Raila became Prime Minister, Raila made Ruto one of the ministers.
Ruto then started his planning—or scheming as others would say, to rise to the top position himself and part of that strategy was to abandon Raila and join then TNA presidential candidate Uhuru Kenyatta. Ruto made that move because he was the youngest amongst potential future successors of Raila in ODM, so he saw his shortcut to the presidency being lining up with Uhuru.
There is much that can be analyzed about Ruto's decision to abandon Raila but, even as he was shrewd and used his position as deputy president to amass both wealth and influence, especially in Mt. Kenya region—Uhuru's stronghold, Ruto still objectively faces an uphill task to succeed his boss as president.
Of the many vice-presidents we have in Kenya since independence, only one ever managed to succeed their boss as the new president and that was Moi in 1978.
Every vice-president before and after that tried but never did, much as it is the case in many other countries.
Ruto was facing he same reality, namely, inability to succeed his boss (Uhuru) but his problem was made worse by 3 events: (1) his badmouthing Uhuru and doing all manner of shenanigans to build his own powerbase in Uhuru's own back yard and (2) the handshake between Uhuru and Raila and (3) amassing wealth many attribute to mega-corruption.
These 3 events singly or combined are fatalistic to Ruto who has no chance of beating Raila in August, especially given a formidable coalition of parties Raila has in Azimio la Umoja Kenya One under whose flagship Raila is vying for the presidency with Martha Karua as his running mate.
On the other hand, Raila who is now on his 5th bid for the presidency has enough goodwill and support among Kenyans across the country to once again have him elected but this time sworn as president. Raila picking Martha as his running mate was also a brilliant move in that it simultaneously did two things: dislodged or at lease seriously ate into real or perceived support Ruto had in the Mt. Kenya region, and she created an enthusiasm, especially among women which has put Azimio at the driver's control.
The outcome come 9th August is more likely having the duo elected and sworn to office as Kenya's next president and deputy president.
*Samuel Omwenga is a political analyst and commentator