Early career scientists to receive training to respond to Africa's  global health challenges
By Wallace Mawire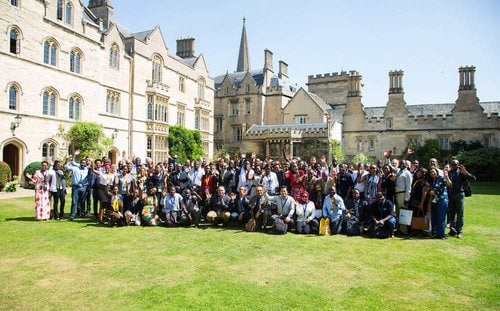 The African Academy of Sciences (AAS), in partnership with the U.S. National Institutes of Health (NIH) and the Bill and Melinda Gates Foundation (BMGF) have  announced a call for applications for the 3rd cohort of the African Postdoctoral Training Initiative (APTI) fellowships.
APTI Fellows are trained and supported to become scientific leaders who can advocate for increased research and innovation projects in Africa. This is done through four-year postdoctoral fellowships where APTI Fellows are placed in various laboratories of the NIH Institutes or Centers for instance Intramural Research Program  for two years before returning to their home institutions in Africa for another two years of research.
Ultimately, APTI fellows are expected to be a part of an African regional and global web of collaborations connecting to their home institutions.
APTI fellowships are open to applications from fields of health research, with a focus on innovation aimed at the discovery and translation of transformative solutions to global health problems that are priorities for their home institutions and countries.
Additionally, proposals should align with the focus areas of BMGF, the NIH, and the AAS.To be eligible, applicants must be citizens of an African country, currently employed in an academic, research, or government position in an African country, have a relevant doctoral degree (e.g., PhD, MD, MBBS) awarded no more than seven  years before the application submission deadline.
Applicants whose doctoral degrees were awarded earlier may be considered on a case-by-case basis subject to justification for example where one took a career break for family-related reasons or to seek asylum due to political instability.
Have less than five years of relevant research experience after the award of their doctoral degree, by their start date at the NIH. Brief periods of clinical work and/or teaching, that does not include research, may be allowable, but cannot exceed two to three years total.
Be fluent in English including reading, writing, speaking, and listening.
The African Academy of Sciences (AAS) is a non-aligned, non-political, not-for-profit pan African organisation whose vision is to see transformed lives on the African continent through science. Our tripartite mandate is recognising excellence, providing advisory and think tank functions and implementing key STI programmes addressing Africa's developmental challenges.
The Fogarty International Center addresses global health challenges through innovative and collaborative research and training programmes and supports and advances the NIH mission through international partnerships.
The National Institutes of Health (NIH), the nation's medical research agency, includes 27 Institutes and Centers and is a component of the U.S. Department of Health and Human Services. NIH is the primary federal agency conducting and supporting basic, clinical, and translational medical research, and is investigating the causes, treatments, and cures for both common and rare diseases.
The Bill and Melinda Gates Foundation guided by the belief that every life has equal value, works to help all people lead healthy, productive lives. In developing countries, it focuses on improving people's health and giving them the chance to lift themselves out of hunger and extreme poverty.