DR Congo: Tshisekedi Inaugurates New Water Treatment Plant in Kinshasa
By Badylon Kawanda Bakiman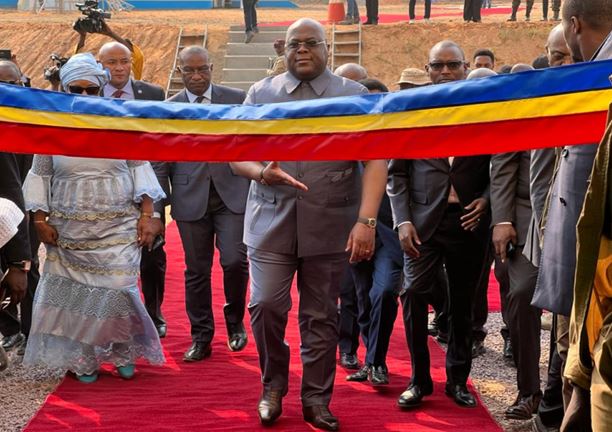 The Head of State of the Democratic Republic of Congo (DRC), Felix-Antoine Tshisekedi Tshilombo, has just inaugurated a new water treatment plant so that the population has access to clean water and drive out waterborne diseases.
This is the Lemba-Imbu catchment and pumping plant, installed in the commune of Mont Ngafula precisely at the south-eastern exit of the capital.
The event took place on Tuesday 23 August 2022 in the presence of several officials.
In its first phase, this plant will produce 35,000 cubic meters of drinking water per day, said Eustache Muhanzi Mubembe, Minister of Water Resources and Electricity in his speech.
He added that the water produced in Lemba-Imbu will supply 600,000 people distributed in the districts of Salongo, Revolution, Kimfuta, Mbuala, Boma, Maviokele, Bahumbu, Kutu, Mabinda and Pierre Fokom of the Commune of Kimbanseke, District 1 and District 6 of the Cecomaf sector and the Mokali District.
Launched in July 2020, the construction of the Lemba Imbu plant took two years, at a total cost of USD 67,914,000, financed in large part by the government of South Korea.
In phases 2 and 3, the plant will provide water to the other communes of Tshangu, to the University City of Unikin and to part of Mont-Ngafula, it was indicated.
Also in his speech, the Minister of Water Resources and Electricity, Eustache Muhanzi Mubembe, welcomed the contribution of South Korea, which accompanies the DRC in the Lemba-Imbu project.
It is, he said, a substantial contribution that should solve in a sustainable way, the issue of drinking water in the communes of N'djili and Kimbanseke, which have long suffered from shortage.
It should be, noted that this work was carried out by the Korean firm Hyundai Engineering, and financed by the South Korean government to the tune of 67,914,000 US dollars.
For its part, the Congolese government has provided a counterpart of 17,500,000 dollars, said the Minister.
As for him, Kim Kiejoo, 'ambassador of the Republic of South Korea, expressed the wish to see the DRC succeed in the bet of development, following the example of his country South Korea which, after a war of 3 years in the 1950s, rose from the ashes to rebuild itself in a short period of time and to become one of the world's economic engines.
The technicians of "Sustainable Development" believe that with this plant the DRC is approaching the "Sustainable Development Goals" (SDGs), specifically SDG 6, which calls for guaranteeing access to water and sanitation for all and ensuring sustainable management of water resources.