Cartoon Network's multi-award-winning Climate Champions campaign celebrates 1 million challenges accepted.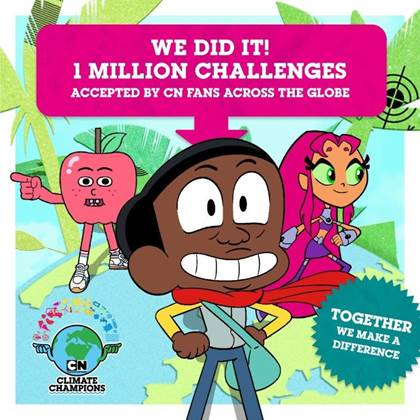 A whopping 1 million challenges have been accepted by enthusiastic Cartoon Network Climate Champions worldwide. These are everyday heroes who have decided to take action by heeding the call to protect our earth, one challenge at a time!
Launched in June 2021, the Cartoon Network Climate Champions initiative, aimed at giving kids the tools to act and fight against climate change, invited kids across EMEA to take on small and fun challenges that can make a world of difference to help protect their environment – and kids across Africa have been exceptional!
Of the one million accepted challenges, 18% are from Africa, meaning close to 190 000 African kids actively participated in making an environmental difference. From planting trees and saving water to reusing everyday household items to create useful crafts, our young, real-life superheroes are determined to fight against climate change, and the growing numbers across Africa are proof that our future is in safe hands!
This multi-award-winning campaign has taken away a Bronze Award for the Environmental Category and a Silver Award for the Arts and Entertainment Category at the 2022 PRISM Awards, South Africa's highly sought-after public relations and communications awards. The campaign also won an Africa SABRE Award in the Media, Arts and Entertainment Category. The Africa SABRE Awards recognizes superior achievement in branding, reputation, and engagement and puts a spotlight on the industry's most compelling work, especially focusing on programs and initiatives that drives real business impact across the continent. The most recent award, announced in July 2022, was the IPRA Golden World Awards, recognizing excellence in public relations on a global platform.  These are all testament to the fact that Cartoon Network's Climate Champions is making great strides on a local and international front.
Monika Oomen, VP, Brand, Communications and Franchise, Kids EMEA, Warner Bros. Discovery, said: "Climate change is an important issue to the younger generation, and we can see this in their desire to not only talk about saving the planet but to take action too. Cartoon Network's Climate Champions provides an engaging platform to inspire kids in this mission and to show them that every action, however small, can make a difference. Hitting one million challenges is a huge milestone that reaffirms our pride in this project and the inspirational kids that have taken part. We look forward to celebrating the next million!"
ABOUT WARNER BROS. DISCOVERY
Warner Bros. Discovery (NASDAQ: WBD) is a leading global media and entertainment company that creates and distributes the world's most differentiated and complete portfolio of content and brands across television, film and streaming. Available in more than 220 countries and territories and 50 languages, Warner Bros. Discovery inspires, informs and entertains audiences worldwide through its iconic brands and products, including: Discovery Channel, discovery+, CNN, CNN+, DC, Eurosport, HBO, HBO Max, HGTV, Food Network, Investigation Discovery, TLC, TNT, TBS, truTV, Travel Channel, MotorTrend, Animal Planet, Science Channel, Warner Bros. Pictures, New Line Cinema, Cartoon Network, Adult Swim, Turner Classic Movies and others.
ABOUT CARTOON NETWORK AFRICA
Cartoon Network Africa is the fun and irreverent multi-platform entertainment brand that offers kids, 7-12 years old, unexpected and imaginative experiences with high quality, multi-layered comedy and adventure shows. Cartoon Network is Africa's favourite kids' channel, leading the pay-TV market in South Africa. Reaching over 16 million viewers every month, the channel was again voted 'Coolest Kids TV Channel' by South African youth in 2021. In addition to iconic fan favourites, Teen Titans Go! and Regular Show (ranked as the #1 'Coolest Cartoon Show' by South African youth in 2021), and Emmy-award winning original programming like Ben 10, the channel is also the proud home of fresh new Cartoon Network originals including Apple and Onion, Craig of the Creek and We Bare Bears. Cartoon Network Africa also embraces local productions such as CN to the Rescue, My Cartoon Friend and CN Dance Challenge. With Cartoon Network, you can expect the unexpected and laugh out loud!
Cartoon Network is a Warner Bros. Discovery brand.