Bank Of Ghana Raises Policy Rate To 22%, To Purchase Export-Related 'Forex' To Stabilize The Cedi
By Maxwell Nkansah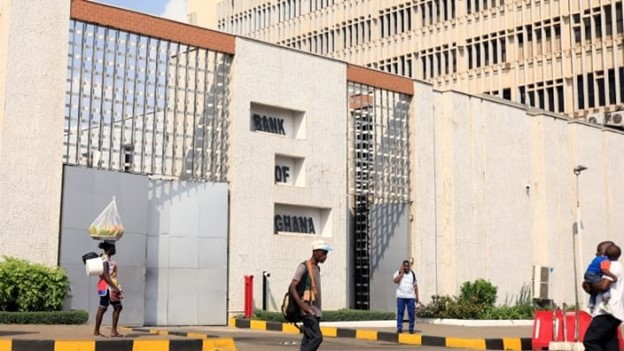 The Monetary Policy Committee (MPC) of the Bank of Ghana (BoG) on Wednesday (17 August) raised the policy rate by 300 basis points to 22%.
The policy rate is indicative of the rate at which the central bank lends to commercial banks in the country.
The decision was taken after an emergency meeting by the Monetary Policy Committee to review development in the economy after inflation hit 31.7% in July.
In a statement, the central bank said: "Under the circumstances, and considering the risks to the inflation outlook, the Committee decided on a 300 basis points increase in the Monetary Policy Rate to 22 percent.
"Recent developments in the foreign exchange market showed elevated demand pressures, reflecting among others, continued heightening of uncertainties in the global economy, rising inflation in many advanced economies and the resultant coordinated tightening of monetary policy stance by major central banks."
"The execution of the budget for the year has remained challenging. Revenue has not kept pace with projections and created financing challenges. In the absence of access to the international capital market and given the constrained domestic financing, central bank overdraft has helped to close the financing gap as reflected in the mid-year budget review. The Bank of Ghana is working with the Ministry of Finance to agree on a cap on the overdraft," the BoG statement added.
In May, the BoG raised the policy rate by 200 basis points to 19% amid increases in oil and food prices.
Additional measures
The Committee also took the following additional measures:
a. Raise the primary reserve requirement of banks from 12 percent to 15
percent to be implemented in a phased manner:
i. 13 percent from 1st September, 2022
ii. 14 percent by 1st October, 2022
iii. 15 percent by 1st November 2022
The statement said to boost the supply of foreign exchange to the economy, the Bank of Ghana is working collaboratively with the mining firms, international oil companies, and their bankers to purchase all foreign exchange arising from the voluntary repatriation of export proceeds from mining, and oil and gas companies. This will strengthen the central bank's foreign exchange auctions.