Afro-Fusion Artist Nappy Releases New Single "Knock Shii Up"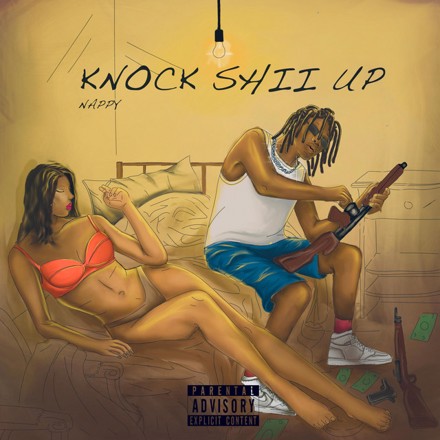 New York, NY –Nigeria's Afro-Fusion artist Nappy drops his new single and the official music video "Knock Shii Up," on August 19th, 2022. "Knock Shii Up" is Nappy's first single release since dropping his viral single "Whine That Ting," featuring Bella Shmurda, in 2021. The music video is produced by Cr8tive Row's Daps & Dalia Dias and filmed in Atlanta, Georgia. "Knock Shii Up" is Nappy's response to negativity and his conscious decision to not be impacted by pessimistic opinions. According to Nappy, "The meaning of 'Knock Shii Up' is to shut things down and face life head-on with tremendous confidence."
"Knock Shii Up" is a dynamic track under the genre Afro-Fusion, which consists of R&B and Hip Hop in the Nigerian culture. The beat creates an Afro-pop sound with organic live instruments, from the aggressive bass drums to the soft keys and vibrant strings. Nappy's voice completes the track with his mellow vocals behind the chorus and rap style favoring UK drill music. The single's cover artwork teases the audience with a straightforward message of Nappy loading weapons with a beautiful female and money surrounding his feet. The significant meaning is that Nappy prepares for obstacles attempting to disturb his peace.
The title "Knock Shii Up" describes his actions and attitude towards life by shutting it down. The project is inspired by Nappy's positive views on his lifestyle, and he motivates listeners to take control of their lives and decisions. The visuals support the lyrics and Nappy's idea of loyal friends and a lover that supports his choices and lifestyle. The video showcases different aspects of Nappy's life as an artist in the studio with his lady and friends hanging out with him. Nappy displays moments of being a romantic who cherishes his lady as he rides freely through the night with her.
ABOUT NAPPY
One of Afro-centric music's most vital young voices, Nappy has firmly established himself as an undeniable force in modern music. His innovative blend of western hip-hop and Afro-pop has earned him a devoted following on every continent and streaming numbers in the millions. With the release of his most compelling music to date, Nappy is on the brink of achieving global stardom.
After devoting much of his early life to cultivating his craft, Nappy emerged with the surprise hit single "She Didn't Know" in 2019. He reached new heights of popularity with the single "Aye ft. Burna Boy," which was one of the year's most streamed songs in Africa. He soon followed that up with "Whine That Ting ft. Bella Shmurda," which cemented his status as an impossible-to-ignore talent. Since then, he has built an impressively diverse discography, revealing new sides of his artistry with every new release.
Nappy's lyrical authenticity is what separates him from the crowd. He consistently speaks truth to power, turning his deeply personal experiences into songs with universal messages. With a steady stream of new material expected in 2022 and beyond, Nappy is poised to make a meaningful impact on the modern music world.
https://youtu.be/VZeWQZPizno?t=45