South Sudan: Senegalese President Calls On Kiir, Machar To Work For Peace
By Deng Machol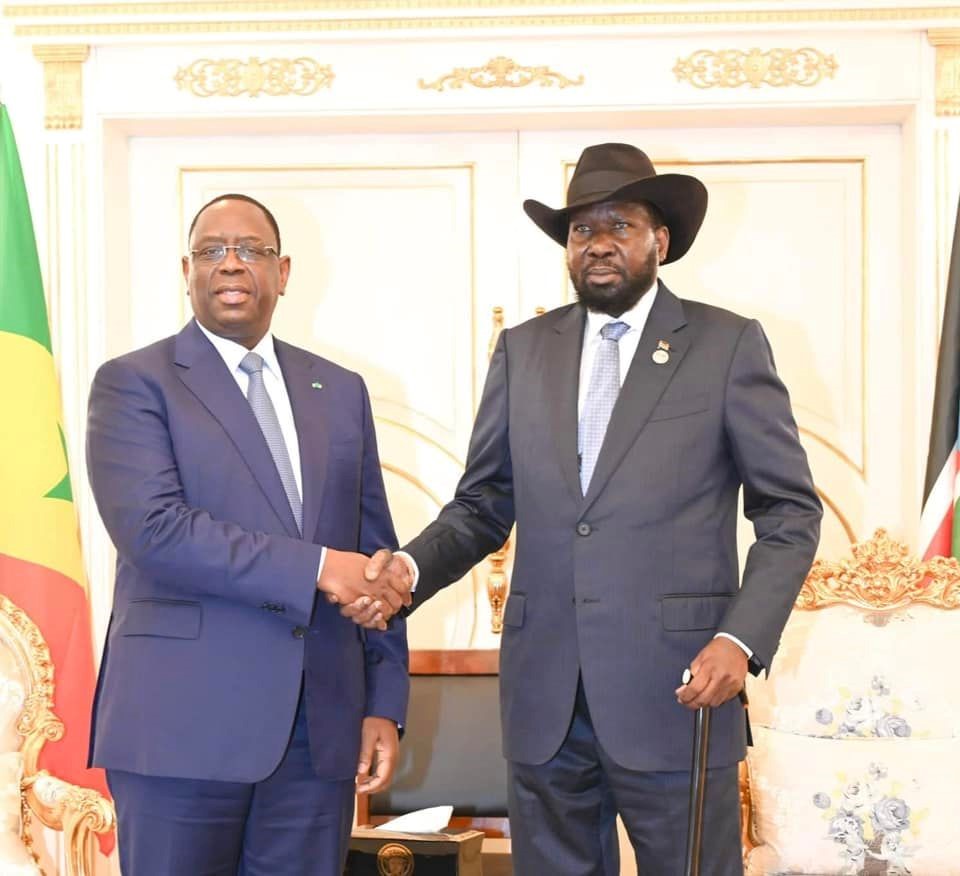 Juba – Senegalese President Macky Sall has called on president Salva Kiir and his Deputy Dr. Riek Machar to work together for  lasting peace in the East Africa's youngest nation.
Sall, who is also the Chairperson of the African Union (AU),  jetted into Juba's capital of South Sudan recently and was received by President Salva Kiir, to push for the implementation of the pending areas of the 2018 revitalized peace agreement as the transitional period nears to elapse.
"I have come to support the peace process in South Sudan and to plea to you and First Vice President Dr Riek Machar to work together to bring peace," Sally told the press after a brief meeting with President Kiir.
"I have come here also as the African Union to help you build the peace," he added.
Sall's visit comes  as   regional and international community leaders got frustrated due to the slowly implementation of the fragile peace deal.
Of recent, the United States government has ended support and withdrawn from peace monitoring mechanisms involved in the South Sudan peace process,
According to the US, it came into  effect July 15, citing a 'lack of sustained progress on the part of South Sudan's leaders' and their 'lack of political will to implement critical reforms.'
"The United States laments the failure of South Sudanese leaders to implement the commitments they have made to bring peace to South Sudan and has consequently decided to end U.S. assistance for peace process monitoring mechanisms," the press release read in part.
But President Kiir hailed Sally visit as a renew ties between the two countries, including revisited the ancient ties,  especially on the genealogical history of the Senegalese and the South Sudanese.
''The bilateral relationship established now between our two countries resurrects these ties and invites us to deepen cultural and economic exchange and political cooperation. In this way, we can advance African integration between these two countries, one firmly centred in North and East Africa and the other firmly centred in West Africa.''
According to Kiir, this is the second high profile Head of State across the Sahel Region to visit South Sudan after the visit of His Majesty the King of Morocco in 2017.
Kiir cited  similarities between  South Sudan and Senegalese people.
''One look at the Senegalese and the South Sudanese people reveals a deep connection. The great scholar, Cheikh Anta Diop, explains this connection by documenting the linguistic similarities between the Senegalese and other Africans and their common roots in the Nile during ancient Kush,'' said Kiir.
South Sudan currently experiences impasses' stemming from peace implementation, including security arrangements, and a permanent constitution-making process, among others.
Kiir and Machar have yet to set a timetable for the general elections.