Second Chance Foundation To Host Mental Health Awareness Activities In Zimbabwe And Malawi
By Wallace Mawire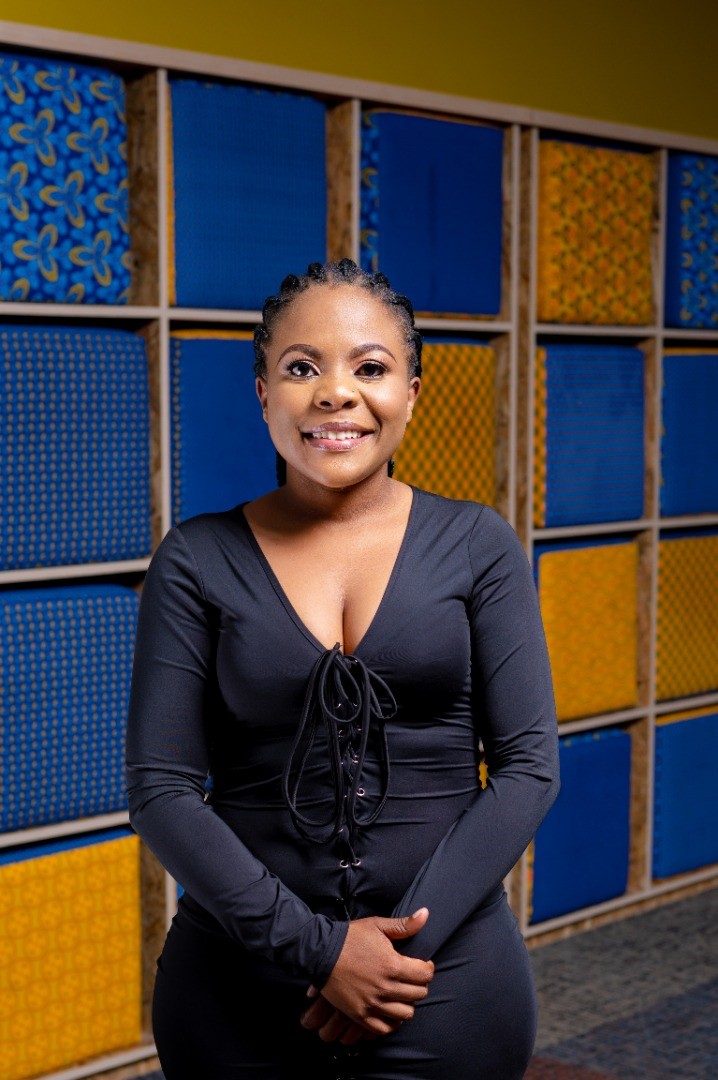 Second Chance Foundation will host activities in Zimbabwe and Malawi to bring awareness on mental health conditions affecting many people across the  African continent and globally.
According to Careen Chikwanha,Director of Second Chance Foundation, on Saturday, 30 july 2022, the foundation in collaboration with Sound Minds International will host a Hike for Mental Health event at Ngomakurira in Domboshava.
The event will feature activities such as hiking by participants,braaing including various indigenous games.Music will also be played using traditional instruments such as the popular mbira,hosho and ngoma in a bid to bring awareness on issues of mental health affecting many societies.Other indigenous games to be played will include maflawu,hwishu,nhodo,mahumbwe,kodo including rakaraka.
There will also be a one hour session with special guests who will deliver keynote speeches on mental health challenges.
The Founder of Second Chance,Careen Chikwana will also be one of the key speakers at the hike event were she will focus on issues of suicide and suicide prevention in Zimbabwe.
'l will talk about issues of suicide prevention including focusing on who are at risk of committing suicide and cases of suicide in Zimbabwe.I will also focus on  who are committing suicide in the country,'Chikwanha said.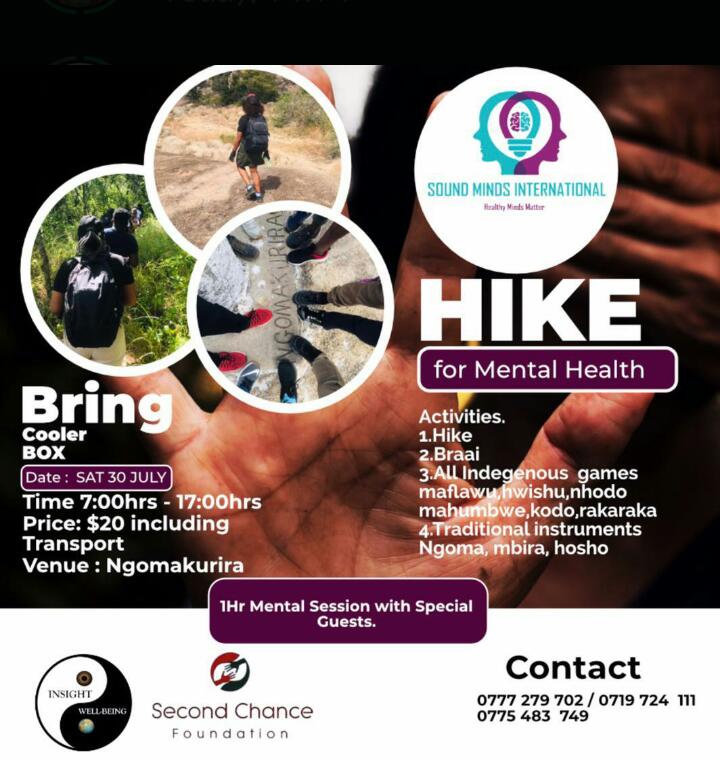 Chikwanha has also been on national television broadcasts focusing on suicide issues in Zimbabwe.
One of the keynote speakers will be Diana Bamala, a Certified Public Speaker, Certified Substance Abuse Counselor, Development Humanitarian Practitioner, Team Building coach and a Mental Health Advocate.
She is currently one of the Directors for Sound Minds International, an organization that deals with Women's Mental Health through a Talk show called Sound Minds where women  discuss women's issues that affect their mental wellness, she  also hosts events for women to empower and make them aware of issues through events like brunches, hikes, sip and paint and  business breakfasts amongst others.
Bamala  also works for Insight Well-Being, an organization that offers Trauma Informed Care, Social and health reforms, Mental/Emotional rehabilitations, Economic, Social and Cultural Rights, Information, Education and Training, Stress/Anger Management/Counselling, Youth Support and Development. She works as a Research and Development Manager.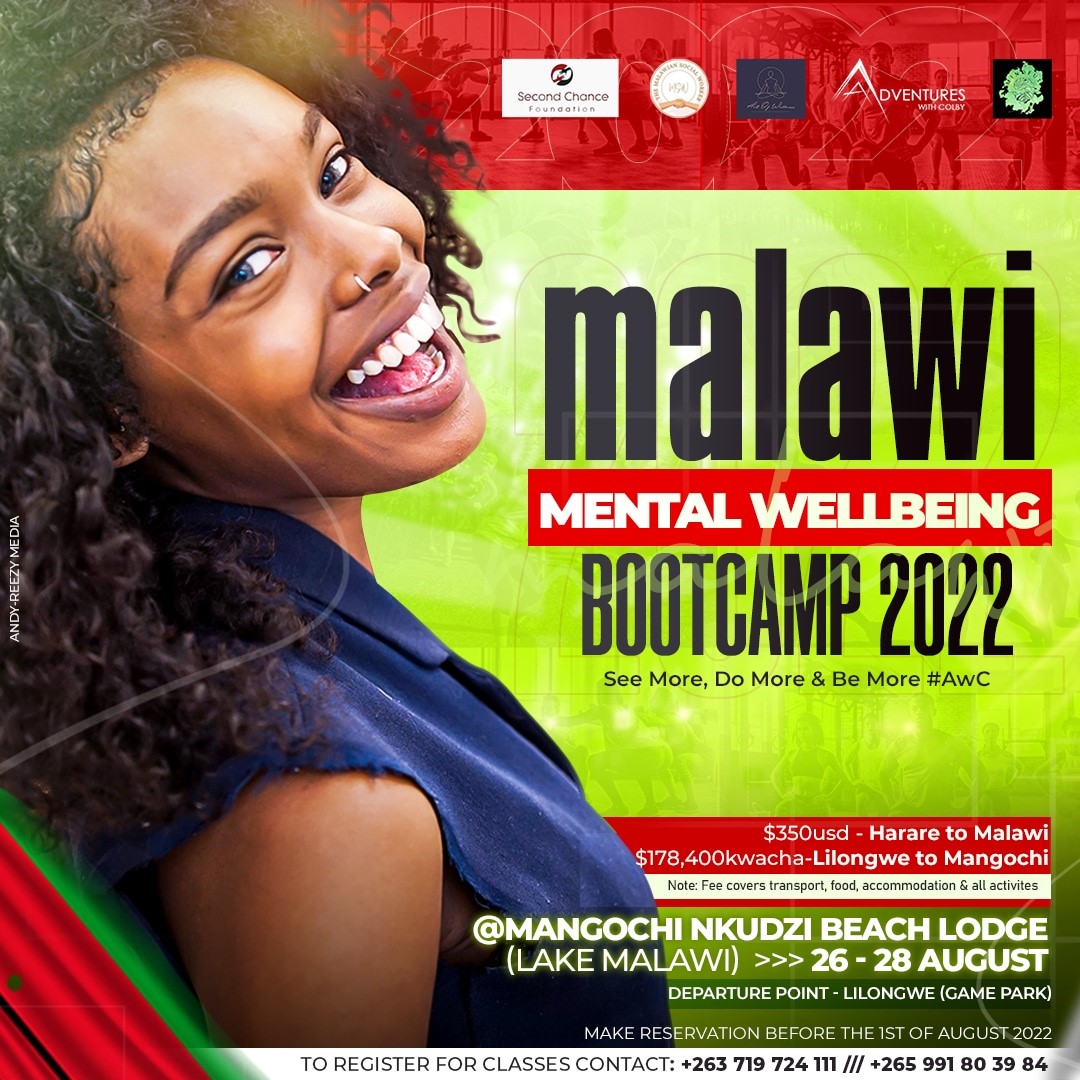 Bamala  is passionate in sharing different stories with people,is  a freelance writer passionate about mental, development work, sexual reproductive health and  humanitarian work. Currently she is  running a campaign titled  " uncommon Conversations"on mental well-being, tackling mental health issues.
She has  been on various platforms sharing on mental health, sexual reproductive health and  relationships. She is also a trainer on substance abuse, depression and trauma informed Care.She is also a team building coach, who has worked with various organizations on different trainings.
Sound Minds International is the main host of the Hike for Mental Health event and the Second Chance Foundation is the host for the mental well-being bootcamp.The foundation partners with different organizations as well as to equip them with knowledge on issues related to mental health.
According to Chikwanha, the Malawi mental wellbeing bootcamp will be  be held at Mangochi Nkudzi Beach Lodge  situated at Lake Malawi on 26 to 28 August, 2022.
The organizers are expecting the bootcamp to be an interactive learning  event coupled with fun activities.
Activities will include zumba dances,camping,swimming in the lake,nature walks,bornfires,star-gazing,volleyabll and boat rides,just to mention a few.
Second Chance Foundation Trust is an organization which aims to raise awareness on mental health and suicide prevention.
The organization achieves its objectives through offering psychosocial support,advocacy,education and innovation.
It was founded in 2017 and has grown over the years and mainly offers counselling services in the Harare and Masvingo metropolitan provinces.
Some of the foundation's associate partners include Football Association of Zimbabwe,Tell Zimbabwe,Eatout Movement,International Wellness Rehab and the Eight2Five Innovation Hub.