SADC Extends Joint Military Mission In Mozambique
By Jorge Joaquim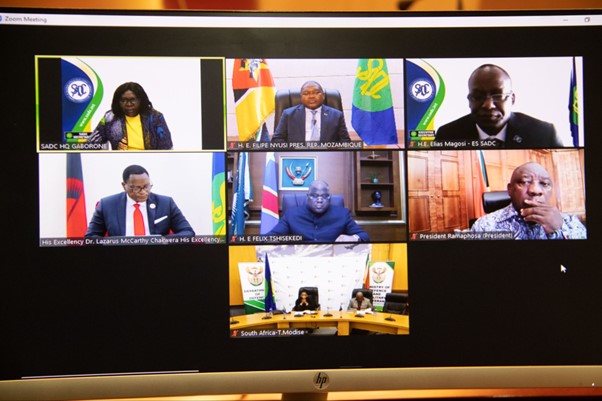 The Southern African Development Community Mission (SAMIM) in Mozambique has been provisionally extended beyond 15 July 2022, which marks a year since the start of its deployment in Cabo Delgado.
The decision was approved on thursday (14) at a summit of the troika heads of state of the Southern African Development Community (SADC), consisting of the presidents of Mozambique, South Africa and the Democratic Republic of Congo, and chaired by the president of Malawi.
A final decision on the renewal of SAMIM will not come until SADC has reviewed the comprehensive mission report, scheduled for 17-18 August, according to a statement seen by Pan African Visions.
Over the past year, Mozambican armed forces and regional allies have increased their presence in a number of regions. Fighting alongside SAMIM is a 1,000 strong contingent from Rwanda.
The conflict in Cabo Delgado began in the region in October 2017, and has resulted in some 800,000 people fleeing from their homes.
Throughout June, fear of violence followed by confirmed attacks have triggered panic and mass movements of people from areas that were previously considered relatively stable, such as Ancuabe and Chiure districts, near the provincial capital of Pemba.
More than 30,000 people are thought to be on the move as a result of the ongoing wave of violence. According to Médecins Sans Frontières this is the largest movement of displaced people so far this year. Many people have fled multiple times, forced on each occasion to abandon their few possessions and means of survival.