Former AfDB President Donald Kaberuka on the China-Africa Debt Equation
By Maniraguha Ferdinand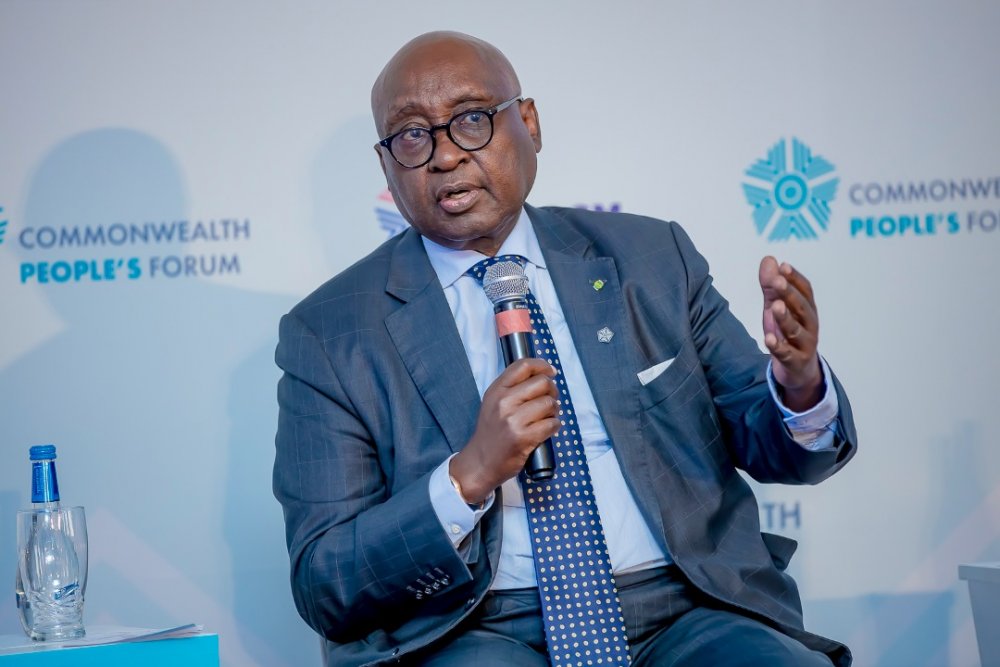 It is almost impossible to read an economic article between Africa and China, especially in western media without encountering 'debt trap' concept. Chinese companies seem to find a smooth terrain in Africa more than anywhere else.
China is trading much with Africa at the pace never recorded before. African leaders who get pissed off with the West, now they can breathe a sigh of relief, China is always there with opens hands. Democracy lesson which used to be an exam pass for West to help African leaders is no longer a requirement for China.
Recent analysis have focused on how Africa should be cautious when accepting Chinese free loans to avoid being trapped and sell Africa, which they say, will be bad for future generations.
Pan African Visions met with Dr Donald Kaberuka, the former president of African development bank (Afdb) at Commonwealth Heads of government Meeting (CHOGM22) in Kigali in late June 2022.
During a brief interview, he talked about how Africa should treat difficulties brought by Russia-Ukraine war, the increase of China's influence in Africa among others.
Here are the excerpts from the interview:
How can Africa behave in front of Russian-Ukrainian war?
Africa is now facing shortage of sunflower oil, fertilizers, wheat among others -due to the war. North Africa depends mostly on Ukrainian wheat as well as fertilizers. Africa we should always be prepared for crises because  they will always be there.
For the last 25 years I have personally witnessed more than five crises, so we should enforce  our resilience to respond to such crises.
As of now, fourteen African countries grow wheat and produce around 21 metric tons and we import more than 52 metric tons. However, we have capacity to double the wheat production we have.
Well, we cannot do that in one or two years but from three or more years we can.
Are African governments ready ?
 That is why we talk about it, we should not always think when  we are surrounded by crises. Take a look in Rwanda, South Africa and Senegal-they are setting up vaccines plants which will produce Covid-19 vaccines, malaria vaccines among others.
Instead of eyeing always Ukraine, why can't we Africa grow our own wheat and increase our yield?
There is a growing sentiment that China will one day own  Africa through debt traps…
 There are currently 12 countries in Africa with debts burdens but It is due to their bad  governance systems which  spend more in paying back loans  than spending  in vital sectors like education, health etc. That's must stop but other countries are doing well.
The big problem, Africa is exploited when it gets loans. Sometimes we go to the same market (asking for loans) with other western countries whose B+ ranking. We get different conditions where we are asked to pay between 5 percent and 6 percent of interests while western countries get loans for 2 percent.
Why such conditions for Africa
 Donors  present Africa as a land of risks, that it may end up not paying back. So they add such huge interests due to so called 'risks'.
So for China, let's try to be frank. Among Africa's total debt, China owns 20 percent which is even in few countries.
But China is accused of not taking risks into consideration….
 Those are stereotypes for many reasons in which I don't want to go into details. I am not telling people to rush for loans without analysis but some countries use China dept trap myth for rivalries.
Yes some countries like Sri Lanka are defaulting but saying that China will come and take our schools, bridges …that will never happen.
There is a slow progress after launching African Continental Free Trade Area, where is the problem?
 It is a journey, even European market which started a long before still faces difficulties. I see three things to fix for this market to function properly.
First, African countries should adopt visa on arrival system, this will ease free movement. Secondly, we should open space for our aviation sector. Third, we should start using our own currencies while trading among African countries, instead of using  always external currencies.
If a Rwandan wants to buy maize from Zambia, why does he need to go to look for dollars? Why can't he pay in Rwandan Francs and the Zambian get the payment in Kwacha?
I know that our central banks have embarked on that to ease transactions in our local currencies with Pan African Payment systems which  is already in pipeline. That's what will boost single market.
Do you think protectionism among African countries will allow that?
That's the reason of this market. We should fight such protectionism among us and  remove tax barriers at our borders for products originating in Africa.