Zimbabwe: President Mnangagwa Predicts 2023 Election Victory, Ready To Take Second Term Of Office ,Commits To No Corruption , Free And Fair Election
By Nevison Mpofu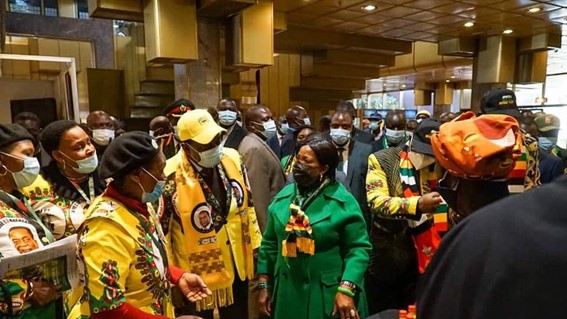 The just ended ZANU PF Women Conference held the previous week in Harare made a political break through record giving the ruling party ZANU PF a new wavelength of a refulgent light ahead of 2023 national Parliamentary and Presidential election.
The conference which opened way for women's political way forward ahead of next elections bolds a climbing force for women to brave into positions which they feel they deserve. This according to the SADC protocol on gender calls men and women to challenge political positions in a free , fair election .
The recent symposium places women in fair decision making which leads them to political leadership positions within the party structures, in national politics , parliament and various sectors .This past conference which roared thunder and lightning on the foreheads of women shone as well for the party victory which is inevitable in 2023 election according to utterances by President Mnangagwa .
Closing the fully packed close to 3000 delegates booked in hotels, gigantic and splurgic well financed conference in a flying colours mood , President Mnangagwa said ZANU PF is roaring like a lion head of 2023 election which he predicts heavy victory . He said he is ready for his second term in 2023. He however castigated corruption which he warned must be an element the ruling party is far away from.
"ZANU PF roars like a lion for victory of the 2023 election. I am seeking my second term in office. ZANU PF is everyone's party. We should always expose the liars on social media.We are king of the jungle"
""Go back to the provinces and work hard for the party. We have all the resources to mobilise 2023 elections".
President Mnangagwa said his last words addressing party regalia dressed delegates from the 10 provinces of the country among them members of the politburo and central committee. He described women as bedrock of the party because they played a role when ZANU PF won the 2018 election. According to him, women league helped much in that election. Above all he urged women to continue play their role in building the great motherland.
The fully fledged splurgic flamboyant attired conference was also attended by invited guests from sister political parties in the region and international political personages in support of the ruling party ZANU PF .