The Africa Energy Futures To Host Maiden Webcast Series on June 28.
By Samuel Ouma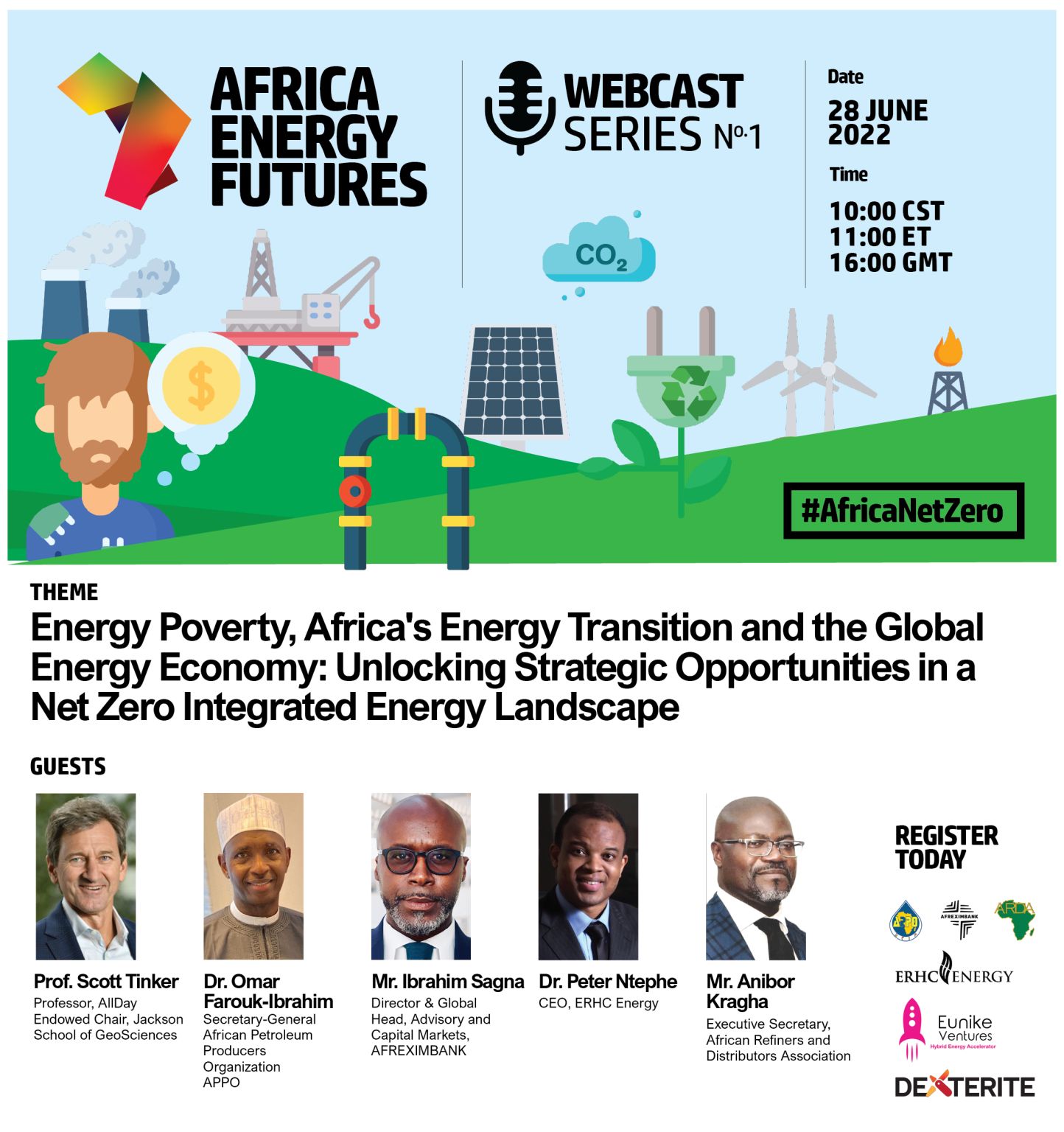 The maiden edition of the Africa Energy Futures Webcast Series will be held on June 28, 2022.
In the webinar, the panel will discuss Energy Poverty, Africa's Energy Transition and the Global Energy Economy: unlocking strategic opportunities in a Net-zero integrated energy landscape.
The panel will comprise of Dr Omar Farouk-Ibrahim, Secretary-General, African Petroleum Producers Organization, Prof Scott Tinker, Professor, AllDay Endowed Chair in SubSurface Geology Jackson School of GeoSciences-University of Texas at Austin Director-Bureau for Economic Geology and Ibrahim Sagna Director and Global Head Advisory and Capital Markets.
Others are Dr Peter Ntephe, President/CEO of ERHC Energy and Mr Anibor Kragha: Executive Secretary of African Refiners And Distributors Association.
Dr Omar Farouk-Ibrahim  was the Special Adviser on International Energy Relations to the Minister of State for Petroleum Resources of the Federal Republic of Nigeria before becoming Secretary-General of the African Petroleum Producers Organization (APPO) in January 2020.
He was Nigeria's Governor to the Vienna-based Organization of the Petroleum Exporting Countries, OPEC, between  2015-2020 and Executive Board Member at the Doha-based Gas Exporting Countries' Forum, GECF, 2015-2020.
He also served as  General Manager and later Group General Manager, Group Public Affairs Division of the Nigerian National Petroleum Corporation (NNPC) between 2010 and 2014.
On the other hand, Dr. Tinker is Director of the 250-person Bureau of Economic Geology, the State Geologist of Texas, and a professor holding the Allday Endowed Chair in the Jackson School of Geosciences at The University of Texas at Austin.
He came into the limelight when Director Harry Lynch and him coproduced and is featured in the award-winning energy documentary films Switch and Switch On.
In 2016 Dr. Tinker formed and served as Chairman of the nonprofit Switch Energy Alliance, whose materials are used in schools and board rooms globally. He has also served as president of the American Geosciences Institute (AGI), the Association of American State Geologists (AASG), and the American Association of Petroleum Geologists (AAPG).
Mr. Ibrahim Sagna holds a Bachelor's degree and a Master of Finance from Boston College and has been sponsored by management programs at Harvard Business School and London Business School.
Before joining the bank, he worked at the African Export-Import Bank and headed the Financial Advisory Services of the Africa Finance Corporation (AFC). Mr. Sagna recently served as a board director of the Capital Markets Authority (CMA) of Rwanda and currently holds governance roles on various boards.
Meanwhile, Peter Ntephe was appointed Chief Executive Officer of ERHC Energy, the Houston-based international oil and gas exploration company, in April 2010. His roles have included fundamental participation in negotiating, securing and maintaining all the Company's crude oil and natural gas interests in sub-Saharan Africa.
Under Dr. Ntephe's leadership, the Company has more than doubled the size of acreage under its control and expanded its strategic focus to include onshore acreage, which is comparatively cheaper and less complicated to explore for hydrocarbons than deep offshore acreage.
The Company has also rapidly grown its in-house technical capabilities, enabling it to directly operate its onshore assets in a strategic shift from the previous non-operator model.
On the other hand, Mr. Anibor Kragha is currently the Executive Secretary of the African Refiners & Distributors Association (ARDA). Prior to ARDA, Mr. Kragha served first as Group General Manager, Treasury and later as COO, Refining & Petrochemicals at the Nigerian National Petroleum Corporation (NNPC) between September 2015 and July 2019.
Before NNPC, Mr. Kragha spent over ten years working for Mobil Producing Nigeria (MPN), an ExxonMobil affiliate, culminating in serving as Upstream Treasurer for ExxonMobil Affiliates in Nigeria from 2012 to 2015.
He also had various roles in ExxonMobil Upstream Africa Audit, MPN's Commercial and Treasurer's groups, ExxonMobil Development Company and HQ Corporate Affiliate Finance in Nigeria and the USA.
Africa Energy Futures Forum is a Pan-African thought leadership and strategic platform that aims to enhance advocacy and mobilize action on issues affecting the growth of regional energy markets, as well as to engage the global energy community to deepen engagement in the African energy landscape.
*To Register for the event click here