Tanzania: Winners and losers from President Samia's second budget of Sh41.48 trillion for 2022/23
By Prosper Makene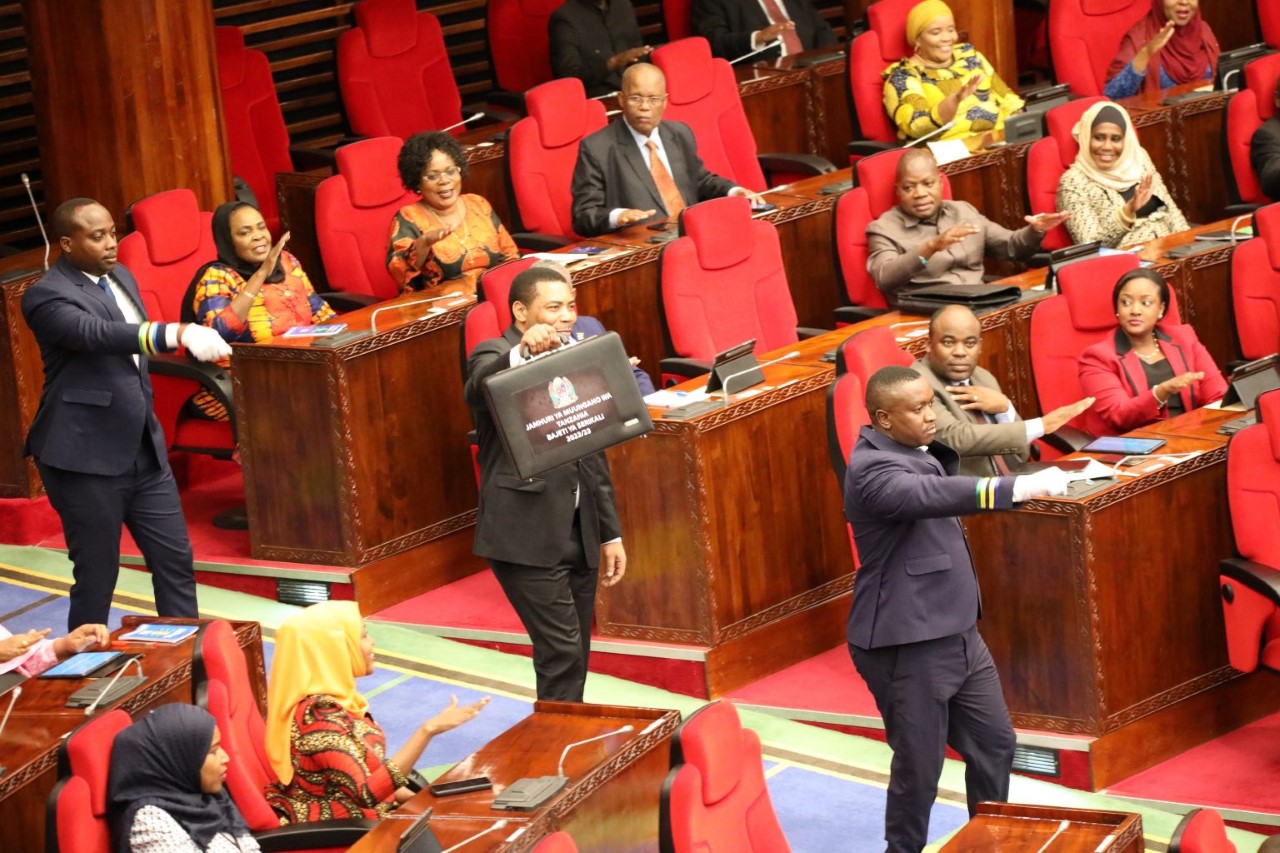 Tanzania's Finance and Planning Minister Dr Mwigulu Nchemba on Tuesday tabled in Parliament a Sh41.48 trillion national budget for the coming financial year, the second Budget of the sixth phase government under President Samia Suluhu Hassan.
In the coming budget, money subscribers and high school students are among the winners, while millions of decoders' subscribers and wig traders are set to lose out.
Winners
The Finance Minister said that the government will remove fees for all Form five and six students (High School), which means that the free education in government schools from nursery school to form six.
He said that as directed by the Tanzania President Samia Suluhu Hassan, the government is recommending free education to all form five and six students who are currently 90,825 and 56,880 respectively with financial needs amounting to Sh10. 3 billion.
President Samia's government will also reduce 43 per cent of the current levy to mobile money subscriptions, a move that is said to bring a good relief to the citizens.
Dr Nchemba said that they have proposed an amendment to the National Payment System Act, CAP 437 by reducing the mobile money transaction levy on sending and withdrawing monies from a maximum of Sh7, 000 currently to a maximum of Sh4, 000 on each transaction.
The government has also proposed an exemption of excise duty on flower packaging, fruit, and HS-recognized vegetables with codes 3923.29.00, saying the move will reduce the costs to the producers.  
Losers
The government has also proposed an increase import duty on wigs and extensions from 25 percent to 35 percent.
"We have agreed with other East Africa Community (EAC) countries to increase import duty on wigs and extensions from 25 percent to 35 percent," the Minister told the parliament.
He noted that the increase of import duty on wigs will include false beards, eyebrows and eyelashes, switches of human or animal hair or of textile materials.
He pointed out that the reason behind increasing the import duty on wigs is to protect local manufacturers of these products, employment creation and increase Government revenue.
On the other side of the coin, the Minister said: "Every Tanzanian aged above 18 must have a Tin number now so as to allow him/her paying taxes."
However, the Finance Minister said that the Tanzanian government is targeting to boost its Growth Domestic Product (GDP) from the current 4.7 per cent to 5.3 per cent by 2023.
He underscored that the government is determined to maintain inflation within a single-digit range of an average of 3.0 to 7.0 per cent.
"We are targeting to boost domestic revenue collection to 14.9 percent of GDP in 2022/23 and raise tax revenue to 11.7 per cent of GDP in 2022/23," he said.
He underscored that the government is also intending to get a foreign exchange reserve at a rate that will enable the country to meet import demands for a minimum of four months.
In his budget speech, Dr Nchemba said that the government is keenly lauding the good support from Development Partners in assisting the Sixth Phase Government in bringing development to its citizens.
He named the Development Partners who will support the 2022/23 budget including Canada, China, Denmark, Finland, India, Ireland, Italy, Japan, South Korea, USA, Norway, Poland, Sweden, Belgium, France, United Kingdom, Germany and Switzerland.
Others are African Development Bank, World Bank, International Monetary Fund, Arab Bank for Economic Development in Africa, Kuwait Fund,  European Union, European Investment Bank, United Nations and its agencies, OPEC as well as Global Fund.
"I would also be extending recognition to all local and international Non-Governmental Organizations for their contributions in supporting the well-being of our people. I would like to assure you that, Government appreciates your contributions," he said.