South Sudan: A Ray Of Hope in New Permanent Bridge Over Nile
By Deng Machol
Juba, South Sudan – The two-lane Freedom Bridge with a dual sidewalk, more than a half-kilometer long, built by Japan International Cooperation Agency (JICA), officially commissioned in May after a multiple suspension due to conflict, is expected to enhance economic growth, regional integration, and consolidate peace through a safe and efficient road network in South Sudan.
The bridge, believed to be Juba's gateway to East Africa through Nimule [Uganda] and Nadapal borders entries [Kenya] and to the Ethiopian border towns with South Sudan, has created imaginary new economic outlooks both internally and externally in the country that has been devastated by a five-year conflict that killed nearly 400,000 people and displaced millions from their homes.
The 560-metre-long Freedom Bridge on the edge of the capital, was constructed using a grant from the government of Japan through Japan International Cooperation Agency (JICA).
According to JICA, the construction of the Freedom Bridge gulped nearly 100 million US dollars.
The bridge was conceived in 2011 and construction work commenced in 2013 and was meant to take 4 years but took 9 years due to  multiple suspensions  because of the civil war in the country and the Covid-19 pandemic.
The previous bridge could be dismantled and moved and was sometimes dangerous to cross – especially for pedestrians.
It is hoped that the bridge will ease traffic congestion in Juba as well as help speed up trade.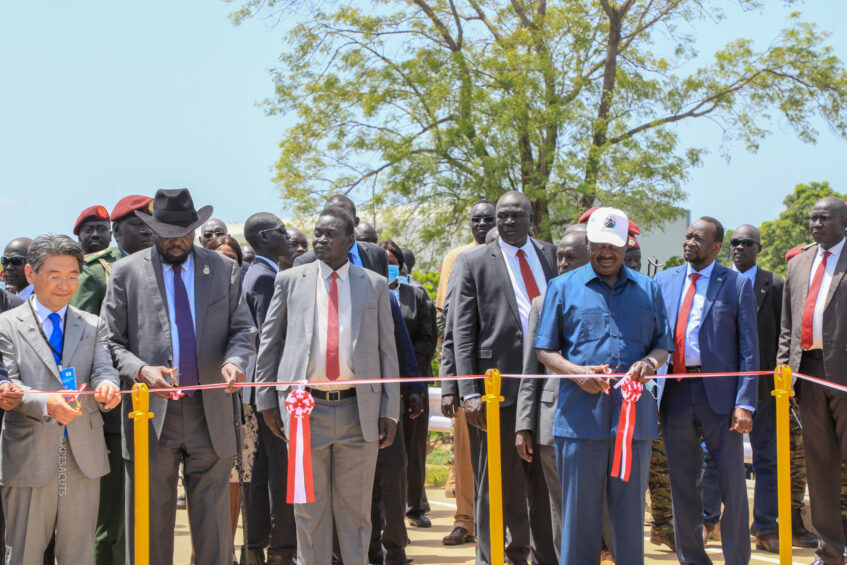 For countryside clients on the west side of the Nile River in Rumbek, Yei, Yambio, Aweil and Wau, among others, there will be a reduction in time to reach them.
Speaking at the commissioning ceremony, President Salva Kiir said the Freedom Bridge was a symbol of long and lasting friendship between the people of Japan and South Sudan He expressed gratitude to Japan for being one of the few countries that do not attach conditions to development support.
Kiir further said the commissioning of the Freedom Bridge marked the "beginning of the road to development in the East Africa's youngest nation.
He also said it fell under the "governments' priority of reconnecting the country to the region via road network, with an aim of facilitating trade."
According to President Kiir, the Freedom Bridge is a gateway for regional integration and economic growth.
"Today is a great day for the city of Juba, South Sudan, and our Region. The bridge we are inaugurating has been a project in the works for a very long time. The need for this bridge was identified in 2011 and it was conceived as a unique link for regional integration that would enhance economic growth," said President Kiir, during the commissioning of the bridge on, May 19, 2022.
South Sudan won her hard – fought independence from Sudan in 2011, but after two years of hope and joy, the country returned to another civil war, which withheld a developmental project.
Kiir is now struggling to implement the 2018 revitalized peace deal in order to end the bloodshed and to open a new chapter of stability.
"War holds the progress," said Kiir – the delay to complete Freedom Bridge is a living example of how the war delayed development."
"To my people who received this gift (bridge) today, I would like to call upon you all to work hard to maintain peace in our country. Having peace will allow us to focus on service delivery and development projects," he asserted.
May's opening was attended by the Kenyan presidential candidate and AU infrastructure envoy Raila Odinga, as well as the head of Japan's International Cooperation Agency Dr. Tanaka Akihiko.
Odinga, the High Representative for Infrastructure Development in Africa, a contender for the Kenyan presidency, said the commissioning of the bridge shows the interest of the government to connect with the rest of the region.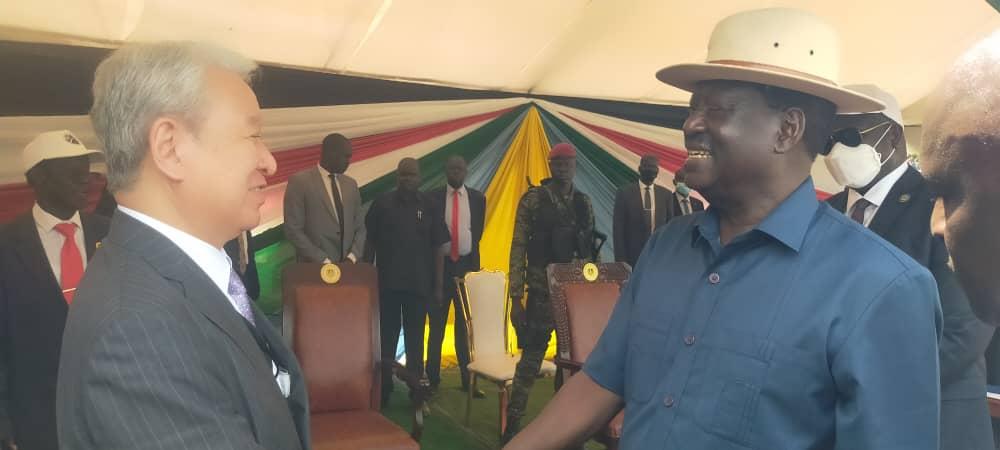 "Africa is busy expanding its infrastructure," Odinga said – the bridge will contribute to efforts to develop and connect the rest of the world.
He advised the government to ensure that citizens and the police become custodians of the new bridge, not the military.
"This is a great day for the people of South Sudan as the freedom bridge in Juba opens for business – this bridge will play a key role in enhancing connectivity and trade in our region," said Odinga.
"Every bridge built, is a relationship established, says Odinga, adding that the bridge will resolve fast the transport disruption and trade interruption to the people of South Sudan and the people of East Africa.
"It is great seeing the project to  fruition – Africa will surely rise," said Odinga. With this bridge South Sudanese businessmen would easily access the port of Mombasa or Lamu just as the Kenyan and Ugandan traders want to access Juba."
"We are talking about building a pipeline from South Sudan and connecting it with the Kenyan oil in Turkana and taking it to the port of Lamu for export to the rest of the world," said former Kenya prime minister.
At the same event, the President of JICA, Akihiko, says the bridge will contribute to economic development that will benefit South Sudan and the East African region.
Akihiko said the Freedom Bridge was named for its three enduring positive impacts; contributing to economic and logistics development, nation-building through resource development, and being a symbol of freedom and peace for the people of South Sudan.
"This bridge will promote peace and stability in South Sudan. Furthermore, it strengthens connectivity of East Africa by the international corridor from the port of Mombasa, Kenya, through Uganda to South Sudan," said Akihiko.
JICA's president hopes the bridge will promote peace and stability through its essential function to help in the safe delivery of aid to needy people.
"The opening of the first permanent bridge over the Nile in South Sudan will greatly contribute to Juba's social and economic activities and the stable supplies of humanitarian aid to the internally displaced person and conflict-affected people living in the rural areas," Akihiko said.
Jubilant crowds came out to cross South Sudan's first permanent bridge over the River Nile after it was officially opened.
Juba's suburb areas have now become a town because of the Freedom Bridge. As the citizens said they are going to lease out their piece of lands to national and foreign tycoons along a road for uncalled businesses.
I have four plots around here because it's my ancestral land. I will lease out two to investors, use the money to build on for my family," said Taban John, a resident of Lologo residential area, suburb of Juba's capital.
However, Juba's landowners, along a new bridge road like Taban see poverty as a thing of the past.
Ahmed, a foreign businessman says, "as someone who deals in the transport business, I will definitely have to find land closer to the bridge to invest in," Ahmed said.
A new bridge has drawn a glimpse hopes on the forehead of South Sudanese people by seeing the country moving from violence to developmental era.
Meanwhile, the country's vice president Riek Machar says the country need some alternative transport systems in order to ease a highly charge on goods.
"We have teething infrastructural challenges as a country. Our goods in Juba are costly because of transport costs and the damages that come with transporting them from other places to the capital. We are also aware that Mombasa Port is congested, making Lamu Port ideal for the expanded business volume," said Machar.
Japan has been enthusiastically assisting South Sudan for peace and nation building since its independence through from UNMISS (United Nations Mission in South Sudan), development projects to humanitarian assistances with more than 700 million US dollars and more than 4,000 Japanese nationals' involvement.
Japanese Ambassador to South Sudan, Tsutsumi Naohiro stressed that helping South Sudan is perfectly in line with Japan's foreign policy, including bilateral exchanges.
According to him, Tokyo and Juba's bilateral cooperation is in a great shape
He says Japan needs stability in East Africa as it is the gateway to the African Continent.
"South Sudan's peace and stability interrelates with that of East Africa and Japan expects that South Sudan will remain a stabilising factor in the region," said Amb. Tsutsumi.
The diplomat says Tokyo wants to strengthen cooperation with Juba in addressing global issues such as the rules-based international order, the UN reform, and environment.
"Japan will be continuously standing by you and assisting you as long as your self-help effort for durable peace and nation building continue.  And Japan hopes to further strengthen the bilateral relations which would be even more mutually beneficial than ever," said Amb. Tsutsumi
Amb. Tsutsumi concluded by saying This bridge will work very hard for you, laying itself down for you as "Bridge Over the Troubled Water," for the development of this country, for the welfare and happiness of the South Sudanese people.  And I am sure, Freedom Bridge will stand as the symbol of "true friendship" between Japan and South Sudan for many generations to come.
South Sudan is one of the least developed countries in East Africa due to the impact of successive decades of civil war, and poverty levels among the people is the world's highest.
However, domestic production of goods and services is at its infancy and travelling from one town to another either is notoriously difficult as all road network connecting major towns and production areas in the region were destroyed by civil wars and floodwaters.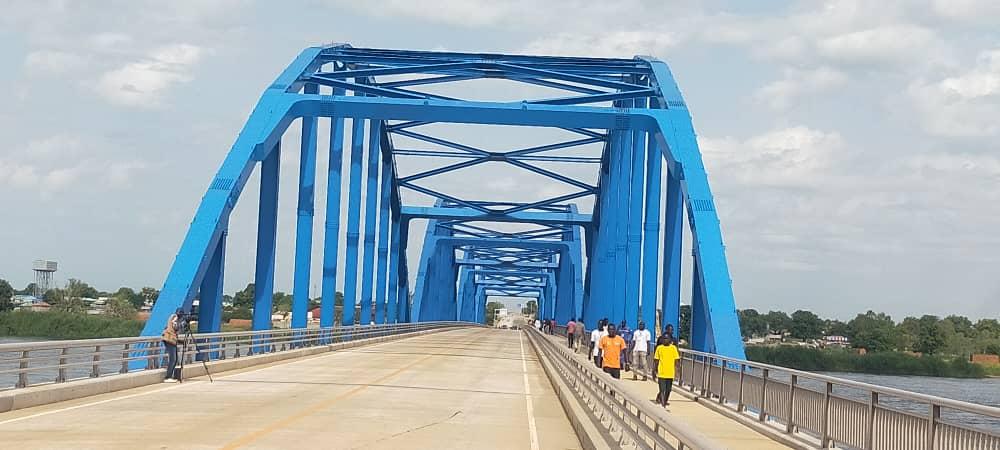 As a landlocked country, it receives its goods and services from Kenya and Uganda.
With a peace deal that has brought relative calm, development has picked up rapidly and foreign trade has surfaced with influx of various imports into the country.
"I know some of you do not want to see this country grow, but we will always prove Thomas's doubting wrong," said President Kiir.
Infrastructure remains one of the major pillars for South Sudan's economic and socio – political development.