Russia Takes Charm Offensive To Zimbabwe.
By Nevson Mpofu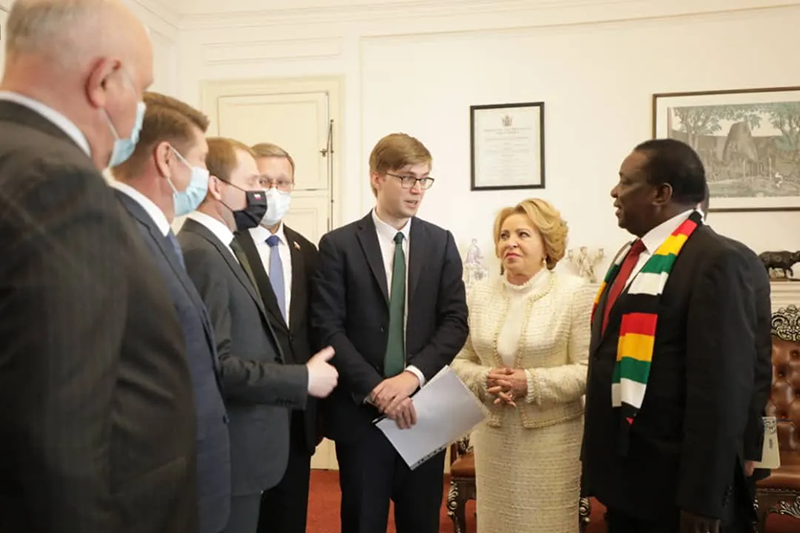 Zimbabwe and Russia continue to stay glued to cordially good and bright relations despite challenges Russia remains with after clash with Ukraine. Even though Russia and Ukraine fight spreads all over to disturb the African region Zimbabwe remains a close friend with relations dating back to colonial days.
The two countries took to warm up relations 12 hours ago as the Pan-African-Visions this mid-day of 3 June writes this relations article . President Mnangagwa who received the Russian delegation at State House in Harare led by the Chairperson of the Federation Council of the Federal Assembly of the Russian Federation, MS Valentina Matvienko said the countries have long political history.
''I personally have very excellent relations with President Vladimir Putin. He has invited me to the Russian Federation. I met him there and we had fruitful discussions of co-operation on political and economic issues''.
He further said in brief that the Ministry of Foreign Affairs and International Trade briefed him that the discussions with Russian delegation are moving well.
''I wish you continue and conclude all necessary arrangements, agreements and memorandums of understandings before the delegation leaves ''
''It's critical we continue to share, cement and consolidate our relations''. He said.
The Russian delegation later met top officials from Parliament of Zimbabwe among them Jacob Mudenda Speaker of Parliament.
In her words Ms Matvienko thanked Zimbabwe for the invitation of warm welcome. She said Zimbabwe has remained a reliable partner since the colonial days.
'' I thank Zimbabwe for this warm invitation. Zimbabwe remains in good relations with Russia. This dates back to colonial days.''.
'' Zimbabwe is reliable partner to Russia. This remains into the future. However we need to continue our relations despite any other challenges '' She said in brief.
The two countries signed Memorandum on Co-operation in Scientific, Technical and Innovation Activity. At the glamorous occasion  Ms Natalia Bocharova  Russia Deputy Minister  of Science and Higher Education represented Russia while Professor Amon Murwira the Minister of Higher and Tertiary Education , Innovation , Science and Technical Development represented Zimbabwe at a five [5] star magnificent venue in Harare where a few journalists and top Government officials were invited … . .